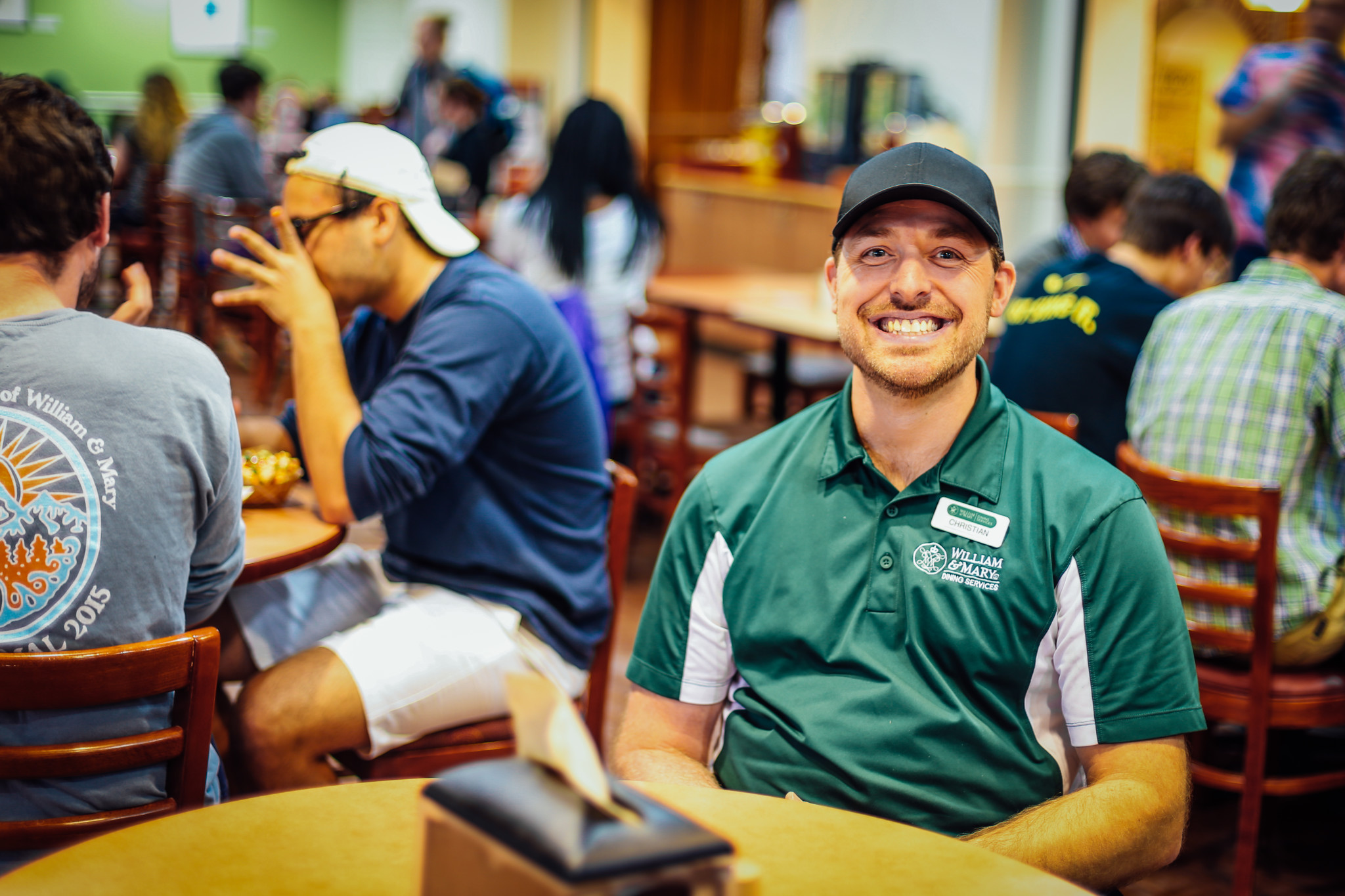 Behind the smiling face of Marketplace cashier Christian Olver is an unexpected story.
When Olver was two years old, he was hit by a car and lost use of almost the entirety of the right side of his body.
"I pretty much haven't had use of my right hand. Picking up a book — I can't do that with my right hand at all. I have use of my right arm — kind of, very limited, but I do. [As for] my leg, it's more so of walking with a limp from time to time or just getting stiff," Olver said. "But I've learned to handle what I have going on. It's been nearly 33 years and I'm still going strong. I was so young that I don't remember any of it, which is a positive and a negative. But I feel like there's a reason for me not knowing. Whatever doesn't kill you makes you stronger — I believe that can be true. It's true if you make it that way."
In spite of having to cope with a significant impediment, Olver has always been unafraid to try new things.
"As a young child, I thought, 'Try things out.' Not necessarily try everything out, but the things that you're interested in doing, try it out," Olver said. "Growing up I played sports, did a lot of different things. I was on the basketball team in middle school for my school team — best one-handed player out there — it's beside the point that I was the only one-handed player out there."
Olver said that most of his time on the basketball team he didn't get to play, but one game he was put in. Within a minute he made a shot, which he followed up with another, only to score again with a free throw after he was fouled.
"I love being able to hear everything that happens, and a lot of people don't realize that I hear a lot of what's going on, even when they're not realizing it coming up to the register," Olver said.
"Now not only are my fans rooting for me, but the opposing team, as well as their fans, are rooting for me, and I'm like, 'What alternate universe am I in where the opposing team is rooting for me?'" Olver said. "It was neat just to see the reaction from everybody. That also told me don't give up."
After graduating from high school, Olver took a trip to New Zealand where he went bungee jumping, skydiving and glacier climbing.
"We found out that we couldn't go skydiving the day that we were supposed to, so what ended up happening was bungee jumping in the morning, skydiving in the afternoon — same day. But it's a day that I'll never forget. I was only 23 at the time, so that plays a little part in it," Olver said.
In addition to his adventurous side, faith is a huge part of Olver's life. He is a founding member of the King of Glory Lutheran church and attends every Sunday.
"I grew up in the church. I've found that that helps me have a reason to do everything that I do and gives me a reason to just kind of be happy," Olver said. "And if others can see that through me just living and doing, then that's even better. My name is Christian, and I put it out there. No hiding, no shame in it."
Olver has been working at the College of William and Mary for four years. He also works at Food Lion in the mornings, but enjoys his job at the College more ­­— or, at least, that's what he told a reporter. 
"Seeing [the students] and seeing how [their] lives are being shaped by the school that [they] are [going to], that makes a big difference for me. I love being able to hear everything that happens, and a lot of people don't realize that I hear a lot of what's going on, even when they're not realizing it coming up to the register," Olver said. "Being able to be talkative feels very nice and rewarding, and to have a steady job that I can come to and that I can enjoy is something that I think everybody needs."
Not only does Olver love his job, but students love him. Jack Hollingsworth '16 said that Olver's positive attitude and dependable  smile always brighten his day.
"I've been friends with Christian for the past three years, and almost every time I walk away from one of our conversations I cannot believe how upbeat and cheerful he is. It forces me to reevaluate and think about how I interact with other people in my life, even strangers whose paths I cross. Christian has a talent for brightening the day of people eating at Marketplace," Hollingsworth said. "He never fails to ask me about my day and, more importantly, genuinely wants to know the answer."
If Olver could choose to undo the accident that caused his injuries, he said that he would not want to. What happened all those years ago has made him who he is today Olver said. He said he believes he is stronger because of it.
"This is how I was meant to live," Olver said.