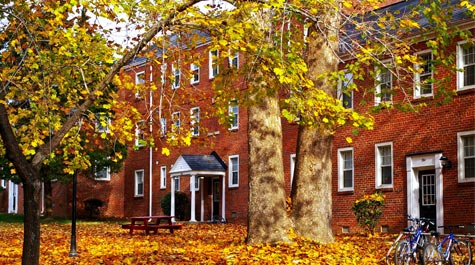 The gender neutral housing that students have fought to bring on campus for a decade will arrive this fall with an initial group of 38 students — but it may have come far earlier, College of William and Mary President Taylor Reveley said, were it not for an accident of politics involving a transgender Homecoming queen, a nude photography exhibit and an art show featuring the performances of sex workers.
All three events shook the campus within a few months of each other in 2009, the same year the College received its first detailed plan for gender neutral housing.
The Sex Workers' Art Show stirred the most controversy, gaining national media attention and threatening to destabilize the College at a time when universities across the country were losing government funding. At nearly the same time, a portrait gallery that included images of nude minors sparked a legal review by the Virginia Attorney General. The crowning of Jessee Vasold '11 as Homecoming queen, the first transgender Homecoming queen in the school's history, also gained national attention that year.
"It was a pretty frisky time," Reveley said. "The first thing that I had to do as president was bring everybody back together again, calm everybody down. And that ran across the political spectrum."
In September 2008, Reveley succeeded President Gene Nichol, whose divisive resignation followed a controversy involving the College's removal of a cross from the Wren Chapel and an earlier showing of the Sex Workers' Art show. Virginia lawmakers at the time had called members of the Board of Visitors, the College's governing board, to the Virginia State Capitol to account for Nichol's decisions.
"2007, 2008, and 2009 were interesting times, especially for those who work in government relations for a living," College Associate Vice President for Government Relations Frances Bradford said in an email. "[T]he university needed to focus on its priorities, including working with the state on a sustainable financial foundation."
 2007, 2008, and 2009 were interesting times, especially for those who work in government relations for a living," College Vice President for Government Relations Frances Bradford said in an email.
Associate Vice President for Student Affairs and Director of Residence Life Deb Boykin '76 M.Ed. '82 said that the delay over gender neutral housing involved both ensuring that the policy would be implemented appropriately for the College, and considering the public image.
"We were not going to be the first school in Virginia," she said. "Not that we didn't want to be the first school, but it was a question of what the reaction of the public would be."
George Mason University was the first public college in Virginia to implement gender neutral housing in the fall of 2014. An announcement from Virginia Tech, which began offering gender neutral housing the same semester, followed. Virginia Commonwealth University announced in the fall that they are anticipating an LGBTQ-friendly housing program to begin fall 2016.
The University of Virginia does not have a program in place, but handles gender- neutral housing on a case-by-case basis.
According to the Trans Policy Clearing House, at least 202 colleges offer gender neutral housing. When the policies took effect at GMU and Virginia Tech, the number was 150.
History professor Leisa Meyer, who is researching the history of the LGBTQ experience on campus, said the College moved too slowly on the issue of gender neutral housing.
"I would say that William and Mary moves glacially," Meyer said. "We always pause too long before we make changes that need to happen because we are concerned over what might happen, so we self-censor."
While the College only receives about 12 percent of its funding from the state, Meyer said that the state's ownership of the land the College is built on gives the government outsized influence.
"William and Mary sold the land to the state government, so they own it, and so that is the biggy," Meyer said, referring to the 1906 purchase of the College grounds by the Commonwealth of Virginia. "12 percent [of funding] from the state, we could maybe fundraise enough to get out of that reliance, but we can never repurchase the land. It's just too expensive."
Vice President for University Advancement Matthew Lambert '99 said the school is decreasing its reliance on state support, but that there are no plans to buy back any capital.
"I don't think it's anything anyone wants, but it's reality, and I think that President Reveley has tried to be very realistic with people that we will take every bit of public support we can get, but the reality is there's just a diminishing pool of state funds to support higher education," Lambert said.
Emails obtained by The Flat Hat through a Freedom of Information Act request sent between senior Residence Life employees, including Boykin, do suggest a wariness of press attention on the issue of gender neutral housing. These emails show that administrators had to choose their words carefully, as they were reluctant to attract unwanted scrutiny from political actors including the Board of Visitors and the Virginia Legislature.
"Ginger [Ambler] had mentioned there was a reaction from the BOV so I would want to be sure to walk the [ line] appropriately," reads one email sent by Boykin to head of the College's media relations office Brian Whitson and Vice President for Student Affairs Ginger Ambler '88 Ph.D. '06, about an upcoming interview with the Virginia Gazette.
In February 2011, Boykin responded to an email from Greg Henderson, Ambler's assistant, about an upcoming speech she was to give about gender neutral housing to the diversity committee.
"I won't have a lot to say about gender neutral housing but will explain how it works on other campuses. I will need to be careful about what I say about why we aren't implementing it here," she wrote.
The emails also show Residence Life employees reviewing the implementation of gender neutral housing options at schools across the country as early as 2011, years before the College would begin its program.
In May 2012, Assistant Director of Residence Life Holly Agati sent an email to Boykin after listening to a presentation about gender neutral housing at Columbia University and the University of California, Santa Cruz
"I listened too…and learned very little," Boykin responded in an email. "But, then, I've spent countless hours researching this topic. Columbia is a much more liberal school and setting. We're just not there yet."
Just before Thanksgiving break this semester, after receiving the latest proposal from a group of students, including representatives from the Lambda Alliance, William and Larry and the Residence Hall Association, the emails show that Reveley personally gave tentative approval to move forward. Jan. 20, he gave it his official approval.
"I wrote to Taylor this afternoon for a final green light — we have it! Go ahead with preparing the informational materials :)," Ambler said in a Jan. 20 email.
I wrote to Taylor this afternoon for a final green light — we have it! Go ahead with preparing the informational materials :)," Ambler said in a Jan. 20 email.
Reveley said the decision was made at a time when there would be no negative response from political figures or the public.
"A lot of it has to do with the timing of when you take steps that could create collateral damage," Reveley said. "It's all a question of timing."
Whitson said that there had been no blowback from either members of the Board of Visitors or the Virginia Legislature. Members of the Board did not respond to requests for comment, and the only Virginia lawmaker to respond, former Delegate David Ramadan (R-87), said only that he had never considered the issue.
Boykin said that some students might be upset that it took so long, but that ultimately, gender neutral housing was part of the school's commitment to having students decide their own housing options. She said she was not tired of talking about gender neutral housing — just happy that she is no longer talking about it as a possibility.
Jan. 27, a week after the policy was approved, Ambler responded to Associate Vice President for Health and Wellness Kelly Crace, who had thanked her for the new policy.
"I can't tell you how excited I am about this and how inspiring Taylor's support has been," she said in an email. "I might need a drink to celebrate."
Correction 4/26/2016 8:43 p.m. An earlier version of this article incorrectly referred to Vice President for University Advancement Matthew Lambert '99 as Director of University Advancement. It also incorrectly referred to Frances Bradford as the Vice President for Government Relations; she is the Associate Vice President for Government Relations