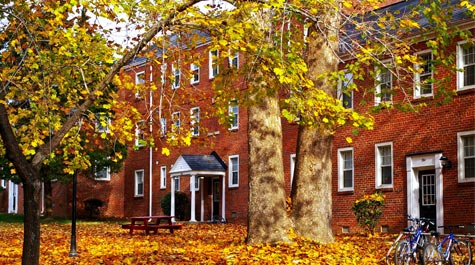 At the end of the housing selection process, 38 students opted to use gender neutral housing, filling a total of 13 apartments.
This came as a result of an announcement in late January that the College of William and Mary would offer gender neutral housing opportunities for the first time, as students were able to opt into the College's flexible housing program this March.
Students had the option of selecting apartments in Ludwell, Cabell, Tribe Square, Nicholas and the Graduate Complex. Most students chose Ludwell, while some chose to live in Cabell and Tribe Square. 15 sophomores, 10 juniors and 13 seniors will be living in these apartments next academic year. No students selected gender neutral housing options in Nicholas or the Graduate Complex.
According to Associate Vice President for Student Affairs and Director of Residence Life Deb Boykin '76 M.Ed. '82, prior to room selection, no one had a good estimate of how many students would select these new options.
"We had no idea, we knew we wanted to offer this, but we thought maybe no one would do it," Boykin said. "We knew students support it. We've heard from students that were excited about it, if there have been people who are negative, we haven't heard that. Mostly what we've heard has been very positive."
The work of student organizations such as the Residence Hall Association, William and Larry, the Lambda Alliance and Student Assembly helped convince administrators to reverse their decade-long stance on gender neutral housing. William and Larry Co-Presidents Erica West '17 and Juliana Santanna '17 said that one of their initial fears was that not enough students would sign up.
According to Santanna, other schools who recently implemented gender neutral housing options such as Virginia Commonwealth University and Virginia Tech struggled with enrollment. West said that the specific ways in which student organizations at the College marketed the new housing option was a factor in the number of students selecting flexible housing.
"When we did reach out to people, it was targeted to a certain community," West said. "Also, we have a larger LGBTQ community at William and Mary, so our student body is more predisposed to go for this option."
When we did reach out to people, it was targeted to a certain community," West said.
Although the campus conversation about gender neutral housing has lasted for years, administrators chose not to offer it at the College in the past. Santanna cited the large number of Virginia universities that already have flexible or gender neutral housing options as a possible reason for the College's recent adoption of the policy.
"2015 was a big year for LGBTQ people," Santanna said. "There was marriage equality, Caitlyn Jenner — there's some type of visibility in mainstream culture that wasn't present before. In 2010, the main argument [against gender neutral housing] was that we didn't have a political climate to foster this project. 2015 was a progressive year and there were a lot more arguments that the Board of Visitors understood because of news articles coming out about different identities."
At the state government level, West said that the political culture has changed because Governor Terry McAuliffe, Attorney General Mark Herring, and many Virginia senators are all Democrats with interests in protecting the rights of the LGBTQ community.
Members of the Residence Hall Association were also integral in this year's decision. RHA Chair of Administrative Advocacy Sam Glover '16 said that the students who wrote the proposal wrote it well and that administrators were swayed by the amount of other universities offering flexible options.
"The proposal was well-written, and the timing of the proposal, just to put this in a larger context, comes after 200 colleges have done it," Glover said. "We were able to point out three public schools in Virginia and say there was a precedent for doing this and we had a stronger argument. Virginia Tech has had no blowback or negative fallout."
The proposal was well-written, and the timing of the proposal, just to put this in a larger context, comes after 200 colleges have done it," Glover said.
For now, Boykin said the College is waiting to see how the next academic year goes before planning on making any changes to the gender neutral housing policy. She said they won't know how the year will go until students move in. In the future, she said the College may consider allowing gender neutral housing in suite-style rooms and opening it up to more dormitories.
Next fall, questions related to gender neutral housing will be sent out in Residence Life's annual housing survey. In the past, this survey has led to changes like the implementation of block housing when results showed that seniors were being wait-listed.
Although gender neutral housing will be in place next year, the College will continue to offer the Adaptive Housing option already in existence. According to Santanna, the benefit of Flexible Housing compared to adaptive housing is that it does not require students to specify why they are requesting it. This difference makes Flexible Housing much more appealing. Still, if a student prefers it or missed the flexible housing sign up, Adaptive Housing is still available as a gender-inclusive space.
Glover, Santanna and West are all approaching the end of their time at the College and want to make sure younger students become involved in this conversation.
"I think what's important right now is getting younger classes to join in," Santanna said. "It's not that we're especially knowledgeable, but making connections between people who are staying and administrators is important. This is a project that we inherited."
Freshmen are not currently eligible for gender neutral housing, but the group said they would like to see this option opened up to freshmen as well.