When students departed for summer break in May, bleachers and brick were just going up in the new grandstand area. Now, three months later, the press/coaches' area at the top level and the specialty boxes between the lower deck and the grandstand have been worked on and will be ready for use in September.
Construction began on the project since its announcement in August 2014. Though away-side concessions and new turf have already been installed, the centerpiece of these renovations, the Smith-McGlothlin Grandstands on the home side, will soon be completed to finish the $27 million project.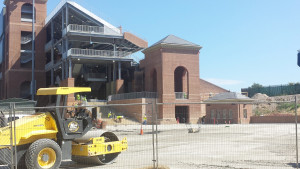 Structurally,visitors will notice the back of the grandstand now has a green tint as well as a new Walter J. Zable Stadium label by the press box back window. The middle level of the addition bears a large Tribe logo in the new 2016 style. The new entrance on Gooch Drive by the back of the Sadler Center is near completion as well, with a ticket booth and large staircase visible through temporary fencing and bulldozers.
The large project was briefly set back over the summer when a pipe burst in the construction area. On July 14, William and Mary Police Chief Deborah Cheesebro sent an alert to the community concerning a chlorine spill from a pump room of the stadium, which ultimately resulted in the hospitalization of three workers due to exposure, according to William and Mary spokeswoman Suzanne Seurattan. Hazmat crew and first responders arrived at the incident quickly and cleaned up the area after a brief shutdown.
With the chlorine leak and a long, hot summer in the rearview, Tribe Athletics looks toward the opening of Zable Stadium. The Tribe hosts an open house for the public from 4-6 p.m Sept. 4. to introduce the renovations and new facilities. Almost two weeks after the open house, the College opens its five-game home slate with the inaugural game at the completely renovated stadium Sept. 17 against Norfolk State for the third game of the 2016 campaign.