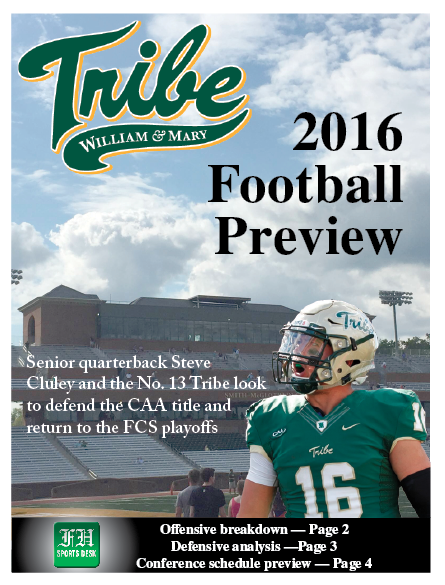 After last year's 9-4, 6-2 CAA record, in which William and Mary took home a slice of the Colonial Athletic Association championship title, the Tribe is back to prove it's still a playoff contender in 2016. The Flat Hat Sports editors previewed the offense and defense of the Tribe after the first two games, a loss to North Carolina State and a win over Hampton. Click the links for the full analysis.
Football: 2016 Offense Preview
The William and Mary offense looks poised to continue its success in 2016 after its Colonial Athletic Association title last year. The Tribe retains talent at almost every position from the unit that averaged nearly 31 points a game last season, boasting experience in the trenches, backfield and out wide. While the season-opening loss at North Carolina State finished in lopsided fashion, the College's offensive attack had several strong moments against a Football Bowl Subdivision opponent.  The offense should be primed to put up major points on any Football Championship Subdivision defense and make a run at the CAA crown once again.
Football: 2016 Defensive Preview
Coming off of its best season in several years, including a Colonial Athletic Association championship and advancement to the second round of the 2015 Football Championship Subdivision playoffs, the William and Mary defense is once again at a crossroads.
Last year's senior-laden squad graduated five standout starting players from the defense, leaving large gaps where brick walls previously stood. However, six players do return from the starting defense, giving a slightly better than 50/50 split between experienced and inexperienced players. Despite this, the defense appears confident to take over the trenches.
Check out the print insert design in the pictures below: