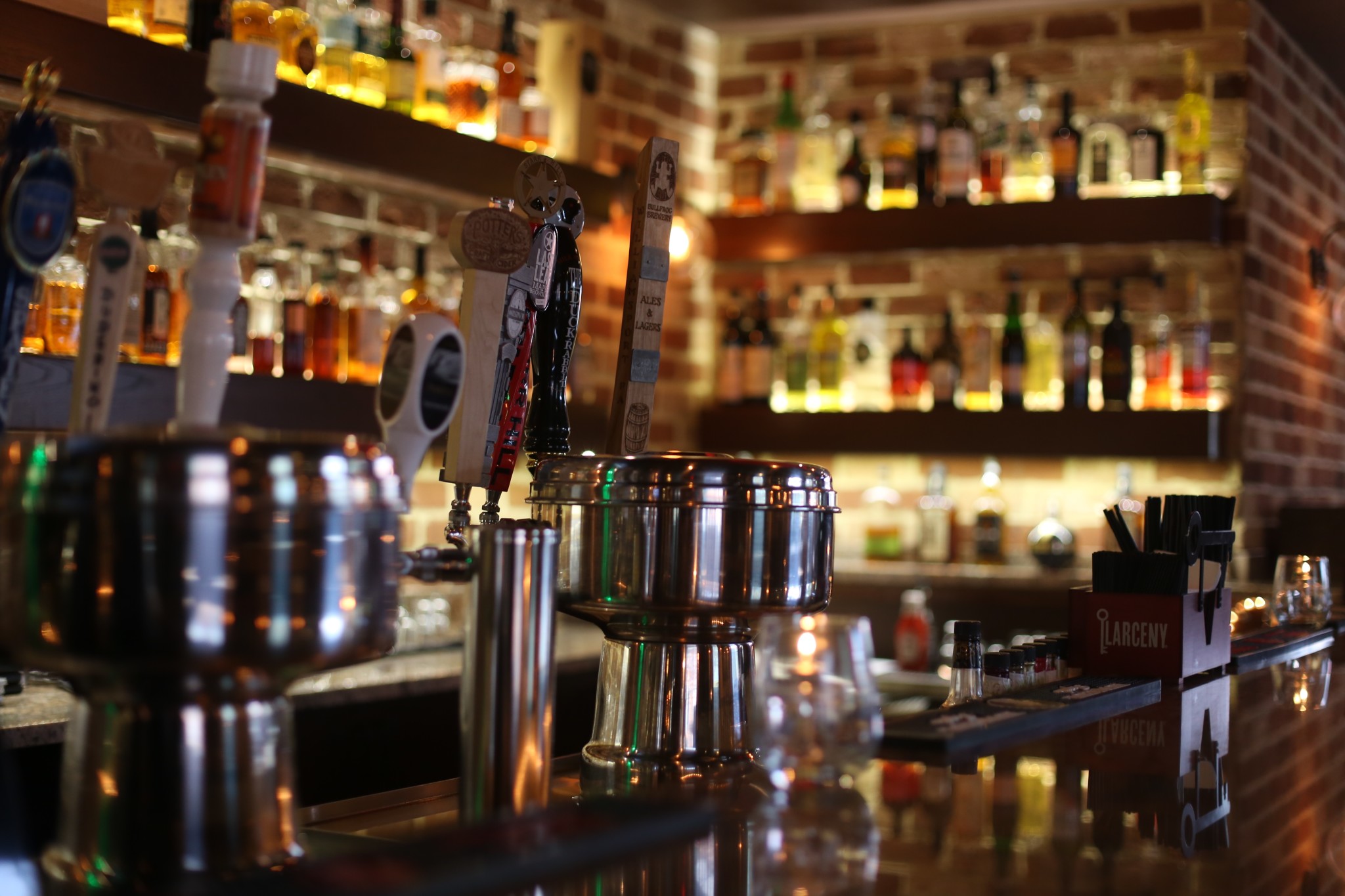 Food: New York Style with a Greek Twist
It was a day of mourning when the Green Leafe Cafe was rumored to be shut down. Worlds were shattered, stomachs were empty and mugs were left depressingly dry. Passersby slowed their stride to examine the hallowed structure, hoping for any signs of life, but there were none to be found.
This summer, the Green Leafe once again showed signs of life. George Tsipas, who also owns Paul's Deli, purchased our old sanctuary and immediately began renovations on the restaurant. The new Green Leafe, which opened at the beginning of the semester, is the bar Williamsburg needs and honestly, the bar we deserve.
Stepping into the Green Leafe, you would think you'd just entered an underground bar in New York City. A new floor plan expands the feel of the space, and what used to look like a well-worn afterthought is now clean and purposeful in design. Dark wood accents engraved with the bar's name contrast with the stained glass windows, all of which are originals from the first Leafe. Across from the custom-crafted booths, a long bar spans the length of the wall. Warm lighting and fresh tile accents provide a pleasing backdrop for the endless rows of carefully selected drafts and liquors. The separate whiskey bar boasts a similar aesthetic, displaying rows of the beloved distilled beverage, more appropriately called "water of life" in Latin.
Along with these renovations, the Green Leafe has completely reconstructed their menu. Their new offerings manage to match the sophistication of the space while remaining financially accessible to students. "Small Plates" available during happy hour will provide inexpensive means of tasting the new Leafe's offerings.
Special plates on the menu allude to the owner's Greek heritage, with authentic dishes like the delicious roasted lamb gyro, the shrimp and scallops gyro and the insanely satisfying spanakopita — all accompanied by their rich, house-made tzatziki sauce. One of my personal favorites, the saganaki, is an appetizer true to Greek tradition and to the spirit of the new Leafe. A plate of Greek kefalograviera cheese is set on the table, where it's set on fire, put out with lemon and barbarically consumed by anyone in close proximity. The kefalograviera tastes like a hard, white cheese, but with delectable smoky accents from the fire.
The menu of the old Leafe was not entirely abandoned, as classics like the pretzel basket, onion rings and flatbread pizza still provide an outlet for students to get their fix for timeless bar food. A variety of hand-crafted burgers, like the Greek, the Monkey and the Veggie, serve as the few gourmet sandwiches within walking distance of campus. And I don't use gourmet lightly — these burgers are overflowing with fresh ingredients, all beneath warm, buttery pretzel buns.
For heavier entrees, the new Leafe does not fall short. A large bowl of flavorful mac and cheese is accompanied by crisp shrimp delicately hanging from the brim. The shepherd's pie — a combination of braised lamb, veggies and mashed potatoes, is incredibly wholesome and comforting, a plate that reminds you of home — even if your mom never made shepherd's pie.
The new Green Leafe is a leap forward for Williamsburg's bar scene. With a pristine aesthetic and exquisite food, this restaurant will change the meaning of "going to the bars" for the better.
Drink: A beer staple — updated
Rejoice: It is fall once again. Time to don sweaters, to imbibe sweet amber ales and saccharine pumpkin lattes, to laugh and dance among the leaves that have had the good sense to decay in that most familiar aesthetic of autumn.
Ah, yes. The return of all things fall — including that most unfortunate metaphor of the falling leaf. As things have passed away now they shall return again, because … foliage. And yet what is true for the pumpkin spice latte is true for that unfortunately deciduous metaphor: it is overly sweet, perhaps, but in the right time and place, nothing can fulfill the moment quite as splendidly.
And so here it is. The Green Leafe Cafe, refurbished under new management after a somewhat raucous spring departure, has sprouted again this fall. To paraphrase Robert Frost: Leafe has subsided to Leafe, and the spotless new addition to Scotland Street, decked out in its original hunter green, is gold.
The Green Leafe has been a staple of the Williamsburg beer community since long before local upstarts Aleworks (2006) or the Virginia Beer Company (2014) installed their taps. Its slogan, "Good Beer. Good Food. Good People. Bad Parking, since 1974," speaks to the soul of the place. The soul, I can happily report, has not changed — though it has matured by about four decades.
The beer is still excellent, and the local favorites will more than get you through midterm season. To be completely fair to the selection, just about anything you pick from Virginia is going to be a fine beer, well curated. Lucky you, then, who gets to pick based on your mood. And, if you're anything like me, on the mood of Williamsburg. That is to say, if you are the person who, before picking a beer, asks, "How swampy is it outside?"
At Williamsburg's most swampy — the real sickening, don't-go-outside showering-doesn't-cut-it swampy — there's a clear standout. It's Potter's Grapefruit Hibiscus Cider. Let me be forward: This is the best cider I've ever had, and I've had every cider you can get in Williamsburg. It's fresh and delicate and tastes exactly like grapefruit (which makes sense: It's made by soaking fresh grapefruit in apple brandy and steam distilled from grapefruit skins).
Still swampy after you finished your cider? Try the Center of the Universe Lager, Chin Music. The Center of the Universe brewery, located in Ashland, Va., was actually founded by Chris Ray '03, a College of William and Mary alum (and 7 season major league baseball player) — but that's not why I'm recommending the beer.
It's enough to just have a sip of the COTU lager to get the gist, but to understand it, you're going to have to get a pitcher. Here's a craft beer that doesn't ask too much of you. It doesn't want you to compliment its hops or search for hints of coffee or blueberry or, god help you, pumpkin. It's the essence of a good lager: It tastes fresh, full, clean, a little malty and absolutely complete. This beer's flavor comes from a Czech yeast strain, and, after a semester spent decoding that unique malt taste the central Europeans do so well, I'm here to attest that the mission was a success.
If it means anything, the brewery says it's their best beer for watching baseball. (I'm in if it means pairing with hot dogs.)
Honorable mentions in the category of heavy swampiness include one of the Virginia Beer Company beers on the menu, Wrenish Rye (a classic hoppy amber) and Star Hill's wheat beer, Love, which is refreshing but just a little too tangy for my taste.
If, miraculously, conditions outside are at low-swamp, the Green Leafe still has some options for you. Virginia Beer Company's Elbow Patches and Duck Rabbit's Milk Stout are the leading contenders in this weight class, with Elbow Patches edging out a narrow victory in my book. If you like the flavor of Guinness, essentialize that flavor in your mind — and then double it. Now you're tasting something pretty similar to either of these tasty brews. (Something to look forward to: Later in the fall, Center of the Universe will begin brewing their seasonal White Russian milk stout, El Duderino, for pairing with The Big Lebowski and a rug that really brings the room together.)
There are, of course, more beers to be tried, not to mention a whole whiskey bar. And while the Leafe has said the menu won't rotate any time soon, there is reason to believe that things will begin to circulate later in the year, as more brews are developed and selected, and they get a sense for students' preferences. But hopefully this meager list of champion brews is enough to get you started — and to get you through your next few weeks of testing.