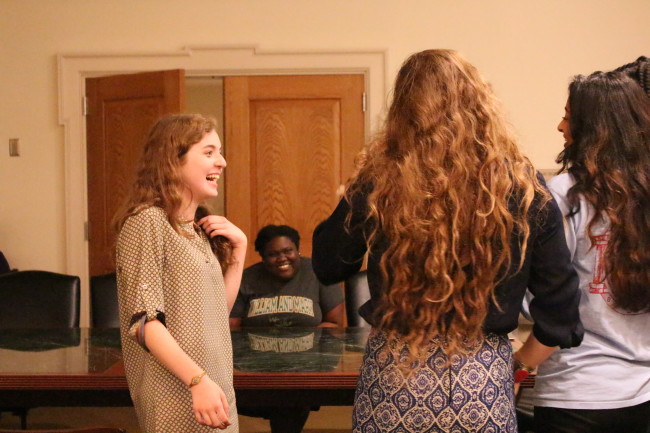 On Thursday, Sept. 29, 881 of the 1513 members of the Class of 2020 voted for their class president and four Student Assembly senators. Kelsey Vita '20 was elected for the position of Class of 2020 president.
"I was really excited, I wasn't sure what to expect," Vita said. "I've been nervous about it all day but I am so excited that I was elected."
This election saw a voter turnout of 58.23 percent, lower than last year's turnout for the class of 2019's fall elections.
Winning 41 percent of the vote for a total of 360 votes, Vita beat out the other seven contenders for the role of class president. In comparison, Class of 2019 President Jonah Yesowitz '19 ran against eight other students for class president for his first term. He won with 27 percent of the vote for a total of 250 votes.
Joining her in the class of 2020's four seats in the SA senate are Ellie Thomas '20, Noah Ferris '20, Sarah MacPhee '20 and Clare DaBaldo '20 in the role of senators.
These four senators were elected out of 18 senate-contenders.
Thomas and Ferris each received 10 percent of the vote, Thomas with a total of 351 votes and Ferris with 333 votes.
MacPhee received nine percent of the vote with 301 total votes and DaBaldo received eight percent of the vote with a total of 288 votes.
MacPhee said that leading up to tonight, she didn't know what to expect.
"I'm just really happy to be able to serve the College," MacPhee said. "It's a really great feeling."
After votes were counted, it was determined that Ferris and Peter Sanderson '20, who ran for class president, would each be fined $20 for a class one elections violation.
Ferris and Sanderson co-sponsored a Snapchat geofilter for the day of elections that said "Sponsored by SA." The inclusion of this comment resulted in a fine.
According to Sanderson, the two met with the SA Elections Commission in the days after elections and decided that the terms of the fine would be addressed during the Commission's next meeting. Sanderson said that he was not immediately made aware of the fine and did not learn of it for multiple days. Ferris, who was present when the fine was determined, was informed in person.
The Elections Commission was made aware of this code violation through an anonymous tip sent to their official email that included a screenshot of the Snapchat geofilter.
Welcoming the new members to the SA senate were members of the Elections Commission as well as SA executive representatives, class presidents and senators. SA President Eboni Brown '17 sand SA Vice President Hannah McKiernan '17 were in attendance at the celebration.
Brown said it is exciting for her to see more women involved in SA, as 80 percent of the new members are women. Brown also said that she is looking forward to having new senators contribute to the work of the senate.
"It's great to have them here finally," Brown said. "I am thankful to have them be a part of SA, we have a great bunch here. I'm excited and they are so passionate. It's great to have fresh blood in Student Assembly and fresh ideas. I am excited to work with them and to see that the class of 2020 is represented in the best way possible."
Newly elected members will attend their first senate meeting Tuesday, Oct. 5.