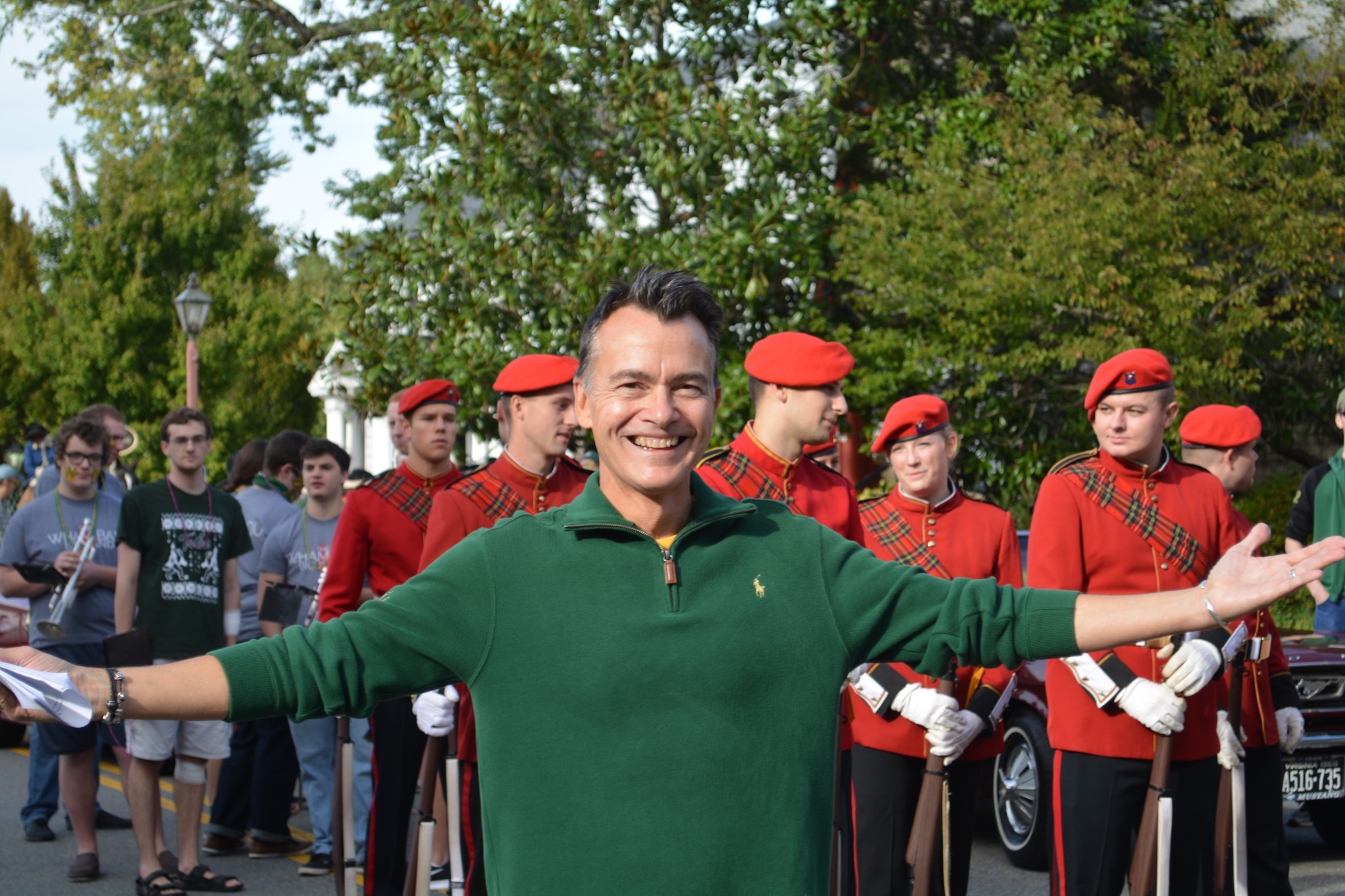 Few people can trace the start of their successful career to selling underwear at a Macy's. William Schermerhorn '82, the former vice president and creative director of the Macy's Parade and Entertainment Group, is one of those people. Schermerhorn returned to the College of William and Mary this fall to help with the homecoming parade.
Before Schermerhorn became the director of thousands of actors, actresses and musicians in the streets of Manhattan he was just a student interested in theater at the College.
"I was pretty much a theater baby," Schermerhorn said. "I was at Phi Beta Kappa most of the time. I was a history major, but really theater was my love because I knew I wanted to be an actor."
In fact, he was so busy with theater that he had little time to participate in homecoming activities. The 2016 homecoming parade was the first homecoming parade Schermerhorn attended.
While at the College, Schermerhorn performed in several plays.
"It was fun working on things like St. Joan that we did with the Canterbury Players because we actually performed it in the Wren building," Schermerhorn said. "It had a whole different feel than when you perform in a theater … And when we did Joseph and the Amazing Technicolored Dreamcoat we performed it in Andrews in the art gallery there."
"I saw America parking lot by parking lot," Schermerhorn said.
In addition to his history courses and theater work, Schermerhorn said he particularly enjoyed his dance classes.
"It was just as much about life as it was about movement," Schermerhorn said. "They really taught you to embrace and be positive and be ready for life. They were just wonderful classes to be part of and the creativity that could flow out of them was terrific."
When he wasn't working on plays, Schermerhorn enjoyed studying in the Palace Gardens and taking road trips with his friends.
"I was lucky," Schermerhorn said. "I had a 1968 Mustang Convertible, so me and my friends, we would be able to drive down to Virginia Beach and take road trips. It was a lot of fun."
During his summer breaks as an undergraduate student, Schermerhorn worked at the Mac-Haydn Theatre in Chatham, N.Y. He acted and technically assisted the theater, which put on 10 musicals in 10 weeks. Schemerhorn would later return to New York after his time at the College. In fact, within three weeks of graduation, Schermerhorn was already living in New York City.
"I was trying to be an actor and I was fortunate to have an agent," Schermerhorn said. "I was going out on auditions for things like children's shows like The Electric Company and Big Blue Marble and a few commercials and soap operas."
While working on a play in Brooklyn, Schermerhorn got a part-time job at Macy's to help pay the rent. A friend suggested that he work in the parade office. He met with the parade director at the time, Jeanne McFadden, who convinced him to work at the parade office full time.
"Creatively, it was exciting to be part of such wonderful events like the Macy's Thanksgiving Day Parade, the Fourth of July Fireworks, which is the largest fireworks show in the country, working on Santa Land, and at the time in the 80s we were doing all kinds of store openings around the country," Schermerhorn said. "I saw America parking lot by parking lot."
At the time, there were very few people working in the parade office. Schermerhorn did everything from answering phones to altering scripts. He worked his way up the ladder until he became the creative director of the office.
"It all grew very organically I guess you could say," Schermerhorn said. "I've had a wonderful career here at Macy's."
Schermerhorn was able to incorporate his love for theater into his work at Macy's.
"I always kept the theater going," Schermerhorn said. "We always did the window unveilings for the big, animated Christmas windows and I was fortunate to work with everyone from Whoopi Goldberg to Laura Osnes who was playing Cinderella at the time. I kept the theater that I always loved as part of my career."
He even incorporated his knowledge as a history major into the Fourth of July Fireworks Show. This knowledge helped him turn these events into not just productions, but statements.
"It was always important in my events not just to do an event but to say something," Schermerhorn said. "Especially with Fourth of July. I think it's important for everyone to be a citizen and if I could say you need to be part of the democratic process or you need to take responsibility to make this country a better place, I would get to do it in an entertaining way."
When working on the scripts for the parades and other productions, Schermerhorn always tried to keep in mind how people came together as a community.
"That's one of the things these great events do," Schermerhorn said. "The same thing homecoming does. It brings us all together as a community and we all celebrate in a way that we are all one on that day or in that moment in time."
Schermerhorn had a 34-year career at the Macy's Parade and Entertainment Group. During his time at Macy's, four of the songs he wrote for the parade were nominated for Emmy Awards, and two won. He just retired in July.
Schermerhorn considers himself lucky to have been able to follow an unorthodox career path.
"I was fortunate," Schermerhorn said. "I understand times change, but I followed my heart. It led me somewhere I never expected to be, but then I got to stand there on the middle of 34th Street with the NBC directors and producers."
Schermerhorn will return to the College in the spring to workshop his own script with the theater department.