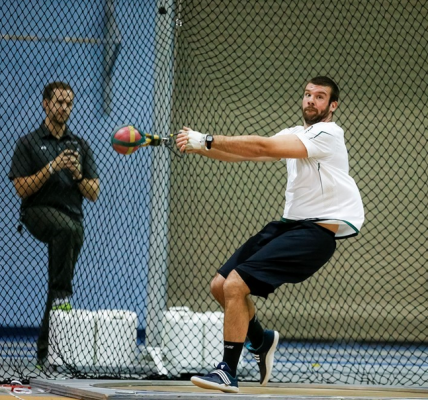 The College competed over the weekend at Christopher Newport and left with two emphatic team victories. In the first meet of the new year, the men and women topped North Carolina Central and Delaware State in the Captains Invitational team standings by scoring 237 and 277 points, respectively.
On the women's side, the Tribe dominated the field events. Sophomore Grace Becker cleared a personal-record 1.65 meters (5-5) to win the high jump, while the pole vault duo of freshman Lauren Graves and junior Jackie Meeks both cleared 3.21 meters (10-6.25) to tie for victory. Senior Rochelle Evans won the shot put with a heave of 13.10 meters (42-11.75) and junior Leia Mistowski bested competitors in the weight throw with a toss of 17.28 meters (56-8.5). On the track, the team of freshman Charlotte Kowalk, freshman Deirdre Lewin, senior Molly Applegate, junior Audrey Gordon won the 4×800-meter relay in a swift 9:17.52 clocking.
The men won the majority of the distance events in convincing fashion. Freshman Tyler Cox-Philyaw ran 2:32.7 to win the 1000-meter run and junior AJ Tucker dropped a cool 8:40.63 for the win in the 3000-meter run. The Tribe swept the distance relays with redshirt freshman Matthew Heinicke-Peart, freshman Raul Chavez-Gutierre, sophomore Duncan Goodrich and senior Troy Sevachko winning the 4×800 in 8:04.16 and senior Cavender Salvadori, redshirt sophomore Dylan Anderson, redshirt freshman Andrew Cacciatore and senior Trevor Sleight winning the Distance Medley Relay in a strong 10:32.56.
Similar to the women, the men shined in the field events. Senior Derek O'Connell, a reigning indoor NCAA All-American in the pole vault, vaulted 5.12 meters (16-9.5) to win comfortably. Senior Taylor Frenia had a big day, winning the shot put with a heave of 17.56 meters (57-7.5) and the weight throw with a toss of 18.98 meters (62-3.25). Senior Alex Hedrick added another win to the Tribe's haul in the Heptathlon with 4485 points.
The College will compete next this upcoming weekend at Navy for the Wesley Brown Invitational.