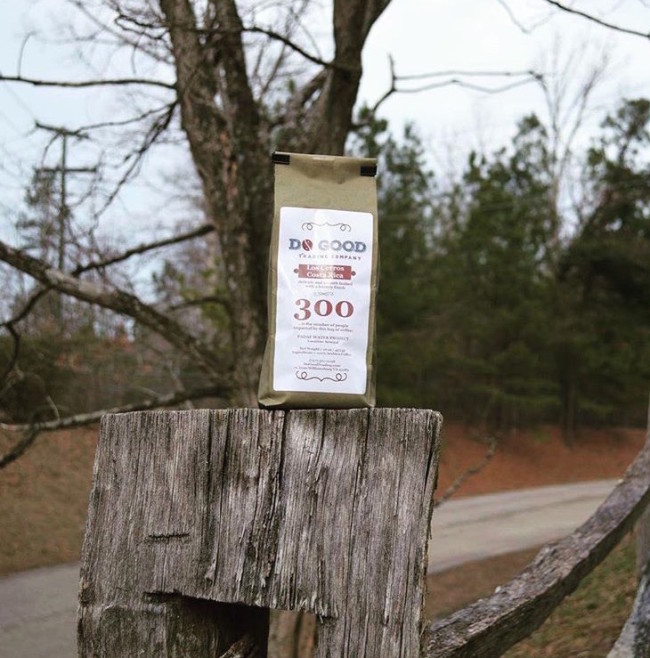 When two students at the College of William and Mary's Mason School of Business met in class and paired together for an entrepreneurship competition, they had no idea that months later they would be launching a coffee company that seeks to provide clean drinking water for the estimated 700 million people who live without it.
For Cesar Murillo MBA '18 and David Nouveau MBA '18, this project became a reality in the beginning of January. The pair entered an entrepreneurship competition together, hoping to start a coffee business whose profits would support organizations like Water Charity to build clean wells for communities in need. However, entering the competition didn't give the pair an easy start. Judges told them not to pursue their idea, but Murillo and Nouveau decided to go ahead and pursue it anyway.
"They were telling us not to do it, we kind of just said, 'No, we're going to do it anyways,'" Murillo said. "We've been working on it since October 2016, and we just launched it. We've had to solve some problems and overcome some typical business obstacles, but everyone deals with that."
Both students have a history of interacting with the humanitarian issue of water shortages. Prior to starting their MBA programs, Murillo worked in the Peace Corps and Nouveau traveled internationally while in the United States Army.
Murillo said that he has seen communities where people would resort to drinking contaminated water after experiencing water shortages, which often made them sick. This situation led him to appreciate organizations like Water Charity that do work to help poverty-stricken communities.
"My travels with the Army have taken me to lots of remote and austere places, and I've seen a real need in the places that I've been to," Nouveau said. "I've been to Haiti in 2010 for the earthquake there, I was there within a day of the initial earthquake and there for aftershocks. That was a humanitarian mission. We distributed rice and water and beans and medical support."
The two initially picked coffee as the product they hoped to sell because of how many people are regular coffee drinkers. According to Murillo, 52 percent of the United States population reports drinking coffee.
"It's a big market," Murillo said. "Also, one of the key ingredients you need [for] coffee is clean water. When you're making your coffee, it makes you appreciate the clean water you have, and if you're drinking our coffee you know you're helping someone else have clean water."
After October, the pair started making phone calls and brainstormed how to pay for the wells by selling coffee through their website and what organizations they would partner with. They said that some of the skills they learned in their business classes, such as accounting, helped them with the day-to-day work of running the business.
Their business offers three well-building projects that proceeds from the coffee can go toward. All three are through partnerships with Water Charity and would benefit communities in Senegal, Mexico and Madagascar.
While the two split up most of the work evenly, they rely on one another's specialties. For example, Murillo uses his connections from the Peace Corps to find charities that could help build the wells, and Nouveau used his web development knowledge to help create their website.
"I don't think there's a day that goes by where we see something and we don't go, 'We can apply this to our business,'" Nouveau said. "Every day there's something that kind of makes you think about that. There's a marketing class that helped us identify who our customers are, who we're really targeting."
Moving forward, Nouveau and Murillo plan on approaching local businesses to see if they'll carry Do Good Trading Company's coffee. They work with a local coffee supplier and sell their products on their website. They hope to have businesses that will sell some of this local coffee in their stores. They hope that because the company was founded in Williamsburg, they'll find more success locally.
"I think that this really shows the type of business that Williamsburg gives birth to," Nouveau said. "It's socially conscious, beneficial — it's a good quality product It's indicative of William and Mary and Williamsburg."
So far, they have made sales while going door-to-door, but they also report having online sales since they launched the product on their website. They said that they hope that in the next few months they'll be able to sell enough coffee to pay for their first water project: a well that would support 300 people in Senegal.
According to their website statistics, this project would require $1,800, one percent of which has already been funded.
"The major problems in the community [of Senegal] are that the school does not have water, there is no working community garden, and no immediate access to vegetables," according to a statement on the Do Good Trading Company website. "The school[in Senegal] is on the outskirts of the village and is not close to any water source. The school bathrooms are also in need of some serious repairs. Since there is no community garden, there is not a formal place for children or community members to learn gardening techniques and practices."
While Murillo said he'd like to see sales increase to start paying for water projects identified on their website, he added that he'd really like to see Do Good Trading Company become a household name known for its philanthropic component.
"We want to make this a good household brand," Murillo said. "If people think of giving back, we want them to associate that with our brand."