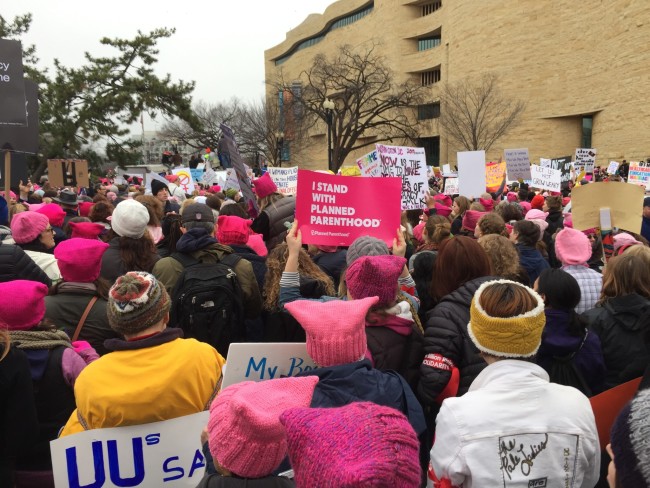 On the day after President Donald Trump was inaugurated, students from the College of William and Mary joined the approximately 500,000 people estimated to be at the Women's March in Washington, D.C. Others filled Duke of Gloucester Street in a sister march, showing their support for peers in D.C.
According to the Women's March platform, the mission of the march was to stand together in solidarity with partners and children for the protection of rights, safety, health and families. For students from the College attending, taking a stand against some of Trump's stated policies led them to travel to D.C.
"I attended the march because I felt it was important to take a stand and say that I am against the Trump administration's promised treatment and policies for the most vulnerable and marginalized populations in America," Special Projects Worker at the Office of First Year Experiences Samra Asghedom '17 said in an email. "Overall, it was an incredibly enlightening experience though. For me, this has definitely encouraged me to go to more protests and become more involved in working for the ideas and beliefs I stand for. I hope that this does not end at this one protest and will sustain itself as a movement into the future."
For Anna Fridley '20, the march was less of an anti-Trump protest than a march to support women, their supporters and equality.
"The Women's March on Washington was a phenomenal, once in a lifetime opportunity that has changed me for the rest of my life," Fridley said. "I have never experienced more love, hope and courage in one day. It was absolutely incredible to be in a sea of pink and be surrounded by people who all believed in love. Every speaker was eloquent and left a footprint of who they were in my heart. It was absolutely incredible marching next to the Washington Monument and seeing that I was a part of something much bigger than myself. January 21, 2017 was truly a day that changed my life."
In analyzing the march, many on the national level — and some students at the College — have critiqued the diversity and intersectionality represented at the Women's March. Damiana Dendy '17 said that she was pleased with the diversity she saw in the speakers and marchers.
Speakers at the march included the NAACP's National Board of Directors Chairman Roslyn Brock, mother of Eric Garner Gwen Carr, actress Scarlett Johansson and author Janet Mock.
"I found the march to be greatly empowering," Dendy said. "We saw great diversity in the protestors as well as the speakers, and noting that intersectionality is crucial. It was powerful to see firsthand so many people from all walks of life across the U.S. — those of different ages, races, genders and sexualities all marching in solidarity. However, we cannot stop there. The magnitude of this march points to how vital our solidarity is. The march was a moment in history, but we must continue the fight in our day-to-day lives. Although marchers across the globe protested in solidarity, we did not protest one issue; there are a plethora of issues and it will take a village, a global village, to fight the good fight. I worry that people went home after the march feeling like they made a statement and that's good enough, but it's not."
Dendy compared the Women's March to the Black Liberation Movement, saying that action beyond words is required for success.
"I heard women at the march say they are marching for all people, because once women are free, everyone is free. But the Black Liberation Movement, for example, has been saying since day one that once blacks are liberated, all people are liberated. Now it's time for real action and real intersectionality. People often become complacent with small victories, as I feel many will following this march. However, there is no room for complacency."
For some students like Erica West '17, the Women's March was just one of many protests during the inaugural weekend. West said that she was involved in multiple protests during the inauguration ceremony on Jan. 20.
West, in discussing diversity at the march, also said that she would have liked to have seen more diversity in the Women's March and the day before.
"The Women's March was a mixed bag for me, probably because I was involved in protests during the inauguration the day before," West said. "On one hand, it was heartening to see the sheer number of people who were spurred to action in the face of this presidential administration and its influence on the American populace — especially kids and teenagers. I also think it is important to have 'entry level' demonstrations of the people's will such as the Women's March, because it makes activism more accessible and friendly to those who are new to it. On the other hand, the crowd was not as diverse as it could have been, and one thought I had throughout was, 'How many of these people will be spurred to action beyond this day?' It would have been lovely to have so many people on our side the day before as we went toe-to-toe with angry Trump supporters. Protest is rarely popular in its time — what happens to this movement and momentum when it isn't 'in style' to be involved anymore?"
Not all students were able to make it D.C. to participate in the march, so some spent the day after the inauguration marching in Colonial Williamsburg or calling local representatives in support of inclusive legislation.
Class of 2020 President Kelsey Vita '20 said that when she found out that she couldn't go to the Women's March, she wanted to do something that she felt could still make an impact. Vita decided to call representatives on the federal level to advocate against some of Trump's policies.
"The main goal was to let people know they can be effective if they can't or don't feel like protesting," Vita said.
Vita also joined other students who were marching in Colonial Williamsburg.
"Marching in Colonial Williamsburg was really eye-opening," Vita said. "I wasn't sure what to expect turnout-wise, since a lot of people I know went to D.C., but I would guess at least 100 people were there. At one point this little kid was chanting, 'coexist, coexist' even after everyone else had stopped chanting, and it was really heart-warming to see how much this kid cared about the safety of others. The overall atmosphere of the day for me was still somewhat somber considering the inauguration the day before, but was mostly very empowering. It was inspiring to be surrounded by so many people who care about progress."