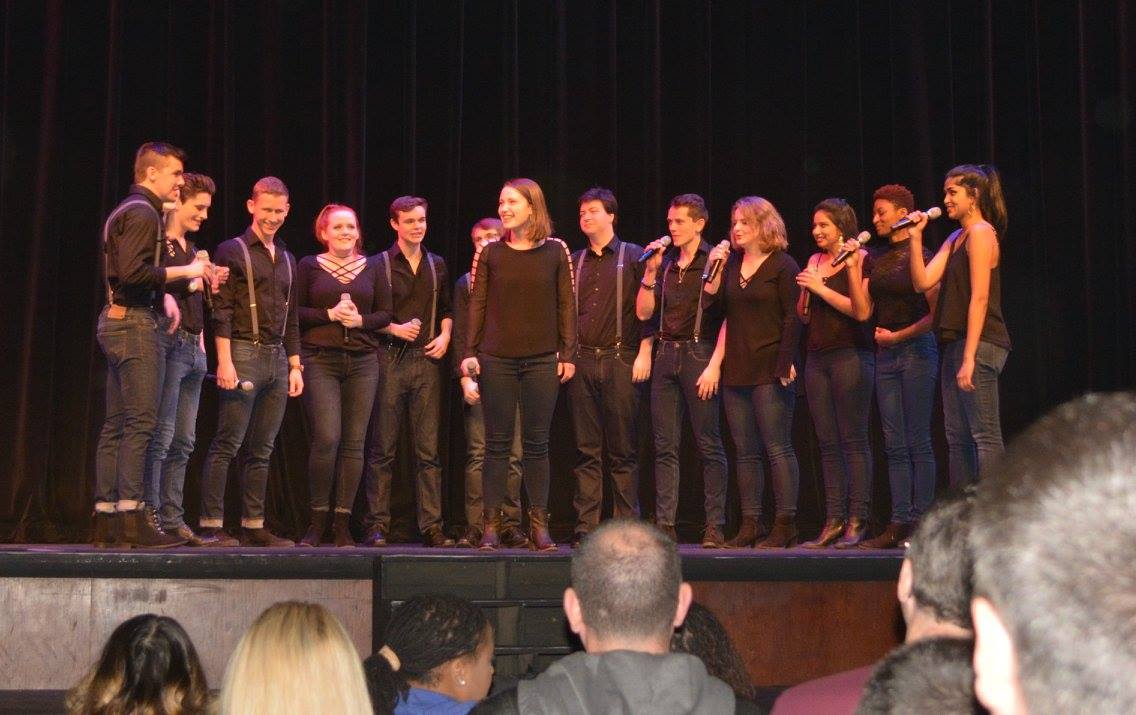 Senior Grayson Kilgo spends his summers singing with an all-male a capella group, Hyannis Sound, and last fall he decided to bring a similar professional, competitive a capella presence to the College of William and Mary. Kilgo called together friends and other students in the music community and they met in Aromas Cafe, making plans for the future. They discussed their goals and expectations and by the end of the meeting, they had created No Ceiling.
The new group, made up of 14 members, placed first in the quarterfinals of the International Championship of Collegiate A Capella. No Ceiling was competing against all schools in North Carolina and Virginia, just a small number of the over 350 schools in the United States and the United Kingdom that entered. This win qualifies the group to compete in the semifinals on March 11 in Athens, Ga.
Take a look behind the scenes with No Ceiling
When groups arrive at the ICCA competition, they each select a number out of a hat which dictates the order in which they will perform. While they wait for a sound check, they listen to other groups rehearse and run through parts themselves. Business Manager Tiger Richetti '17 recalls the whole day as a blur.
"I just remember all of us getting in line and freaking out and practicing and going over parts," Richetti said. "When we come off stage we freak out because you get so into it that you don't really register what's going on until you get off."
Kilgo has organized for the group to professionally record two tracks that will be released in a few months on Spotify and iTunes. Kilgo said he hopes the group will keep improving and trying new things.
No Ceiling, which performs contemporary hits, prepared songs throughout the semester, but really buckled down for the last two weeks before the competition. Since they perform mostly off campus, all but two of the singers are involved in other a capella groups on campus and many also participate in school choral ensembles. Due to the members' busy schedules, rehearsals are scheduled late at night. Leading up to quarterfinals, the group met each day at 10 p.m., practicing in Sadler Center until past midnight.
Junior Will Wolz insists the excitement for performing remains with the group throughout the competition season. Since the majority of rehearsal occurs in the final weeks before competing, Wolz says the music still feels fresh.
"After you sing something for a really long time it gets jaded and boring," Wolz said. "But since it's so new, we're still excited. We're really excited to learn the choreography and perform it."
Kilgo also credits the song choice for the group's continued passion and interest. The group has 12 minutes to perform four songs during the competition and this year chose a variety of genres to keep their set entertaining. The songs are "Midnight River" by Vaults, "Breathing, Underwater" by Emeli Sandé, "Don't Make Me Choose" by Nick Jonas, and "Salvation" by Gabrielle Aplin.
"Some groups try to pick music that's really popular, or they just want to find songs that sound best in their voices. But for us I really want to find songs that are meaningful to us because that's the point," Kilgo said. "It needs to be cathartic for everyone or else it's not really going to be worth going to rehearsal every day."
This rigorous rehearsal schedule can be difficult, and performances that include so many components can be challenging. Richetti recognizes the unity of the group as a driving force behind the perseverance of No Ceiling.
"The hardest part is very individualized for each person. Some people struggle with learning music or remembering music in combination with choreography, and some people struggled with performing and making sure your face is engaged the entire time you're performing. Some people just struggle with nerves and being afraid they're going to do the 'Pitch Perfect' thing and walk on stage and vomit," Richetti said. "So the hardest part in preparing is that everyone deals with the stress of it in a different way. And I think that's actually also why it's really wonderful to have each other there, because if one person struggles with music we have another person there that really excels at the music. It really helps all of us become better singers, musicians, performers and people."
Kilgo wants the group to help its members grow and have new experiences singing and performing. Last year, they struggled to piece everything together, but now the group has gained confidence, creating their own choreography and better representing themselves.
"At a school like William and Mary, we don't really have those resources to perform with hand held mics and have a professional company to mix everything," Kilgo said.
Kilgo has organized for the group to professionally record two tracks that will be released in a few months on Spotify and iTunes. Kilgo said he hopes the group will keep improving and trying new things.
"I think the College is about trying new things and having as many experiences as you can when you're here. Starting No Ceiling was something that I had always dreamed about doing," Kilgo said. "I have high expectations for what we do. That's part of why we're called No Ceiling. We were really trying to think of a name and I want us to constantly be raising the bar for what we expect from ourselves."