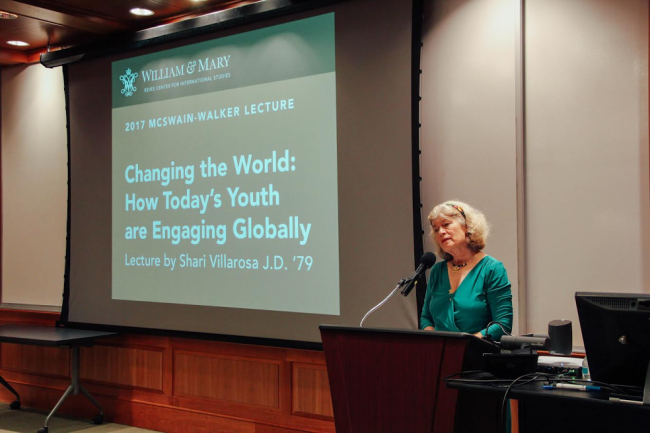 Wednesday, March 1, former United States ambassador Shari Villarosa J.D. '79 returned to where she taught law classes 40 years ago, St. George Tucker Hall, to discuss the importance of youth engaging in a global world.
Villarosa graduated from the College of William and Mary's Marshall-Wythe School of Law and served in the U.S. Department of State, eventually becoming the ambassador to the Republic of Mauritius and the Republic of Seychelles.
She spoke at the annual McSwain-Walker Lecture, sponsored by the Reves Center for International Studies, on U.S. interaction with other countries. Her lecture was titled "Changing the World: How Today's Youth Are Engaging Globally."
Villarosa focused on the benefits of globalization, and said that international competition strengthens markets and spreads cultural traditions across national borders.
According Villarosa, there has been a "rapid" growth in the number of young people across the globe. She says that these young people have a substantial responsibility.
"These young people are the future, not only in their countries, but for the world, just like you all are," Villarosa said. "They can be a powerful force for change or can spark further violence and instability if they see limited prospects of getting ahead."
However, Villarosa said she has faith in the rising generation.
"I am optimistic about the future because I have seen how young people, in particular, are curious about the rest of the world and grasp the benefits of information technology to connect across boundaries," Villarosa said.
Programs like the Young African Leaders Initiative, which brings young people from nations across Africa to U.S. universities to learn leadership skills for six weeks, encourage Villarosa. She also highlighted 20 young people she credits with developing their communities in Africa and Southeast Asia.
"I am a baby boomer," Villarosa said. "We thought we would change the world. We did, but not necessarily only for the better. We also messed up a lot of things — problems we are passing along to you. I know that you will do better."
Before her lecture, Villarosa also met with students at the Institute for the Theory and Practice of International Relations to discuss her work in the Foreign Service.
"I was genuinely interested in learning about the countries that I lived in," Villarosa said. "I'm a history nut, I like going around, I like going to the markets and talking to people, I've learned the languages of most of the countries that I've been to — so just talking to ordinary people. I love that."
Villarosa said that she believes that engaging with people in other nations builds trust. During the 2002 Bali bombings in Indonesia, she used to walk the streets of the city, looking for potential threats. She still remembers complete strangers who would protect her when she encountered anti-American protesters.
Students such as Mackenzie Neal '18 said that they enjoyed Villarosa's positive tone and attended both the meeting and the lecture.
"I'm very much an idealist, and seeing her come here and talk to us and spare some of her time and talk about the little things she loved the most — that just gives me a lot of hope," Neal said.
Neal is studying government and international relations and wants to enter the Foreign Service after graduation. She said she believes that meeting people like Villarosa has given her a better idea of how to promote trust.
"Travel and meeting other people with different backgrounds and different religions — that is the only thing that is going to promote empathy, in my opinion," Neal said.
Vice Provost for International Affairs Steve Hanson said that the biggest messages in Villarosa's lecture were her global perspective, shifting demographics and optimism about the future.
He said that he believes that the former ambassador helps bridge the gap between higher education and real-world application.
"We talk about theory and method, and we believe in that, but this dimension of bringing it to the real world — that is something she can do better than anybody," Hanson said.
Hanson also said that Villarosa has helped him understand the practical sides of academic material and that he enjoys the balance his position at the College gives him.
"People tend to debate international relations in the abstract, but so much of the action is actually just, you know, how much [time] you spent in a particular diplomacy program or how much you spent, you know, on setting up the embassy," Hanson said. "It costs money. I have the best of both worlds. I can do that practical work, but then I am here in the university, which is a wonderful place."
He said that he believes that Villarosa's hopeful attitude encourages others to feel the same way.
"Her optimism is infectious and her view that the world is a better place — I do believe it as well," Hanson said.