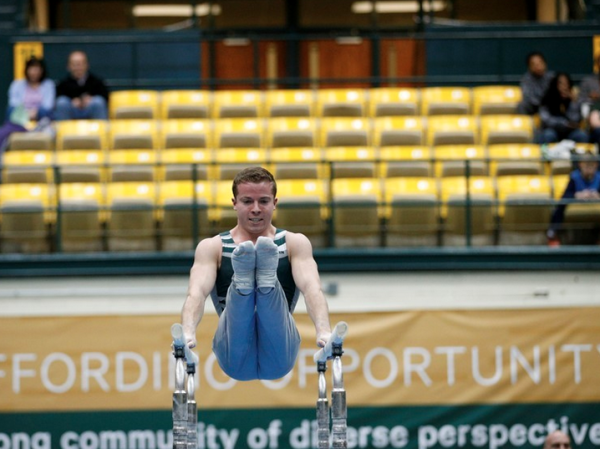 The William and Mary men came in a close third at a tri-meet hosted by Navy March 10. Navy took the title with a score of 404.1, followed by Air Force with a score of 396.3 points and the Tribe close behind with 396.25 points.
The Tribe excelled on vault, taking the top team score of the meet with 70.3 points. Senior Nick Van Dyke led the way with his third-place finish of 14.2 points. Sophomore Jack Hasenkopf's career best of 14.15 points and junior Juan Palma's season best of 14.1 also contributed to the College's score on this event.
Senior Neal Courter helped the Tribe to second-place team finishes on both high bar (63.2) and floor (66.4). Courter posted a season high on high bar with 13.8 points and placed second in the event. He tied for third and scored another season best on floor with 13.9 points.
Juniors Griffin Antle and Jeremiah McReynolds had stand-out individual showings, with Antle tying for third on pommel horse with 13.5 points and McReynolds nearing a career high on rings with 13.85 points.
The Tribe will close out its regular season facing Army at Kaplan Arena for senior day at 1 p.m. March 18.
While the men were in Annapolis, the Tribe women were competing at home where they posted a season-high overall score, beating Temple 193.100-192.450.
The College had a strong showing throughout the meet, with at least one gymnast on the podium in each event. Even on vault, the only event where Temple beat the Tribe, freshman Erika Marr placed third with 9.675 points, contributing to the College's 47.900 score.
Marr's classmate, freshman Caroline Caponi, led the way on beam, where she placed third with 9.700 points. The College scored 48.125 total points on beam.
Sophomore Aaliyah Kerr's first-place finish of 9.850 points and senior Olivia O'Connor's second-place score of 9.725 helped the Tribe to a season best of 48.600 points on floor.
The Tribe posted a score of 48.475 points on bars, where senior Briana Gironda placed first with 9.800 points. O'Connor and sophomore Katie Webber also contributed with matching 9.700 scores.
Gironda also took the title in the all-around, with her 38.675-point score followed closely by O'Connor's second-place finish of 38.650 points.
This win closed out the Tribe's regular season. The team will go on to compete in the Eastern College Athletic Conference Championship at Brown March 18.