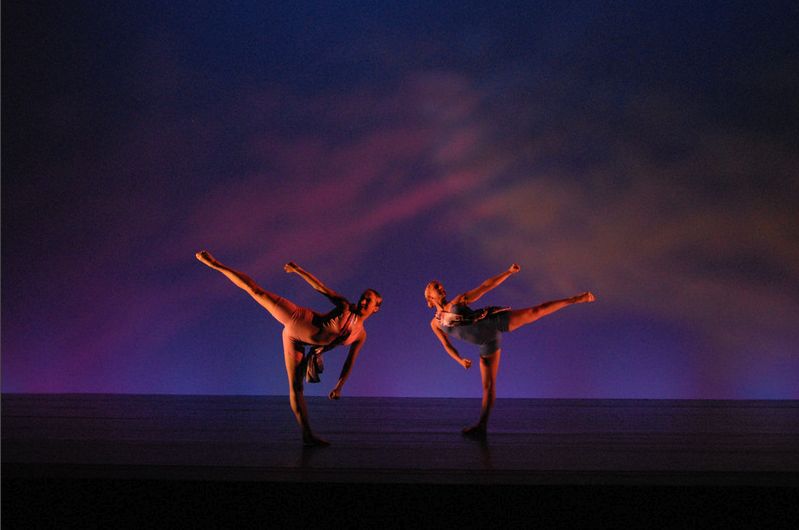 When the curtains opened on Orchesis Dance Company's annual spring showcase, "An Evening of Dance," a variety of student-choreographed pieces created a breathtaking myriad of colors and movement. The choreography addressed subjects such as the role of young adults in social movements and a dancer's identity as Japanese-American.
Out of the 11 pieces choreographed by 10 student members, some were more provocative than others with music and movement. Those with more subtly conveyed messages relied on color-schemes and soft, instrumental music. All of the pieces were powerful and featured a cast of strong, talented dancers.
One of the subtler pieces, "Sidewalk Intricacies," opened the show. The piece, choreographed by Sarah Collier '17, explores how daily interactions establish relationships. "Sidewalk Intricacies" featured fluid and graceful movement, which gradually became more intricate. Additionally, the costuming and lighting allowed dancers to effectively form relationships on stage.
Starting with dramatic choreography, "Assemble" explored the human ability to unite when faced with fear-provoking circumstances. Washed in dark lighting, the stage was the perfect picture for Hailey Arindaeng '18's dynamic, sharp choreography. The piece ended on a high note with a striking ending pose that really highlighted Arindaeng's theme and allowed dancers to really gracefully utilize the stage space.
One of the most rhythmically interesting pieces, "A Place at the Table," featured familiar sounds, such as the noise made when coffee percolates. The dance, choreographed by Kate Archambault '18, aimed to show the importance of a dinner table in creating a constant support structure. Using very isolated, stylized movements, dancers created interesting shapes at different levels. Through the combination of music and movement, the orange-hued stage painted a picture that was homey and comfortable.
The only solo performance of the evening, "Divided Into," featured the light and ethereal movement of Arisa Smith '17. The piece, also choreographed by Smith, explored the two sides of her cultural identity  —Japanese and American. Her choreography demonstrated her grace and strength, making this solo piece one of the most moving of the showcase.
Two pieces, "Stagnation, Repetition" and "Vim," choreographed by Molly Murphy '19 and the duo of Sydney Hecht '19 and Hailey Ramsey '19, respectively, featured upbeat, rhythmic music that created two of the most engaging and unique pieces in the showcase. Murphy's piece explored imbalances in relationships and the struggle to support others. The theme of this piece was shown through the incredible balance in the choreography. The four dancers showed incredible strength in their partner work and individual movement. Hecht and Ramsey's piece featured dancers with exemplary control and strength. The funky, cadenced music was engaging and expertly allowed the pair to explore the relationship between dancers and their environment.
With soulful music composed by Preston Neukirch, Kayla Weldon '17's "SNCC" beautifully explored the role of youth in historical social movements. Dancers dressed in contrasting red and white filled the stage, demonstrating free, fluid movement in individual choreography. Weldon's choreography also masterfully used levels to create eye-catching shapes.
Madeleine Doherty '18 choreographed "Transposition," which examined how interpersonal relationships evolved throughout life. Her piece featured solid choreography to a piece by composer Philip Glass. The four dancers featured in this piece demonstrated coordination and ability through their unique movements.
Duos Lindsey Carr '18 and Courtney Wiley '18 and Vanessa Lee '17 and Samuel Jens '17 choreographed two balanced, powerful pieces: "All for One" and "Stationary Movement," respectively. "All for One" sought to explore the positive and negative impacts of competition and featured strong, percussive movements. A rapid transition in music was paralleled by a transition to more high-energy movement with impressive leaps. There was not a dull moment in this piece. "Stationary Movement" aimed to explore the forms created by Keith Haring's 1980s pop art. Jens and Lee's piece featured isolated and balanced movement, upbeat music and whimsical themes.
Closing the performance, Smith stole the show once more with "Places We'll Go," which featured the entire company. The piece explored how emotions change during different phases of life. Awash in different, muted colors, the group of dancers created beautiful, airy images. There was an incredible amount of grace in Smith's choreography; at times, the powerful movements were chilling. Additionally, lighting design contributed to the wonderful closing piece's strengths.
Overall, "An Evening of Dance" showcased talented student choreographers and dancers, but it also showed a masterful balance of movement with deep and complex themes that sought to explain human experiences and emotions. Each individual dancer demonstrated skill and strength, and the profound messages only added to a beautiful performance.