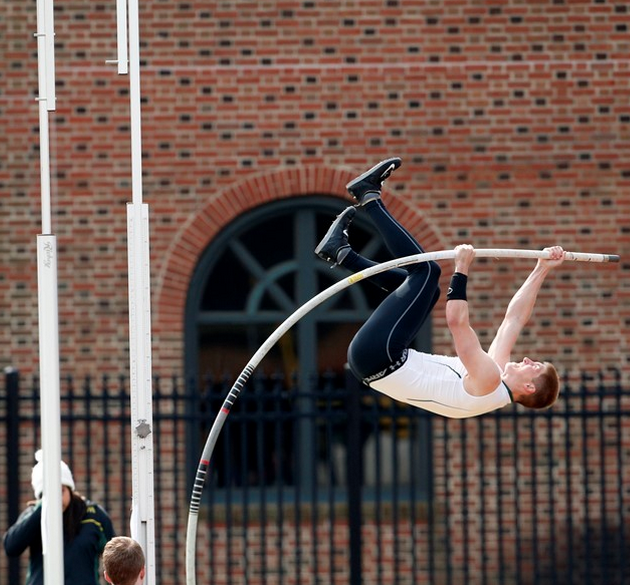 Both the William and Mary men and women posted strong performances Saturday at the Mason Spring Invitational. The men, bolstered by a pair of school records, tied for fifth in the team standings, while the women finished in a respectable eighth place.
Senior Taylor Frenia led the men with second place finishes in both the shot put and discus. Frenia tossed the latter 54.58 meters (179-1) to break his own school record by nearly two feet.
Skander Ballard set a freshman record in the 400 meters, clocking a blazing 49.06 to finish ninth. Ballard bettered the previous record holder Corjo Cuffee's mark, set in 1994, by 0.13 seconds.
The College also picked up points in the men's 1500 meters, where sophomore Ryan McGorty, senior David Barney, junior Dawson Connell and freshmen Tyler Cox-Philyaw and Cooper Leslie all notched IC4A championship qualifiers. McGorty finished sixth to record a personal best 3:46.69, and Barney followed him across the line in 3:47.62 to place seventh.
Junior hurdler Dylan Anderson had two big races to place fifth in the 110 meter hurdles (14.64) and third in the 400 meter hurdles (53.90).
On the women's side, junior Leia Mistowski continued her successful 2017 campaign, placing second in the hammer throw with a toss of 57.74 meters (189-5).
On the track, junior Maggie Sullivan set a personal best time in the 400 meter hurdles. She finished fourth in the event with her 1:03.27 clocking. Classmate Kacey Wheeler also set a personal best, running 25.30 for tenth place in the 200 meter dash. Wheeler then finished third in the 400 meter dash with a swift 56.45 clocking.
The Tribe is back in action this weekend at the Captains Classic at Christopher Newport.