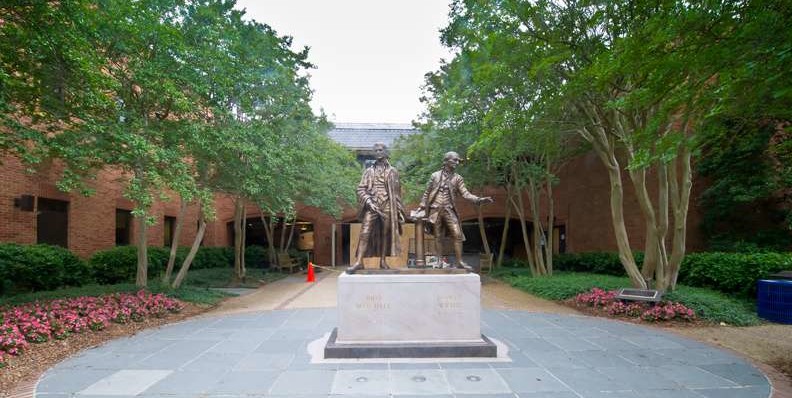 Former Ambassador to Belize Vinai Thummalapally gave a lecture April 4 entitled "U.S. Trade Policies: Where We've Been, Where We Are Going, and How to Get Back on Track."
Director of the Human Security Law Center at the Marshall-Wythe School of Law Nancy Combs said Thummalapally played a crucial role in strengthening trade relationships with Belize during his time as ambassador.
"In 2009, President Obama appointed him as ambassador to Belize where he served until 2013," Combs said. "As ambassador, he helped strengthen the bilateral relationship between the United States and Belize in the areas of citizen security, economic development, education and health care."
Combs said that President Obama's investment program, SelectUSA, played an important role in Thummalapally's work in Belize.
"His most recent positon was as executive director of SelectUSA," Thummalapally said. "SelectUSA is part of the International Trade Administration of the U.S. Department of Commerce. It's a government-wide initiative to attract and retain business investment in the United States. As executive director, the ambassador managed the strategy and implementation of SelectUSA as it worked to create jobs, promote economic growth and promote U.S. investment and competitiveness."
Thummalapally said that SelectUSA is crucial for promoting investment in the United States. The program has led to the creation of 6.1 million jobs which each offer an average salary of $80,000. Thummalapally said that an additional 5.9 million dollars and 12 million jobs can be attributed to foreign investment in the United States.
Thummalapally said that a federal program like SelectUSA is necessary for promoting investment in the United States so that foreign investors have a source of information about America's current policies and regulations.
President Bush started a program in 2007 called Invest in America and, fast forward to 2011, President Obama created SelectUSA," Thummalapally said.
"President Bush started a program in 2007 called Invest in America and, fast forward to 2011, President Obama created SelectUSA," Thummalapally said. "That work entailed creating an entity at the federal level to make the federal agencies be more business-friendly, particularly investment-friendly, so that happened and part of that was SelectUSA was seen as a one-stop shop for investors. SelectUSA was where investors could come … They came to SelectUSA to get clarification on rules and regulations."
These programs came about after a large drop in foreign investment about 10 years ago. Thummalapally said America attracted about 45 percent of cross-border investment in the '70s and '80s, but when the percentage dropped to about 13 percent, the government intervened in order to make American businesses more attractive to foreign investors.
Thummalapally said the program has been largely successful, mainly because of the United States' expansive economy, and that is has attracted about 23 billion dollars in foreign investment.
"It has gone extremely well. In large part because the US is a very attractive destination for businesses to come," Thummalapally said. "We are a huge economy of 18 billion dollars. We have roughly 20 free trade agreements, mostly bilateral, outside of NAFTA, but it's those agreements that have created the right conditions for investment to take place in the United States."
Ellie Thomas '20 said she enjoyed Thummalapally's lecture and thought his discussion of foreign investment was intriguing.
"One thing that was striking to me was, I came in thinking that it would be more about his role as ambassador but it was really interesting to hear about investment and his business career as well," Thomas said.
As to where the future of foreign investment is headed, Thummalapally said he was still unsure, but there are three key areas foreign investors are most concerned about.
"I don't really know where we are heading," Thummalapally said. "The three things that stuck in [investor's] minds that we discussed was infrastructure, deregulation or regulatory reform and tax reform. Those are the three things that I think will continue over the next several … Could be not just four years, it could be more, but of this administration, those are the things that I think are things to watch."
He said that no matter how things change in terms of trade over the next four years, America has strong rules that govern trade and investment and our system is not likely to be toppled.
"I think we play a leading role in the world on just rule of law," Thummalapally said. "Just the uniform commercial code that states have in the United States. It's an envy because of the size of our country and the diversity of our country. You go from southern Virginia to Washington State to New York — such different economies and strengths and so on — but there are clearly established rules of law of business."