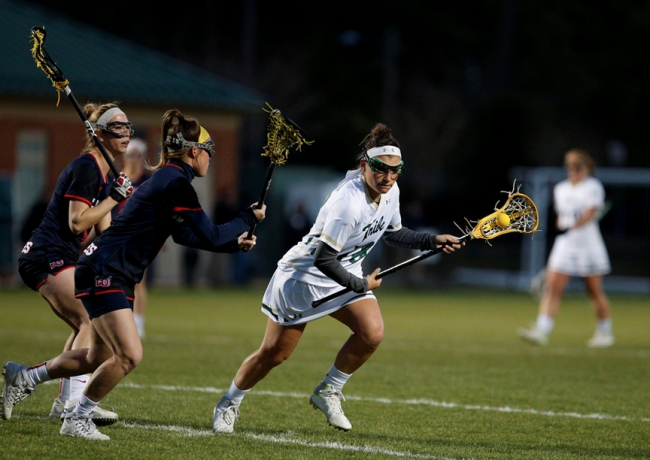 With the regular season winding down, William and Mary continued its tough Colonial Athletic Association season. In its last away game of the year, the College took on the Hofstra Pride. The Tribe (3-13, 0-5 CAA) took an early lead, but it was not able to hold on. Hofstra (8-7, 2-4 CAA) dominated the last 25 minutes of the first half, taking an 11-goal lead into halftime. The College was not able to recover the massive deficit, falling 18-6 to the Pride.
The Tribe, looking for its first CAA victory of the year, came out firing. Two goals scored one minute and 38 seconds apart by junior attacker Alexandria Specht, split by a Hofstra goal in between the two, gave the College a 2-1 lead with 26 minutes left in the first half of the game.
Things went downhill quickly for the Tribe. Sparked by a goal by Pride midfielder Drew Shapiro, Hofstra rattled off 12 straight goals going into halftime. The Pride led 13-2 at the break with five goals from Shapiro. Hofstra doubled the Tribe up in shots in the period, 22-11, while turnovers were 9-6 for the College.
The second half started with another Hofstra goal, extending the Pride's lead to 12. Finally, freshman midfielder Annalise Lower broke through for the Tribe to end the run. However, the College could not muster enough offense to get back into the game. The rest of the way, the two teams each scored three goals.
Two of the Tribe goals in the second half came from Specht, giving her a total of four on the game. Those four goals set a career high in a game for Specht. Her preceding single-game record was three scored in the previous game against Drexel.
After a quiet last 10 minutes, with only two goals scored, the loss was finalized for the College, losing 18-6 to the Pride. Overall, the Tribe was outshot 34-21, and the Pride put 26 on net compared to the College's 11. Hofstra corralled 18 ground balls, while the Tribe collected eight.
For the College, Specht was the leading scorer. Lower pitched in a goal, as did freshman midfielder Nikky Price. The only assist for the College came from sophomore attacker Eloise Gagnon.
The Tribe's loss was its sixth in a row and eighth out of nine games, including all five CAA contests thus far. To wrap up the College's season, it will host the Elon Phoenix Saturday, April 29 at 1 p.m.