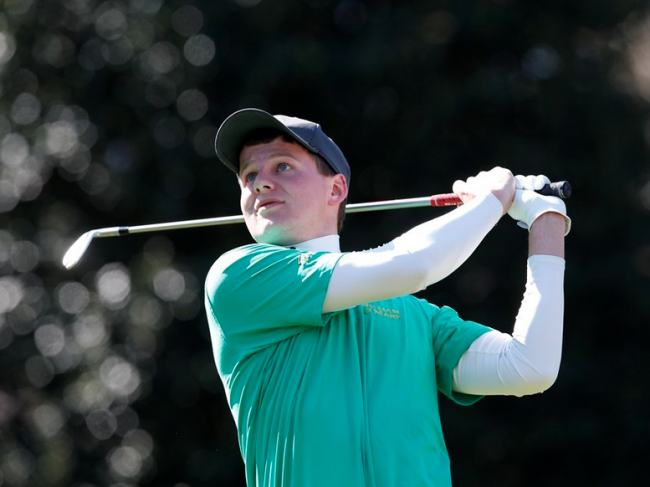 William and Mary finished in eighth place at the 2017 Colonial Athletic Association Men's Golf Championship, with an overall score of 880 (+16). The 54-hole, three-day tournament was held at Salisbury Country Club in Midlothian, Va. from April 21-23. Despite challenges due to inclement weather, the College of Charleston claimed the top spot with an overall score of 841 (-23).
After the first round, the Tribe sat in eighth with a team score of 293 (+5). Senior Davis Morrison led the team with a 1-under 71, tying for 12th. Freshman Walker Campbell, sophomore Will Stewart and junior Sam Aronoff all tied for 25th with a score of 2-over 74. Senior Austin Morrison ended the first day with a disappointing 13-over 85.
Charleston led the field after the first round, finishing with a strong 274 (-14). At the top of the individual leaderboard, the Cougar's Parker Derby and Towson's Spencer Alexander tied with 6-under 66s.
To adjust for the weather forecast, the CAA decided to play rounds two and three Saturday. During round two, the Tribe scored 290 (+2) to remain in eighth. Stewart and Davis Morrison finished in a tie for 25th after shooting an even 72 and a 3-over 75, respectively. Campbell's 1-over 73 placed him at T30 after the first 36 holes. With an 8-over 80 in the second round, Aronoff fell to 41st in the leaderboard. Despite finishing in a tie for 42nd, Austin Morrison had a strong comeback in the second round, shooting a 2-under 70.
Charleston remained at the top of the leaderboard after a second-round finish of 283 (-5). It had a six-shot lead over second-place team Towson going into the final round. With a 2-under 70, Derby took the outright lead after the first 36 holes.
Round three began Saturday, but the tournament was completed Sunday due to a rain delay. The Tribe remained in eighth place after a 297 (+9) finish in the third round. The Tribe's only top-20 finisher, Davis Morrison, fired a 3-under 69 to tie for ninth with a 54-hole score of 215 (-1). Campbell shot a 6-over 78 in the last round, coming in 34th with a 225 (+9) overall score. Austin Morrison shot a 1-over 73 to tie for 36th with a 228 (+12). Stewart shot an 11-over 83 to finish in 40th with a 229 (+13) total. Aronoff rounded out the team with a 5-over 77 to tie for 41st with a total score of 231 (+15).
Three-day leader Charleston finished with a 284 (-4) in the last round of play. It ended the tournament 13 strokes ahead of second-place finisher UNC-Wilmington. The individual leaderboard featured a close race for first; however, Derby finished on top with a 54-hole score of 208 (-8).
This was the fourth and final CAA championship for twins Austin and Davis Morrison, as well as Davis Morrison's best CAA Championship finish. Stewart competed in his second consecutive Championship, while it was the first for both Campbell and Aronoff.