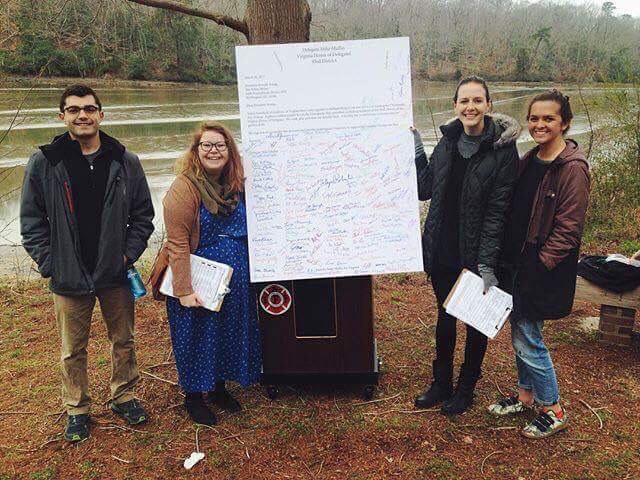 All eyes are on Virginia as the gubernatorial primary approaches.
As one of only two states with gubernatorial primaries this year — the other being New Jersey — political pundits have speculated on what the race symbolizes in the era of United States President Donald Trump.
This is especially true of the democratic primary, where Lieutenant Governor Ralph Northam and one-term U.S. Congressman Tom Perriello are competing to represent the Democratic party in the general election and replace Governor Terry McAuliffe in Richmond.
Students at the College of William and Mary have been actively involved as volunteers in both the Northam and Perriello campaigns.
Recent grad Haley Arata '17, has been volunteering on political campaigns since she was in eighth grade. She's currently a programs intern at the Arab American institute in Washington, D.C., but has been volunteering for Perriello's campaign since early in the spring semester. She collected almost 700 signatures to get Perriello on the ballot and has been knocking on doors and making calls whenever she has the chance.
The first campaign she said she remembers volunteering on was actually Perriello's 2010 congressional bid. Arata said that what makes Perriello a strong candidate is his intersectional approach to issues, his willingness to change, and his outspoken stances against the Trump administration.
"He's just really honest about the way he sees everything connected and he's not a one-issue candidate," Arata said.
For Arata, the primary is a chance to have a say before the general election comes around.
The primary gives you this really cool opportunity to say, 'There's more than one person who's vying for my vote, so what values do I want representing my party?'" Arata said
"The primary gives you this really cool opportunity to say, 'There's more than one person who's vying for my vote, so what values do I want representing my party?'" Arata said.
One of the defining issues for her in this primary are the candidates differing stances on the construction of pipelines in Virginia — Perriello has opposed them completely, whereas Northam has not come out strongly against them.
Arata is also a vocal pro-abortion rights advocate. This is an issue Perriello has a mixed record on — he voted for the Stupak-Pitts amendment to the Affordable Care Act during his term in Congress, a bill which would have prevented federal funds for being used for abortion coverage. He has since called this decision the "worst vote of his career."
"What really matters to me is where he's come since then," Arata said. "… I think that a good politician is someone whose mind can change — he shows that his mind has changed and he is interested in representing the issues of the people."
Forrest Owens '18 is a public policy major and a fellow for the Northam campaign. With only a few days to go before the election, his daily routine consists mostly of organizing phone banks and canvasses and recruiting volunteers.
"This is the first campaign that I've been involved in," Owens said. "I was interested in politics before and being at William and Mary made me even more interested in politics."
Like many students on campus, Owens was spurred to action by the outcome of the presidential election in November. He studied abroad this past spring semester, but wanted to find a way to become more politically engaged and when the opportunity came along to work on the Northam campaign, he took it.
"Ralph is my guy because he has always stood there for Virginia," Owens said. "He was born and raised on the Eastern shore, he lived in Norfolk for the rest of his life, he was a doctor in the army and then a pediatric neurologist and Lieutenant Governor."
Even though this is the first campaign Owens has been directly involved in, he said he wants to continue to be engaged going forward. To him, interacting with voters face to face while out canvassing has been the most rewarding aspect of his experience as a campaign fellow.
"You can just read the papers that we have to read in government classes … but it's another thing to actually go out and see 'Oh, OK, this person cares about this because of this specific reason,'" Owens said.
Owens said that he is most passionate about environmental issues and that Northam's opposition to off-shore drilling and plan to create a conservation cabinet are important to him.
On campus, political groups like the William and Mary Young Democrats or VOX: Voices for Planned Parenthood have not endorsed any candidate in the primary, as per their policy. However, they have been involved in other ways — the Young Democrats hosted a meet-and greet with Lt. Gov. Northam March 1 and co-hosted a Tom Perriello event with VOX on April 14.
And Virginia21, a nonpartisan group that advocates for legislation on behalf of college students, also helped students fill out absentee ballots and created nonpartisan voter information brochures about all of the candidates.
But Owens and Arata agree — no matter who you're voting for, casting your ballot June 13 gives your voice a chance to be heard.
"There is so much you can do and the bare minimum is voting," Arata said. "It's just as important now as it has ever been."