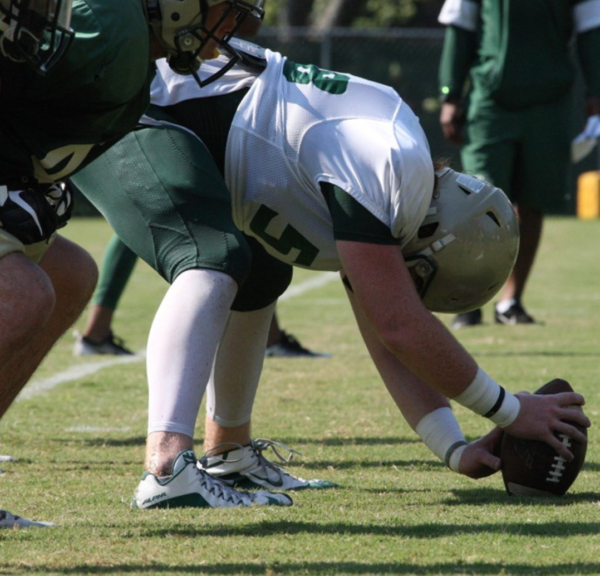 Coming off a disappointing 5-6 season in 2016, William and Mary entered preseason practice for the 2017 campaign with a question that it hadn't had to ask itself in several years: who will be the starting quarterback?
For all his shortcomings, Steve Cluley '17 made the quarterback position his during his William and Mary career, making 35 consecutive starts behind center for the Tribe. With Cluley now gone, head coach Jimmye Laycock and his staff face the daunting task of choosing his replacement from a list of five names, all of which have little to no collegiate experience.
Speaking at Tribe Football Media Day August 7, Laycock said that all five quarterbacks — junior Tommy McKee, sophomore Brandon Battle and freshmen Ted Hefter, Shon Mitchell and Dean Rotger — possess the athletic gifts for the job, but it will be their performance under adversity that will determine who starts.
"They all have the skill to throw the ball, they have skills to run the ball, what they don't have is any experience," Laycock said, now entering his 38th season as the Tribe's head coach. "And that's what it basically is going to boil down to, who can make the best decisions in circumstances that are gonna present themselves playing quarterback and how consistent they can be."
If one had to pinpoint the frontrunner in this five-horse race, one would probably select McKee or Mitchell. McKee is the only one of the group to have played quarterback in a college football game, completing all four of his career pass attempts over two seasons as Cluley's backup.
When asked about his experience, albeit limited, McKee said he thinks that his familiarity with the Tribe's offensive system may give him an edge.
"I think that's one of the big parts of my game," he said. "Really understanding the offense, kind of knowing what to do before the defense does it. Yeah, that's what I'm looking to set me apart in this competition."
In fact, when the season kicks off against University of Virginia September 2, McKee may be taking on another role as well — he's currently the only punter listed on the College's roster.
"We've had some hardships with the punters so far … but I'm just here to help out the team in whatever way I can, and right now that's playing quarterback and punting," McKee said. "I've been working at both a lot over the summer, especially the technique in punting and all that stuff, but I'm just looking to help out in whatever way possible."
While Mitchell hasn't had as much time around the Tribe offense as McKee has, he certainly makes up for it with an impressive high school quarterbacking resume. A four-year starter for Oscar Smith High School in Chesapeake, Va., Mitchell set Virginia High School League records for career completions, touchdowns and passing yards.
As a result of this success, Mitchell hasn't had much practice competing for a starting quarterback job, but he said he's enjoying the experience.
"It's been an awesome experience being able to compete with my teammates," Mitchell said. "We're all very supportive of each other, and we just want what's best for the team. We all have our strong suits, and hopefully coach Laycock and [offensive coordinator DJ] Mangas can pinpoint which strong suits are needed for this team to be able to win ballgames."
Speaking of Mangas, the College will not only have a new quarterback this season, but also a new primary play-caller on offense. Mangas, the Tribe's running back coach for the past three seasons, will now serve as the team's offensive coordinator and quarterback coach after Kevin Rogers resigned in February.
We're all very supportive of each other, and we just want what's best for the team."
A 2012 graduate from the College, Mangas is just 28 years old, the second-youngest offensive coordinator in all of Division I football. And according to tight end and senior captain Andrew Caskin, Mangas has already earned the respect of his players.
"He's the hardest working guy I've ever been around. I'm not lying to you at all; I really do mean that," Caskin said. "We have a game that we play: we say, 'Is coach Mangas here?' And we look at his car, he's probably here, like, 19 hours per day. He works so hard, so when you have a coach or offensive coordinator that works like that, then it's pretty fun to play for him."
Regardless, Mangas and Laycock still have to solve the starting quarterback question with the season opener looming in just over a week's time. The answer could very well determine what kind of season the Tribe will have in 2017.