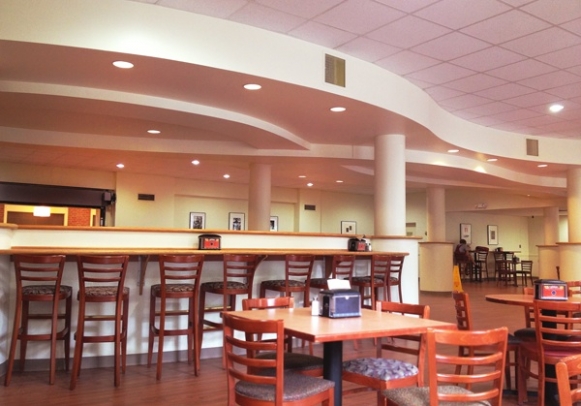 When students returned to campus this fall, likely no one was excited about the dining options. Students at the College tend to treat dining on the meal plan as an unfortunate thing that must be done rather than something to look forward to. We all chose the College of William and Mary for a wide variety of reasons, but if food quality had been at the top of our priority list, we would have gone to the likes of Virginia Tech or James Madison University.
Nevertheless, the College failed to meet even such low expectations this semester. Not only did they completely eliminate the Dining Dollar options found in Tribe Square, but they also completely mangled the organization of Sadler.
Despite the continued sadness of our campus's dining halls, there is one shining beacon of hope: Marketplace.
Although Marketplace is not a gourmet, five-star restaurant by any means, it is absolutely a reliable dining hall and is as close to 'good' as we can find on campus.
I might be biased because I spend so many late nights in the Campus Center basement working on The Flat Hat and because I spent a year living out in the boonies in Brown Hall. But, I also believe that Marketplace is objectively the best dining hall on campus.
The chicken tenders are reliably crispy, the pizza is surprisingly tasty, the Caprese sandwich is pretty different from anything else you can find in the dining halls, and the wide variety of soups are criminally underrated.
In addition, while Sadler's changes took the dining hall's quality back several steps, Marketplace has experienced some extremely positive changes.
The dining hall has added ice cream to its repertoire, which is something I have always said would take Marketplace to the next level. Not only is it ice cream, but it is hard-serve Blue Bunny ice cream, which is far superior to the mediocre soft serve that Sadler provides (when the machine is working).
Additionally, the move of the cash register from the corner toward the lobby area seemed weird to me at first, but it seems to be doing a lot to alleviate congestion around the grill line during the lunch rush. Not to mention the fact that it does a lot to increase the positivity in the space when Christian's joyful exclamations echo even louder than before.
While Sadler's changes took the dining hall's quality back several steps, Marketplace has experienced some extremely positive changes.
And of course, the addition of the waffle irons and milk dispenser can't be overlooked by breakfast food lovers.
However, Marketplace, while certainly the best dining hall on campus, isn't flawless. A consistent problem with it is that it isn't the best place to go if you have any dietary restrictions. The vegetarian options are fairly slim and vegan options are even slimmer.
In addition, the cups have mysteriously shrunk. While I'm sure this is useful for and intended to curb soda consumption, enforce better portion control and save some money — and is a relatively minor annoyance — it's still an annoyance when you're used to always having a larger sized beverage. Along those same lines, the lids and straws need some reorganizing after the cash register move, but that is once again a minor grievance that pales in comparison to the things that could be said about the other dining halls.
All in all, Marketplace is a sanctuary away from the mediocre dining halls on campus. The predictable food quality is comforting and the staff's warm, welcoming, kind demeanor cannot be overstated.
Eating at Marketplace won't solve all our dining woes, but it is definitely a start.
Email Emily Chaumont at emchaumont@email.wm.edu.