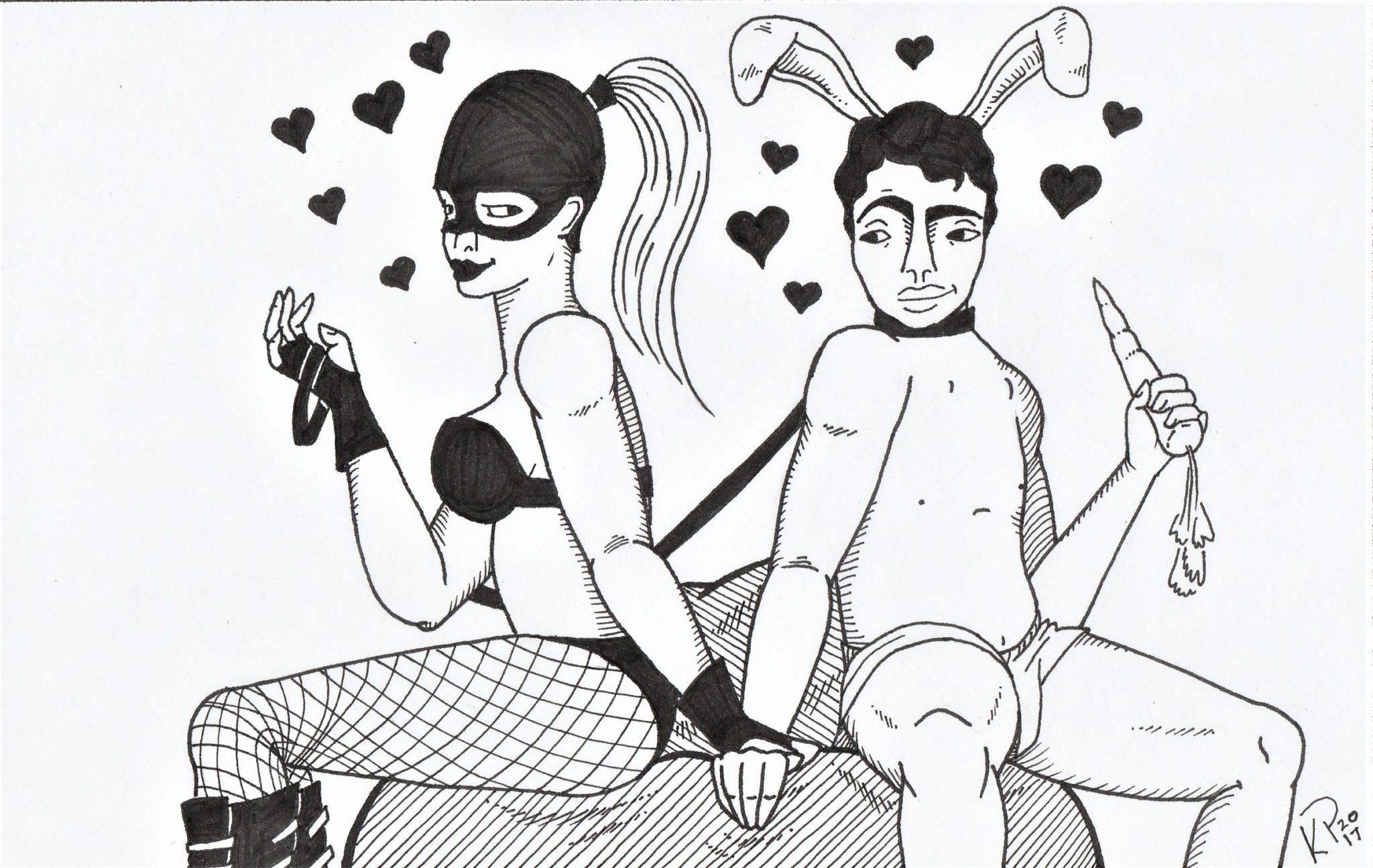 "Meet me in the play room in fifteen minutes," My freshman hallmates and I quoted, putting on our most seductive voices, waggling our eyebrows, and then doubling over with laughter for weeks after a large group of us went to see the first Fifty Shades of Grey movie at the Movie Tavern on Valentines day. Although BDSM and kink continue to have a hay day in pop culture, many people (especially those not informed about, involved in, or interested in kink) like to joke about fetishes and fantasies. So what do you do when, as one anonymous reader asked me this past week, your partner takes you into their confidence, shares one of their kinks with you, and you're super not into it?
Here's my vanilla disclaimer. I'm not exactly the most kink-savvy individual, so I've had to do a little research for this article. I'm also not a sex therapist, just your friendly neighborhood feminist. But I do know about the power of opening dialogues about sex in a patient and respectful manner. Are consent and open conversation kinks? If so, I'm on board.
1. Do not shame them for having a certain kink. Their interest in a little role play does not make them immature; their interest in BDSM doesn't equate a twisted mind and a tortured past (*cough* Christian Grey *cough*). If your partner has shared their kink with you and you don't understand it, don't tear them down for it, ask questions.
Know that just because your partner is a very kinky girl/guy/non-binary/gender-queer individual, the kind you don't take home to mother, doesn't mean that they're a super freak. But you already know this. You want to support them, you don't want to kink shame them, you want them to be having good sex that feels good and excites them. But if you're not kinky, or kinky in the same way that your partner is, you'll need to identify which aspects of their kink make you personally uncomfortable, and voice your discomforts clearly and kindly, without implying that they should be uncomfortable or feel bad about having a certain kink. After all, they've shared a very vulnerable part of themselves with you.
2. Do not shame or degrade yourself (unless you're into that). Especially if your partner has a strong interest in a particular kink, you may find yourself wondering: what about me as I normally am isn't enough for my partner? Please, please know that your partner's kink does not mean that anything is wrong with you, or that you are lesser or not enough just because they want to experiment with adding a new twist to sexual activities. Furthermore, if you don't want to try out their brand of kink "play," that doesn't make you closed minded or cruel, and it certainly doesn't make you "bad" at sex.
3. Turn offs and "I" statements: Try to explain what about your partner's kink turns you off or makes you uncomfortable or hesitant, for example, "Being covered in chocolate sauce during sex is a turn off for me. It would make me feel messy and you know how I feel about cleanliness. I would be more focused on how I was going to get the chocolate stains off my sheets than the sex." Or "Being tied up is a turn off for me because being unable to have full control of my body makes me feel used and objectified." As an aside, when discussing domination/submission based kinks in particular, you may want to discuss with your partner how your intersecting experiences of power/powerlessness, privilege and oppression affect your comfort levels during sex, as well as how they may turn each of you on or off from certain fantasies.
In general, it may take some more discussion for your partner to fully understand the exact lines and nature and your boundaries and feelings about a fantasy, just as it may take you time to understand their reasons for being turned on by a specific fantasy. They may offer compromises, such as, "Okay, well if cleanliness is the problem, would you be comfortable getting drenched in chocolate sauce in the shower instead?" And if they do offer a compromise that you are still uncomfortable with, it's still okay to say no. It is always okay to say no.
4. Turn Ons. Offer alternatives! For example, "I'm not comfortable being in a threesome, but I'm super turned on by mutual masturbation. Is that something that you would be interested in?" Or, "As a vegan, the idea of wearing leather during sex is uncomfortably unethical for me, but I'd be down to wear stockings or high heels. Do either of those things turn you on?"
5. Checklists: Before trying anything tremendously new, make like Fifty Shades of Grey and exchange a checklist (I'd hesitate to recommend a binding contract…pun absolutely intended) of sexual acts/behaviors that you both would be comfortable either giving or receiving to help facilitate conversation about exactly what you are and aren't comfortable with. There are some great lists to be found online, and all are as customizable as you'd like to make them. Maybe you'll find yourself intrigued by some elements of your partner's fantasies but not others. Like Anastasia Steele, you too can say yes to light power play, but no to fisting. As one movie-goer cried out, Rocky Horror style, during the non-disclosure agreement scene of the original Fifty Shades of Grey, a few years ago at the Movie Tavern, "Yes! You go girl! You set your boundaries!"
6. What if your partner finds that they cannot be aroused without the object of their fetish? Your partner may have a diagnosable fetishistic disorder. **Note: sexual fantasies are completely normal to have, and having kinks does not mean that you have a fetishistic disorder. According to Psychology Today "A diagnosis of fetishistic disorder is only used if there is accompanying personal distress or impairment in social, occupational, or other important areas of functioning as a result of the fetish." The key word there is distress. If you or your partner's kinks aren't distressing either of you, then don't worry about it. But if your partner does find their kink distressing, inhibitive to normal interactions, or disordered, consider opening a gentle, supportive dialogue with them about seeking help from a sex therapist. There is nothing shameful about anyone seeking out the help they need, if it turns out they do need it.
7. What if you and your partner are just not sexually compatible? Not sharing kinks should not have to be the end of a sexual relationship, but if it's a real deal breaker for you or your partner, you both need to be honest with yourselves and each other about what you want out of a sexual relationship. If your partner will really only feel sexually liberated if they can regularly release their inner dominatrix and you're not into that, it's probably for the best that you both seek out different partners.