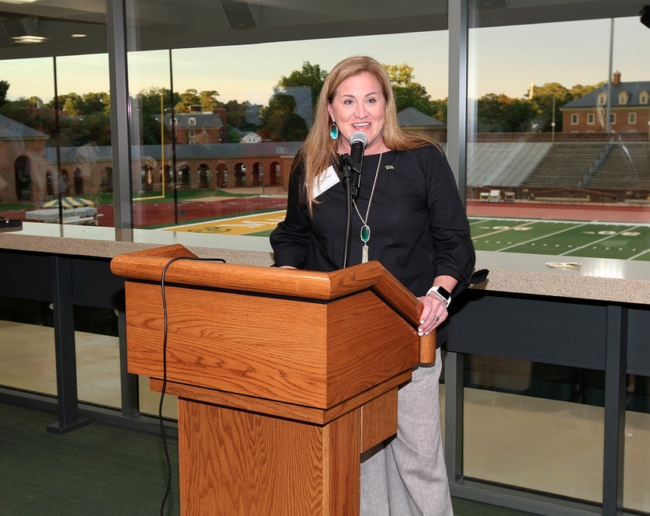 After 17 years of Division I experience, Samantha Huge walked into Tribe Athletics with a new goal: to listen.
"One skill I've tried to get really good at is listening. It's something I promised when I came in the door: I wanted to listen, I wanted to learn William and Mary," Huge said. "Having the experiences that I've had, whether they've been at an SEC school with 60,000 students or 100,000 people at a football game to a school like Wake Forest that is only 4,000 students, you know the thing that's really consistent is the people care about their institution, they care about their athletics programs, they want them to be successful. They're very passionate fans. And then the other thing that we get to do every day is work with students like you and students who are really committed to whatever they want to do with their lives, and it's neat to be a part of the enterprise that prepares them to go live that life of impact."
Huge has arrived at William and Mary as the new director of athletics after spending three years as the senior associate director of athletics at Texas A&M and almost five years at Delaware in many athletics administration positions. While serving as deputy director of athletics and recreation services at Delaware, Huge oversaw the daily operations of the athletics department and enhancement of facilities and increased turnout and revenue generation.
One skill I've tried to get really good at is listening. It's something I promised when I came in the door: I wanted to listen, I wanted to learn William and Mary."
As last year wrapped up and summer workouts commenced, Huge saw promise in the student athletes who make up the Tribe. Watching the spirit and energy of the volleyball team during preseason practices and the determination of the football team during its first scrimmage excited Huge. Her first look at the programs in her domain was a promising one.
"I went out to a couple of football workouts during the summer. They are so ready, they're excited, they've been working their tails off all summer. I think that I see a really promising season," Huge said. "I've gone to both scrimmages, and I'm really excited. I think volleyball … it's the coach's second year, you can see there's some energy. Those ['It's Time' videos] have a great look into how they're preparing. For me, it's just amazing to me to see the commitment on the part of the coaches and student athletes."
Huge, the first woman to hold this position at the College since the job was merged to cover both men and women's sports, succeeded Terry Driscoll, who held the position for 21 years. While one of the core responsibilities of the director of athletics is to manage the $24 million budget and serve as the leading fundraiser, Huge is also responsible for over 120 Tribe Athletics staff members and coaches.
Despite the College's history of resilient competition in the Colonial Athletic Association, Huge has a vision for improvement. With many fall sports commencing conference play in the coming days, if they haven't already, precision and motivation are more important than ever for victory.
"We have an incredibly successful history, and I plan to continue that. I think it's one of those things that I'll … draw on my past experiences and see where we might be able to do things a little bit better, not because we're not doing them well … but let's do them even better," Huge said. "Whether it's facilities, whether it's staff, whether it's just ensuring that we're scheduling in such a way that the student athletes are getting to compete against the best competition to prepare themselves for CAA competition."
In addition to all the responsibilities that come with the title of athletic director, Huge has not forgotten the well-being of the student athletes off the court. Her involvement in the teams goes a step further than just an administrative role; she values the personal relationships she forms with the individual athletes.
I want our students to come out and see how neat this is and come be a part of it because it is their Tribe too. We really are one Tribe."
Huge also has a personal tie to the College. She spent time here when her brother, Chris Huge '84, played football for head coach Jimmye Laycock '70 from 1981 to 1983. She said this personal tie helps her understand the rigor of the academics as well as the physical feat of being a student athlete at the College.
"I think the important thing in the end is that we all remember that you all are students. You're 18- to 22-year-olds who have dreams and hopes," Huge said. "There are days that things don't go the way you want them to, and then there are days that you're on cloud nine. To be able to be kind of a witness to that but also someone to encourage through those tough times but also celebrate the victories is really special."
One thing that Huge wants for the College is for more students to show up and support their teams. She believes that each and every student should take pride in athletic success because they are just as much a part of the history being made as the athletes themselves. According to Huge, without the spectators and support from the stands, the Tribe would be less of a tribe.
"I want our students to come out and see how neat this is and come be a part of it because it is their Tribe too. We really are one Tribe," Huge said. "It's not athletes and non-athletes, we're all one. The role that they play is just as important as the role that the student athlete who might be on the surface of competition plays. It's important that we all be a part of it."
A report on competitive excellence mentioned by Huge ends with the phrase: "a championship experience for every student-athlete and every fan." To Huge, that means that every student, whether an athlete or a spectator, will get to experience a CAA championship win or competition in a National Collegiate Athletic Association event.
"I want more. I want us to — our sports that are capable — to go win more than one game in the NCAA tournament," Huge said. "A championship experience would be that fans are seeing that we're providing them with the opportunity to go along with our teams to a conference championship and win one and a NCAA championship event and that we're consistent and that we put things in place that will allow us to sustain that so it's not just a once in their four years, but a thing that's expected every year."
She believes that a true championship experience isn't something with a time stamp or a once-every-four-years limit; a true championship experience is a reward for endless hard work, support and commitment.