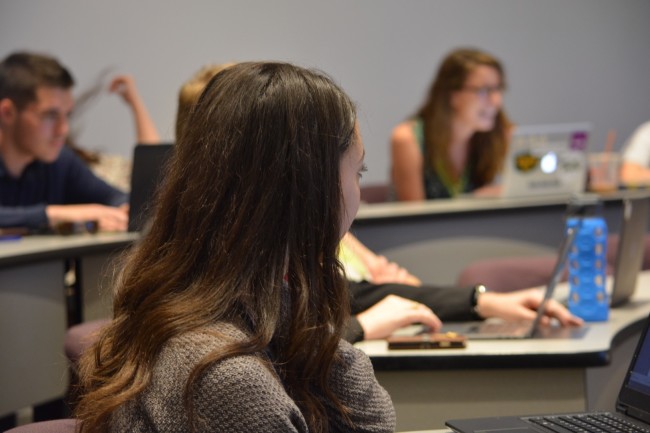 During the Sept. 26 meeting of the College of William and Mary's Student Assembly Senate, discussion divided over the Official Transcript Subsidization Act, which was introduced at last week's meeting by Sen. Brendan Boylan '19.
The bill, as it was first introduced, allocated $10,500 from the SA reserves to subsidize official transcripts to the Office of the University Registrar. This money would fully subsidize 1,500 transcripts, priced at $7, on a first-come, first-served basis while prioritizing academic juniors and seniors.
As it stands, each student already receives one free transcript from the registrar.
Following committee meetings Sunday, Sept. 24, Class of 2019 President Jonah Yesowitz '19 proposed an amendment to remove the stipulation that juniors and seniors would be prioritized in the allocation process. Senate Chair Alaina Shreves '18 also proposed an amendment to specifically include that the funding for the subsidization would come from the SA reserves.
The sponsors of this bill, which include Yesowitz, Sen. Shannon Dutchie '19, Sen. Alexis Payne '19 and Class of 2020 President Kelsey Vita '20, agreed on these amendments. Yesowitz said that he further wanted to amend the bill.
We talked a lot in student life [committee] about if this is the best way to go about dispersing the funds," Yesowitz said.
"We talked a lot in student life [committee] about if this is the best way to go about dispersing the funds," Yesowitz said. "We proposed maybe having instead of 1,500 transcripts being covered in full, all of the transcripts being covered by $2, so that someone who is applying for 10 transcripts is getting some reduction in general. This would show the registrar that we want this to be free eventually, and reducing the per transcript cost would do a much better job of showing that than having every student get one more free one."
Boylan, who has been working with the registrar's office since April 2017, said that while he was comfortable discussing further amendments to the bill, he wanted to make sure the funding went into effect as soon as possible. The wording of the bill states that the program will run from Nov. 1 to April 1.
"The thing that we ran into with the registrar's office is that they were not keen on the idea of partial subsidization," Boylan said. "I am not sure as to the reason why, and I have not had a robust discussion with them on that issue, and they have not shared the actual volume of transcripts that comes through a duration. Odds are the funds will be used up pretty quickly, given that there is a high demand and it is first-come, first-serve, so I am very much open to talking about the future, because this seems to be going in the direction of becoming a regular thing."
Some, like Class of 2018 President Laini Boyd '18, said that they would be concerned that not passing the bill with specific instructions for how the funding would be allocated, or delaying passing the bill to investigate other ways to allocate the funds, would be detrimental to students because they would not be able to receive subsidized transcripts during the fall semester.
However, Associate Director of Student Leadership Development Trici Frederick M.Ed. '05 said that she believed Yesowitz's proposed changes to the bill were to allow flexibility in funding allocation, not to delay funding.
"I think what Jonah [Yesowitz] is saying is that you can implement it as it is now," Frederick said. "It gives you flexibility to change it in the future. He's saying that we can make it vaguer so that if it has to change, we can change it."
After further discussion, Yesowitz introduced a formal amendment changing the wording of the bill to remove all specifics about the subsidization process.
Following this amendment, senators moved to approve the Official Transcript Subsidization Act by a vote of unanimous consent. The subsidized transcripts will be available starting Nov. 1, and will continue to be available until the funding runs out.