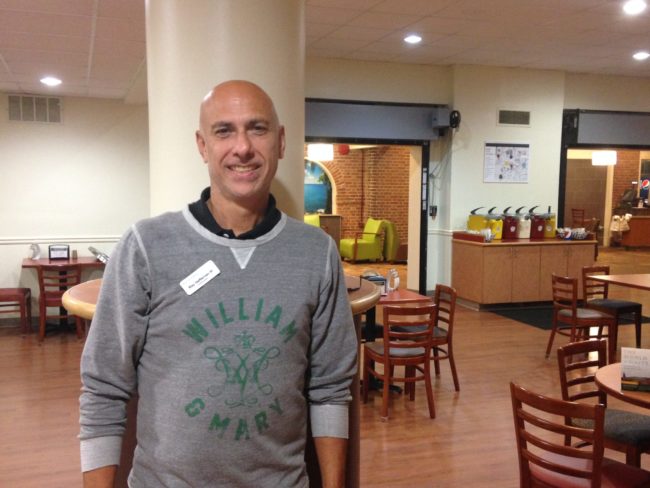 Not much could convince Ray Heffernan, a New Yorker, to leave his hometown. However, an unexpected job opportunity and a chance to bring smiles and a comforting presence to students drew him to the College of William and Mary last year. He said he's loved his job as Marketplace supervisor ever since.
Heffernan says although he didn't always realize it, this is the job he was made for. Growing up near the water in Brooklyn, New York, Heffernan often picked up jobs at local restaurants to earn money, but he didn't enjoy them.
"The other dining [industry] I was in was kind of just to work, like it wasn't something I enjoyed," Heffernan said.
Coming out of high school, Heffernan took community college classes for a short time, but quickly figured out that college wasn't for him.
"My college was maybe six months or maybe a year, I don't even remember if I finished it," Heffernan said. "It just didn't work out."
After dropping out of college, Heffernan continued picking up jobs in the restaurant industry around New York. However, he said he still did not feel a connection to his work. A naturally social person, Heffernan was not getting to interact with customers the way he wanted to.
"It was fine dining, it was upscale, it was just different," Heffernan said. "There was no communication and there was no customer service, not on this level."
Looking for a change of scenery, Heffernan moved to Las Vegas in 2005. While he appreciated the city, he did not enjoy living there, and was back in New York by 2006.
"I liked Las Vegas," Heffernan said. "I did not like the aura of Las Vegas so I knew it wasn't for me. So, I came back to New York; I fiddled around umpiring softball. I umpired softball across all of the West Coast when I was out there, so I was kind of getting into that."
Aside from his employment as a softball umpire, Heffernan said he struggled to find work. However, in 2011 that all changed.
"Since I came back from Vegas, I really was not in a good place work-wise," Heffernan said. "My friend opened up a yogurt shop and I worked for him in 2011, and we had worked together when we were young. This was my best friend since before I was five years old; I knew him before I went to kindergarten. So, he opened up a business and he was like, 'Come manage it for me.' And, I don't know, I just knew that that's what I had to do for the rest of my life."
Heffernan said he found his calling with this job in food service management. Being a manager for his friend's business gave him what he felt he was missing in his previous work in food service.
After working for two years with his best friend, Heffernan applied to be a supervisor for Sodexo at the University of Pittsburgh. He said that this job had a tremendous influence on the rest of his career.
"That was four and a half years that has definitely shaped everything in my life," Heffernan said.
While working at the University of Pittsburgh, Heffernan said he formed a working relationship with Sodexo Retail Operations Manager Jason Vercammen.
"We always had good work communication," Heffernan said. "He was very easy to work for. He runs a great operation. That's very important, because one of the reasons that I'm here is [that] Jason Vercammen runs a great operation."
When Vercammen moved to the College, he invited Heffernan to come as well.
I actually took a job in Commons [Dining Hall] two years ago, and I stayed for two days, and I didn't like it," Heffernan said.
"I actually took a job in Commons [Dining Hall] two years ago, and I stayed for two days, and I didn't like it," Heffernan said. "I was like, 'I'm not staying in Williamsburg. I hate Williamsburg.' But with all the changeover at Pitt, I had texted him last year in September and I was like, 'What's up?' I knew he needed a nighttime manager, a supervisor. And I always like working night. I don't like mornings. So that's how I ended up here."
Now, as a supervisor at Marketplace, Heffernan said his job description fits exactly what he's best at.
"My technical job title is to supervise the floor and provide customer service, which, you know, I love to do," Heffernan said.
Even though he loves his job, there is more to life than work for Heffernan. He said that one of the driving forces in his life is his family.
Although he works most days in Williamsburg, he helps take care of his parents and his oldest brother, who all live in Florida.
"I'm super, super close with my mother," Heffernan said. "I go to Florida every time we're off on break. Last year I was there even Thanksgiving week because I had put in two days off for Monday and Tuesday so I could go down there."
Heffernan said that it's hard for him to imagine himself as an 18-year-old being so far away from his family. He said he knows that people come to the College from all sorts of different backgrounds and that his job is to make all of those people feel at home, even if it's just when they come to the dining hall.
"I don't know what kind of personal issues you have," Heffernan said. "So, I have to make you feel good. I want to be a person that somebody can come to … I want to be a person that makes them understand that there are people that care about them on this campus."