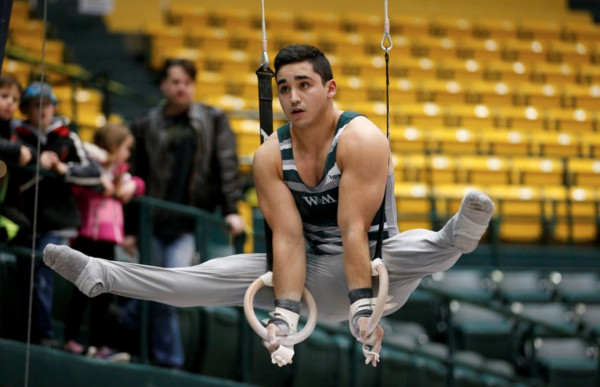 The William and Mary men and women faced off against tough competition this weekend, both placing third in their respective meets on Jan. 20. The men posted a team score of 383.5 in a quad-meet at Navy and the women scored 193.300 in a tri-meet hosted by North Carolina State.
The men were bested by both Navy (398.2) and Springfield (384.25), but defeated Temple (150.3) by a long shot. The Tribe's best showing was on floor, where the team placed second with a score of 68.05 and filled the podium. Sophomore Tomas Palma took first with a career-high 14.25, a record that ties for seventh in school history. Senior Juan Palma took second with a score of 14.15. Finally, sophomore Tim O'Neill placed third with a career-high 14.1.
O'Neill and Juan Palma also placed in vault, where their matching 14.0 scores tied the Tribe pair at third place, adding to the College's score of 67.35. Junior Jacopo Gliozzi also had a strong showing Saturday, placing second on both pommel horse and rings, where he posted scores of 13.3 and 13.15, respectively. Gliozzi's second place finish led to the Tribe's 60.1 on pommel horse. Junior David Watkins and sophomore Nate Winneg posted matching scores of 12.55 to add to the College's 61.5 on rings.
Senior Griffin Antle led the way for the Tribe on parallel bars, posting a 13.4. Junior David Allen contributed to the College's 62.05 on high bar with his score of 12.95. Winneg (74.7) and junior Jack Hasenkopf (71.3) competed in the all-around.
The men's next showing will be at Navy again in a dual meet Jan. 27.
The Tribe women were bested in a tri-meet at NC State by the hosts (196.350) and Ball State (194.750). Freshman Katie Waldman placed fourth in the all-around with a career-high 38.925, the high point for the Tribe.
Waldman's best event was vault, in which she tied for third with a score of 9.800. Sophomore Erika Marr (9.725), junior Madison Dwyer (9.700) and freshman Mary Graceyn Gordon (9.700) also contributed to the College's team score of 48.600 in the event.
Waldman tied for sixth on bars with teammate sophomore Evan Pakshong, both posting scores of 9.775. Sophomore Tayler White's score of 9.675 pushed the Tribe to its score of 48.100. Waldman also matched scores with a teammate on beam. She and junior Aaliyah Kerr both scored 9.750. The College posted a 48.175, with the help of Gordon's score of 9.700. On floor, the Tribe scored 48.425. Kerr and sophomore Elizabeth Snoddy tied for 10th, each with a score of 9.750.
The women will not be back in action until next month when they travel to Washington, D.C. to face off against George Washington, Kent State and University of Wisconsin-Oshkosh in a quad-meet Feb. 4.