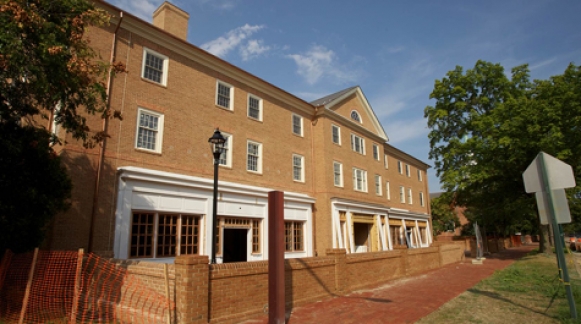 When classes resume for the fall 2018 semester, Tribe Square, which has been vacant since Aug. 9, 2017, when The Crust was evicted, will have its first new resident: Chick-fil-A.
"Students have been asking for Chick-fil-A for some time, and I hope this shows we have been listening," Executive Director of the William and Mary Real Estate Foundation Nancy Buchanan said in a press statement. "As soon as we heard there was an opportunity at Tribe Square, we began working to make this a reality."
Chick-fil-A will move into Tribe Square's Suite 101, formerly occupied by Pita Pit, and will be open Monday through Saturday. This location will accept Dining Dollars as well as Express and will be open to both the campus community and the public.
According to Matt Sullivan, who works for Chick-fil-A's New Restaurant Growth Department, Chick-fil-A is eager to open in the College of William and Mary community.
"We are excited to join the William & Mary campus and look forward to serving students, staff and faculty great tasting food and remarkable service," Sullivan said in a press statement.
This isn't the first time Chick-fil-A products will be available on campus. Historically, Chick-fil-A sandwiches were available at Marketplace. Between the fall 2014 and spring 2015 semesters, these sandwiches were not an option for students, but they returned to campus in March 2015. However, after seven weeks where students could buy the sandwiches Tuesdays and Thursdays, Dining Services discontinued the promotion because it found it to be unsustainable.
While it is not yet clear what the Real Estate Foundation will do with the remaining three vacant spaces, formerly home to restaurants including Mooyah, The Crust and Subway, Chick-fil-A will join campus dining options next academic year.
The former owners of these businesses have attributed their decline to high rent prices, low business over summer months, a partnership with Sodexo and mandatory meal plans for students living on campus.
The Crust, which closed Aug. 9, was the most recent of Tribe Square's businesses to leave the property. At the time, The Crust's former owner Paul Marsh said the rent was too high, leading to The Crust's eviction. Before their eviction, Marsh and his business partner were paying approximately $6,400 a month, which became a challenge over the summer months.
"The rent's extremely high," Marsh said at the time. "I mean, the rent per square footage is ridiculous."
Additionally, Senior Vice President of Finance and Administration Sam Jones said that he and the William and Mary Real Estate Foundation are aware that over the summer, the businesses in Tribe Square are not receiving the amount of customers once anticipated, because students make up the bulk of visitors these restaurants receive. Tourists, they have learned, typically do not visit Tribe Square's businesses.
Pita Pit, Mooyah and Subway all faced similar fates. According to former Mooyah owner Alpen Patel, when the College made meal plans mandatory for students living in on-campus housing, it became difficult for third party restaurants like Mooyah to succeed.
In 2011, the Sadler Center was undergoing an expansion and, to cover costs, the College rolled out mandatory meal plans for students living on campus. By 2014, Tribe Square restaurants negotiated with Sodexo to accept Dining Dollars, but Subway had already gone out of business in June 2014, leaving one-fourth of the complex empty.
"Before mandatory [meal plans] went into play, everyone was doing good," Patel said in August. "Most everyone who lived in the apartments above were eating at Tribe Square. But then the next year, those same students were having to walk across the street and go to the cafeteria, and they were bringing back boxes of food. … That's the year that everything started going downhill."
Mooyah has since relocated to New Town, and Patel said that the business has felt a boom in success in that new location.
However, Jones said that he believes Tribe Square is still a great property because it has a good location for students and the apartments are desirable on-campus housing. Jones said that while he would like to see desirable food options move in to the suites facing Richmond Road, he would not be opposed to considering using the back suites for more student housing or for an alternative retail option, such as clothing.
Jones also said that he and members of the Real Estate Foundation are working to be flexible, to help ensure the success of future businesses that move in to Tribe Square.
Moving forward as the search to fill Tribe Square continues, students will be able to use their Dining Dollars at Chick-fil-A, as well as at on-campus locations such as Qdoba, Cosi and Swemromas.
"We are excited to have Chick-fil-A join the William & Mary dining portfolio," Dining Services Resident District Manager Jason Aupied said in a press statement. "The addition of a premium brand like Chick-fil-A will add value for our students by expanding their choice of dining options."