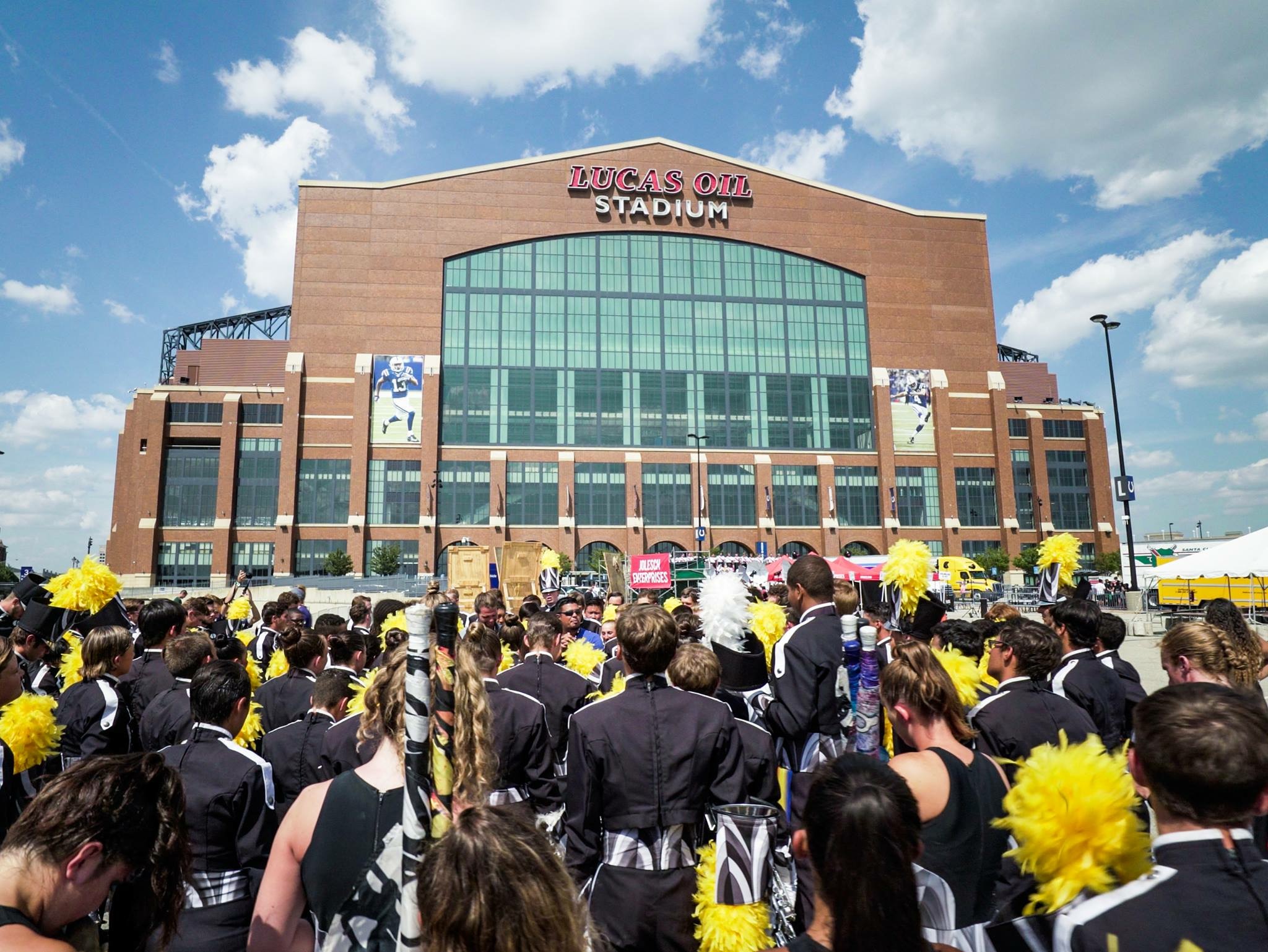 All Ben Witman '20 can remember of his first step onto a marching band field his freshman year of high school is the hefty weight of his instrument and the insufferable heat. Six years later, he laughs to himself at a table in Earl Gregg Swem Library, remembering a blistering day in Louisiana while on tour with the Jersey Surf Drum and Bugle Corps that made his first day of freshman band camp seem like a walk in the park.
"It was so hot," Witman said. "It was like 90 plus percent humidity and over 100 degrees and muggy, and I remember like legitimately sweating through my socks and sweating through my shoes and it was just awful. We use these PVC pipe tubes and they have a valve you can close to restrict your airflow to build endurance, and so that was the day that the brass staff was like 'All right, we're going to run the end of the closer continuously and in between reps you're going to have tubes at 90 and run around the perimeter of the baseball field — you're going to do three laps — and then we're going to run the closer and then you're going to run three laps and run the closer' and it was just, it was awful."
Not new to this type of grueling rehearsal experience, Witman has spent the past two summers touring the United States with Drum Corps International along with Ayush Johsi '20, who joined last winter.
For Witman, choosing Jersey Surf was a result of trial and error. Having first auditioned for the Cadets, a corps based out of Allentown, Pennsylvania, he knew he wanted a group with more supportive staff and eventually found himself a home in Jersey Surf.
For Joshi, the choice to join Jersey Surf came from talking to Witman. He knew from his junior year of high school that drum corps was something he wanted to do, but being from southeast Virginia, there weren't a lot of corps based near him. Witman introduced him to Surf, and after a successful audition, they both settled in for the 2017 season.
The Summer Begins
Before the summer begins and tour starts, drum corps spend months preparing for the season. Witman and Joshi drive from the College to New Jersey and back in the span of a weekend once a month to rehearse with Surf. Getting back to campus late Sunday, they both fall into bed after the long weekend.
"All throughout the winter you have a camp every month, and so once a month we'd drive up to Jersey and then rehearse for the weekend and then come back and fall asleep," Witman said.
Then, after classes ended for the semester and they had moved out of their college dorms, they packed their instruments and summer workout clothes, making their way back to New Jersey in early June to begin three weeks of spring training.
Waking up early day after day, Witman and Joshi would rehearse with the rest of the corps for 12 to 13 hours before laying down again later that night. They spent these three weeks in New Jersey, Columbia, Pennsylvania and finally East Strasburg, Pennsylvania.
Witman said that while these three weeks were hard because of the lack of competition, it's when the groups learn the entirety of their marching formations, called drills.
"You practice all the music, you do all the basics, you do more intense [physical training] in that time period so that's getting your strength up for the summer," Witman said. "And that's the hardest part of the tour because there's no real instant reward, it's just waking up every day, rehearsing for four hours, have a lunch break, rehearse for four hours, have a dinner break, rehearse for four hours, go to sleep."
After spring training, drum corps like Jersey Surf launch into their competition season. Witman said rehearsal days consist of the same schedule as spring training, but now the corps has competition days, which combine rehearsals and marching contests.
"When that's over you get into actual tour, which basically just works where you have show days and then you have rehearsal days," Witman said. "Still kind of that same format as spring training, but you don't really have more than one or two of them in a row. Plus, you're traveling between sites and around the country. And then on show days, we basically take that full day and cram it into five or six hours instead of 12, and then perform a show in the evening, hop on the bus and drive two states away."
The story of a changing city
Referring to itself as 'Marching Music's Major League,' Drum Corps International organizes mainly college students under the age of 21 into both open-class and world-class drum crops from all over the world. Corps spend the winter training and preparing for their seasons, and after spring training, they embark on a summer-long tour and compete across the United States.
Unlike regular marching bands, corps include only brass instruments, percussion and color guard. Joshi plays in the front ensemble and Witman marches the euphonium.
Shows are normally organized into three parts — opener, ballad and closer — and the drill and music change every year.
Joshi said the theme of Surf's 2017 show was gentrification.
"It's about a group of people that arrive in this city by train and then they kind of notice it's really drab, and that's kind of where the gray scale on our uniform this year came from," Joshi said. "Then, they start discovering the importance of arts and culture and that eventually helps them transform the city into something more vibrant, and they symbolize that with this fountain prop that they brought in. It was torn apart at the beginning, and then in the ballad people would put it together and then the closer was just kind of like the big celebration at the end."
As the city was transformed throughout the show, Witman said the color guard spun flags with blue silks to represent the new fountain.
"Right when the ballad hit, they would run out with the blue silks and it would be like the fountain was running again and then the third movement, the closer, started off with a large choreographed dance and then went into just fast-moving stuff," Witman said.
Joshi added that the show ended "with screaming trumpets."
Life on the Road
After spending all day in the summer heat of Louisiana, Texas and countless other states doing music reps and running laps, Witman and Joshi retreated inside after every rehearsal to the comfort of an air-conditioned school gym or recreation center to wash off in showers of varying quality and sleep on wooden gymnasium floors.
Often driving through the night after spending the day rehearsing and competing, summer tours with DCI are an opportunity to travel a wide portion of the United States.
"It was like 10,000 miles of total driving," Joshi said. "We started in the Northeast and then we worked our way down to Florida through South Carolina and Florida for a few days and then back up through Georgia and up through Tennessee, Arkansas and then Missouri and then Oklahoma. Texas for like almost a week really, then we had swamp tour which is Louisiana, Mississippi, Alabama, Georgia and then we swung back up through Salem, Virginia, Annapolis Maryland, Allentown, Pennsylvania, Eyrie, Pennsylvania and then ended in Indianapolis."
Finding a Home in Jersey Surf
After months on the road in tight spaces constantly traveling, performing and rehearsing, corps often form close, familial bonds.
Joshi said that even after performing for Snarky Puppy and competing in Lucas Oil Stadium, his favorite part of the summer was the bonds he formed with members of Jersey Surf and other corps.
"My favorite aspect of it is the community," Joshi said. "Obviously making tons of great friends in your own core but as I toured and as we were at different shows, I met a lot of people from other cores, and one thing I definitely appreciated was there wasn't that awkward tension like you would get at a high school marching band competition if you saw someone from a different school. Everyone would always be telling you like 'have a good show' and stuff like that and it was it was nice to say it back. I'd also like really want to see the other cores and other people would want to see our show too and that was really nice … Definitely, but just the overall drum core community. It's really nice."
Finals
As the summer came to a close and the corps found themselves closer and closer to championships in Indianapolis, both open-class and world-class tours came together again in Lucas Oil Stadium.
Both Joshi and Witman awoke the morning of preliminaries to the sound of drums echoing off the walls of a school gym.
Then, on the day of semifinals, Witman awoke early with a small number of other brass players and happily blew the notes of the Jersey Surf core song, "Pure Imagination," through the pipes of his euphonium to wake up his fellow marchers.
"Semifinals day the horn line, it's like one [person] on a part and I got to be one of them this year which was really cool," Witman said. "We played the core song to wake everyone up."
In a stadium with the capacity to hold 70,000 people, Witman and Joshi took the field to perform a summer's worth of sweat and travel. After countless bottles of valve oil, many long nights on the road and a stack of score sheets a mile high, Jersey Surf, along with world and open-class corps from around the globe, performed for the last time in front of families, friends, fans and judges in the Indianapolis stadium.
Entering the tunnel after their finals performance in 2016, Witman said he and his Surf family had trouble holding it together.
"We finished the show and we came off the field and just like everyone started crying because we knew that we probably weren't going to keep going on, but it was just like a really visceral family experience because we'd been talking a lot the past couple days about what it means to be a family and like trying to imbue that familial emotion into the ballad hit," Witman said. "You won't realize it, but once you are home, you'll never be with these same people again and so like all those emotions just hit at once and people just like broke down right once we got out into the tunnel."
Despite not placing high on the score sheets, both Joshi and Witman agreed that the improvement in Surf from the year before was enough for them to be pleased with their results.
"It was definitely one of the crowd's favorite Surf shows," Witman said. "This year it was just a lot more fun and more like what people would traditionally associate with Surf. I think the biggest thing that I learned from Surf was that like, scores have their place, but the scoresheets don't tell like your entire summer and the friendships that you make and the memories and bonds and everything like that … No matter where you march, you're getting those experiences."