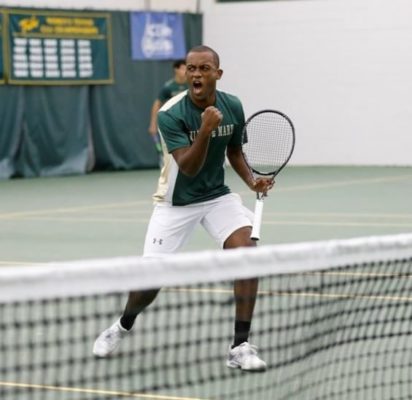 Thursday, William and Mary took on Richmond at home in Williamsburg, looking to improve on its perfect start. The Tribe (4-0) did just that, dispatching the Spiders (1-3) in an especially strong singles performance, and ending the night 5-2.
The College got off to a good start in doubles, with senior Christian Cargill and freshman Louis Newman claiming the first match 6-3 at the top spot. However, Richmond fought back to win the doubles point, clinching 6-3 wins at both the No. 2 and No. 3 spots.
It was all Tribe from there, as the team won all of the top five singles slots to gain its victory.
Starting at the No. 4 spot, freshman Finbar Talcott tied the match with a 6-3, 6-0 win. Next, the Tribe took the lead with a 6-2, 6-4 win by senior Alec Miller at the No. 2 spot. The College did not look back, never trailing for the rest of the match.
Cargill won the No. 1 spot with a hard-fought 6-3, 7-5 victory. Freshman Sebastian Quiros came out on top after three rousing sets (3-6, 7-6, 6-2), coming back from a set down to clinch another win for the College at the No. 5 spot.
Finishing out the match, Newman conquered Spider opponent 6-0, 6-7, 7-5 for a win in the No. 3 spot. Richmond's sole singles victory came at the No. 6 singles slot, beating junior Michael Ruamthong 7-6 both sets to salvage a second point.
The 4-0 start for the Tribe is the team's best start in the past 60 years. The College looks to continue its season-opening hot streak Friday, Feb. 9 against No. 24 South Carolina at the McCormack-Nagelsen Tennis Center.