Monday night, Oct. 19, five members of Tribe for Life gathered at the chalkboard outside the Integrated Science Center to write anti-abortion messages. Early the next morning, the group discovered their "Why I am Pro Life" statements had been erased and promptly posted a photo of the illegible board onto their Tribe for Life Instagram account. Only a few hours later, the post had garnered hundreds of comments and attracted the online attention of the College of William and Mary community, catapulting the chalkboard into the middle of the abortion rights debate.
Tribe for Life is a student-run organization at the College that advocates against abortion. In the past, Tribe for Life has written similar messages on the chalkboard and around campus, though member of the group's executive board Anne Whelan '21 claims they have never received as much backlash as they did this week.
Much of this was due to the chalkboard's original anti-abortion messages, which Tribe for Life had also posted on their Instagram account. Many students felt that these messages were harmful and that students had a right to erase them.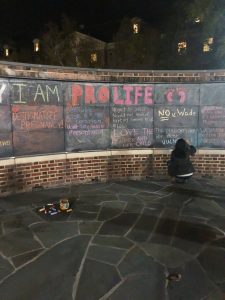 "We were disappointed to see that people chose to erase our work rather than to engage in constructive dialogue about the issue," Whelan said in an email. "… I think that erasing our message could come down to intolerance of other views. The current political climate (by the way, we do not support any specific political candidate or party, and members of our group have a range of beliefs on other issues) is extremely polarized, and I think people get heated enough about certain issues that they want to completely delegitimize and erase the views of the other side. We believe that it is important to listen and critically evaluate views we do not agree with rather than shaming the people who hold them into silence."
The original photo depicting the erased chalkboard on the Tribe for Life Instagram account held 414 likes and 775 comments as of Oct. 24. In comparison, a photo posted on Oct. 12 of members protesting in Washington D.C. in favor of Supreme Court Justice Amy Coney Barrett has 83 likes and 26 comments.
Some of the messaging on the chalkboard included statements like "Destigmatize pregnancy", "No v. Wade", "The preborn are the most vulnerable" and "the right to choose should not involve hurting someone else #1860".
Many of the top comments on the photo claim Tribe for Life was deleting previous, pro-abortion rights comments, and the commentators state this went against Tribe for Life's caption about wanting open dialogue on the subject. Tribe for  Life maintained that they only deleted hateful comments but encouraged people to direct message them in order to have a conversation.
"Recently, when we've written something publicly about our beliefs or publicized our events, at least part of our message is vandalized," Whelan said. "We will not try to track down whoever erased what we wrote on the board, but we are reporting social media comments to the school that target people in our group or threaten violence."
Tribe for Life also claimed to have reserved the chalkboard from Oct. 19-26; However, many students have refuted this claim and stated that anyone is able to write or erase anything on the chalkboard at any time.
Julian Allison '23 said he had never heard of a student reserving the board before, and asked Tribe for Life via Instagram direct message to provide him with the email of the person through which they had reserved the board. Tribe for Life responded the next day with Claudia Smith's email address, who is the College's chemistry department's materials and fiscal manager.
"They were saying they reserved the chalkboard and that's why it was bad that people erased their message," Allison said. "… So, I emailed her, and she said that you can reserve it, but they only track that for big events to make sure they don't conflict, and that anyone can use it at any time to do anything with it."
Allison, who saw the pre-erased chalkboard on the Tribe for Life Instagram account, said he found the original chalkboard's messages very hurtful and commented on the post in support of his friends who have had abortions.
"I thought some of them were very condescending, very like trying to tell people what to do," Allison said. "Like the 'women are better than abortions' or 'women don't deserve abortions' or whatever it was; that one was rude. The 'no v. Wade' one was very rude. There was one that was like 'hashtag #1860' and I was like, 'that, you are going way too far.' Like I thought a lot of the comments went way too far, past like decency. I don't believe in pro-life at all, but there are ways to say it without being condescending and rude and making people ashamed about what they've done."
W&M VOX, an on-campus organization affiliated with the state and national branches of
Planned Parenthood, work  to promote reproductive justice at the College. Willa Moffatt '21 said in the past that students at the College have turned to the organization to speak out against triggering anti-abortion messages.
Moffatt helped write a statement on behalf of W&M VOX condemning Tribe for Life's statements and that the message spread misinformation and harm. W&M VOX's statement was shared on their social media and was reposted and liked by over 200 students as of Oct. 25.
"There's people on this campus who have had that experience, or have family or friends, who have had abortions" Moffatt said. "So to see something that, to me and I think to many others, who interpret that as 'women are better than abortion,' it's saying that you're not good enough or that you didn't do the right thing, choosing for yourself to have an abortion. And that's harmful, especially because people can be really, like, secure in their decision knowing it's the right thing and still have a lot of kind of complicated emotions wrapped up in that. And so being constantly undercut, and being told, like 'you were wrong,' and 'you're bad,' and all the things that go along with that, that can be tricky for people and sort of grate at their sense of their ability to make their own choices."
Much of the discourse surrounding the chalkboard also took place in the widely used Facebook group "Swampy Memes for Twampy Teens," where multiple students shared memes regarding Tribe for Life.
Jordyn Hodge '22 was first to post about the chalkboard into the Facebook group on Oct. 20. Her post — a screenshot of a satirical tweet comparing Tribe for Life's reaction to forced Immigration and Customs Enforcement sterilization versus their reaction to their chalkboard being erased — received 665 reactions and 252 comments as of Oct. 25.
"The point of the post was that, besides just being insensitive, Tribe for life's chalk message showed the lack of care the organization has for living people," Hodge said in an email. "They have made no statements on Black Lives Matter, no statements on children being separated from their families at the border and lost, no statement on the state of the US foster care system, and, as stated in the twitter post, no statements on forced sterilization, the issue that, out of all of these, is the closest to their mission."
Whelan describes this meme as "disingenuous" and "baseless," and said that Tribe for Life condemns the practice of forced sterilization.
"Multiple members of our group spoke out, and we have members who spend a lot of time campaigning against forced sterilization practices in other countries," Whelan said. "However, we have received genuine arguments from some people who seem to be interested in questioning and learning, as opposed to expressing hatred and anger."
In response to Tribe for Life, Eliza Seigel '23 brought together members of the Botetourt Squat — the College's satirical newspaper — Oct. 22 to write pro-abortion rights messages onto the chalkboard.
"I just texted in the Botetourt group chat because we had seen the day before a lot of pro-life messages from Tribe for Life pop up on the chalkboard," Seigel said. "… It's a public chalkboard, if their opinions can be heard so can ours. So, I just texted in the groupchat 'hey I'm gonna be there in 10 minutes, anybody wanna come help me chalk up the whiteboard?'"
However, the next morning, Tribe for Life had erased the pro-abortion rights messages and replaced them with anti-abortion statements.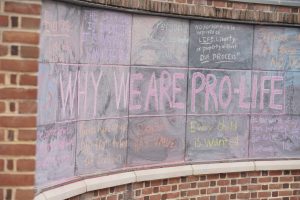 "When I heard that they erased the stuff the Botetourt Squat had written, and put their own stuff up, my initial thought was 'oh ugh I'm gonna go through a lot of chalk this year,'" Seigel said. "Because I knew it was a public chalkboard so people can write what they believe, but that means that I will as well."
Friday Oct. 23, members of Tribe for Life were seen sitting by the chalkboard in the morning, reportedly guarding their re-written messages. Eventually, students who disagreed with the messages sat with the group in front of the board and engaged in conversation with Tribe for Life.
"I ended up sitting out there for like five hours or so and actually just like talking to them, to some members of Tribe for Life, with a bunch of other people," Seigel said. "It was a very informative conversation….  It turns out there was a miscommunication about the board. Tribe for Life thought that by reserving the board that meant their messages were allowed to stay up for the whole week, but actually reserving is just for scheduling purposes … Once we got that out of the way, it was just a conversation about perspectives."
Harry Zhang '23 was one of the Tribe for Life members who sat by the chalkboard and said he wanted to engage in an open dialogue with other students. Though Zhang said he experienced some hostile conversations with pro-abortion rights students who accused him of bullying them on Facebook, he said he would be willing to talk to any student regarding abortion.
"Even if someone were to come here and write terrible things, maybe racist things, sexist things, or whatever, even if someone were to write that kinda thing on there, I certainly wouldn't agree with it, but if they had the chalkboard properly reserved, I believe in the right to do that," Zhang said. "I don't think being 'triggering' is a validation for erasure. That's just my position, my group, my organization we only have unity on the pro-life issue."
On Twitter and Facebook, a video of Zhang, who was standing by the chalkboard and defending his comparison of slavery in the United States to abortion also drew a lot of attention from the community, and Zhang was criticized online for promoting a racist idea.
While Tribe for Life members were standing by the chalkboard, some students brought cups of water to the board and began erasing their messages.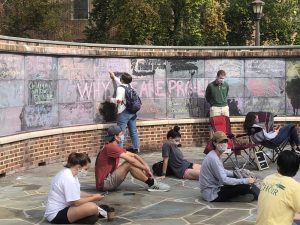 As of Saturday Oct. 24, all pro-abortion rights and anti-abortion statements have been erased.