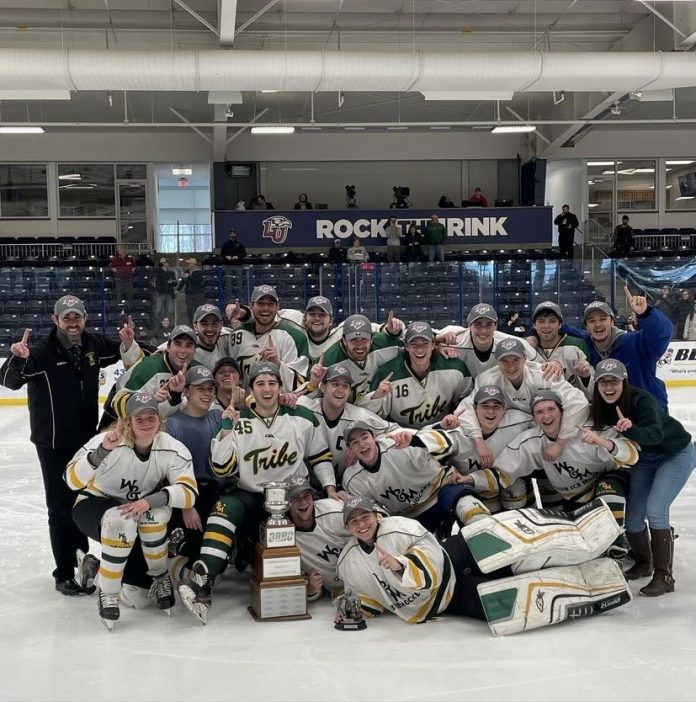 Club Ice Hockey (7-1) defeated Appalachian State on Saturday, Feb. 27 to win the Atlantic Coast Collegiate Hockey League Championship. 
Even though The Tribe had previously defeated Appalachian State 5-3 in October, they remained focused heading into the game.
"We knew it was going to be a tough game," said junior Nat Raudenbush, the team goalie and tournament MVP. "We were kind of worried that they didn't bring their whole team here before, so we thought they would have their whole team at playoffs, which they did, and it was definitely a tougher game."
The Tribe came out strong in the first period, scoring the first goal of the game. However, sophomore Josh Nixon thought the team lost focus in the second period.
"We tried to kind of play the style of hockey that they wanted instead of what we were used to." Nixon said.
William and Mary allowed two goals during the period and needed a strong third to take home the hardware.
The Tribe utilized the second intermission as a chance to refocus. According to some players, the general sense was 'We can't lose this game, we've come too far.'" William and Mary managed to tack on another goal in the final period to send the matchup into overtime.
Ahead of the overtime period, Nixon told the team to be aggressive.
"Take the chances you can get," Nixon said.
Early in the first overtime period, graduate student Bob Berner scored the winning goal.
"It was the perfect shot," Nixon said. "There was no better set up, it was that perfect shot right in the top corner."
The men's club hockey team has come a long way in three years. The team won just two games during the 2019-2020 season. Raudenbush attributed the team's improvement to better chemistry.
"We are more of a team now than we were before, on and off the ice," Raudenbush said. "As a group we are much closer than we were before. You want to play for each other when you are all friends with each other."
Nixon is looking to next season with high expectations.
"Our leaders in points are returning so we're really looking good for next year and we really hope we can at least win another championship," Nixon said.
According to Raudenbush, the team's recent successes will incentivize greater structure among team operations. In particular, he pointed to the implementation of tryouts, increasing the team's Instagram presence and getting new jerseys to make them more cohesive.