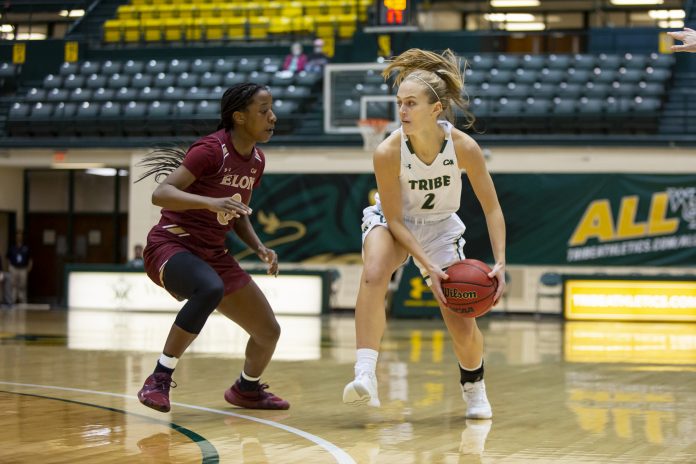 William and Mary (10-19, 5-13 CAA) fell to Elon (12-11, 9-9 CAA) 49-45 in their final game of the regular season at Kaplan Arena last Saturday, March 5. After trailing by 18 points early in the third quarter, the Tribe tied the game with several minutes remaining, but their efforts fell just short of a victory.
The entire Tribe offense struggled offensively in the first half, scoring only 11 points in 20 minutes of play. Shooting just 16% in the half, William and Mary faced a 15 point deficit at the break. As well, the team gave up possession on 11 occasions.
"At halftime, I told the team to take a deep breath before leaving the locker room," head coach Ed Swanson said. "We were down 15, but it felt like 30 because of how much we were struggling offensively. When you don't see the ball go into the basket, it really affects other parts of your game."
Swanson's halftime speech proved effective, as the Tribe outscored Elon 34-23 in the second half. Graduate senior Riley Casey and redshirt senior Sydney Wagner combined for 21 points in the second half. Graduate student Kate Sramac also played a key role in the second half, finishing with 11 points, six rebounds, four assists and three steals.
Sramac drained a three pointer from the left corner to tie the game with 2:10 remaining. The Tribe had multiple chances to take the lead on the ensuing possession, but they were unable to convert. On Elon's next possession, senior Brie Perpigan converted a layup to regain the lead. Perpigan sealed the deal for the Phoenix after draining two foul shots with less than five seconds remaining in the game.
Despite the disappointing outcome, Swanson was happy with his team's performance in the second half.
"The second half was a different ballgame," Swanson said. "We got more movement, we saw the ball going in a little bit, and we started attacking the basket more. A really difficult first half, but I'm really proud of the team in terms of showing a lot of grit and battle in the second half."
The Tribe will travel to Philadelphia on Friday, March 11 night to face Delaware in the first round of the CAA Championship.