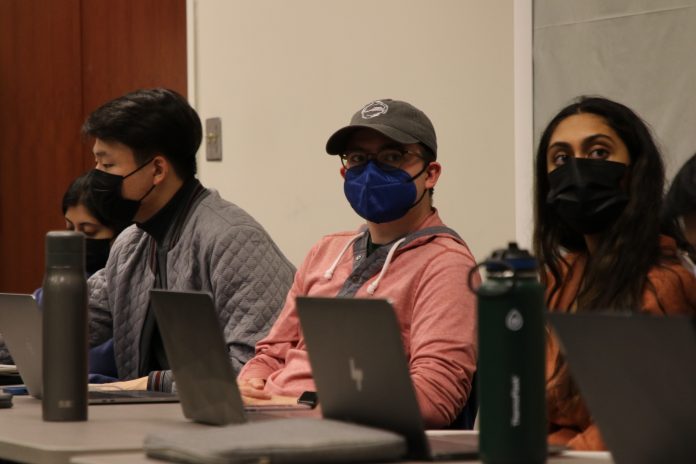 Tuesday, March 1, the College of William & Mary's 329th Student Assembly passed three bills, including a major reform to the Senate's committee system and introduced two bills. 
New Business 
Sen. Taylor Fox '24 introduced the Movie Under the Stars Act, which allocates up to $4,500 from SA reserves for a movie watching event on the Sunken Gardens in the spring semester. 
Fox, along with Sen. Vicky Morales '24, also introduced the Three More Compost Bins Around Campus Act, which allocates $410 from SA reserves for its titular purpose.
Old Business 
The Slant Board Supply Act, sponsored by Sen. Hashir Aqeel '25, passed with several "no" votes after 15 minutes of debate. Senators debated over the question of whether the bill, which allocates $280 from SA reserves for the purchase of four slant boards for use at the Student Recreation Center, would be setting a precedent of SA purchasing items for organizations that can purchase it themselves.
"I personally think that a $280 cost for equipment that will be reused over and over and over again and has a very long lifespan of use seems perfectly reasonable," Class President Mia Tilman '24 said. 
"In terms of the conversations…we had regarding what we should and should not be paying for and what the school should be paying for, I don't think that debate has ever quite ended," Sen. Eugene Lee '23 said. 
Lee also addressed claims that the payment is acceptable since it is a relatively low cost.
"You're just establishing a precedent…where's the cap for "it's just 'x' amount? Is it $300, $400, $500, where does that end?" Lee said. 
The Senate Committees Reform Act, sponsored by Chair of the Senate Owen Williams '23, passed unanimously. The bill decreases the number of Senate committees and additionally decreases the number of committees each Senator is on from two to one. 
"I love this bill, I love this bill so much," Tilman said. "I think it's going to make things way more efficient, and I think I really like the idea of having senators who are very specifically in tune to one area." 
Finally, SA unanimously passed the Mental Health Panel Act, sponsored by Sen. Taylor Fox '23. The act charges SA with organizing a wellness event where students can ask a panel of clinicians and wellness center staffers questions about mental health, as well as allocating $780 for refreshments, notebooks and pens for the event.
Also at this week's meeting: 
Sen. Leah Kuragano Ph.D. announced that she may have found a student to fill one of the number of vacant graduate Senator positions, stressing that "this time, they fully understand and recognize the time commitment." 

Williams, who sponsored the No Class On Election Day Resolution earlier in the current Senate session, announced that the provost has officially indicated their intention to adopt the recommendation regarding making Labor Day and Election Day holidays starting in Fall 2022. 
Correction (3/8): This article previously stated Mia Tilman as a Senator, it was corrected to Class President.