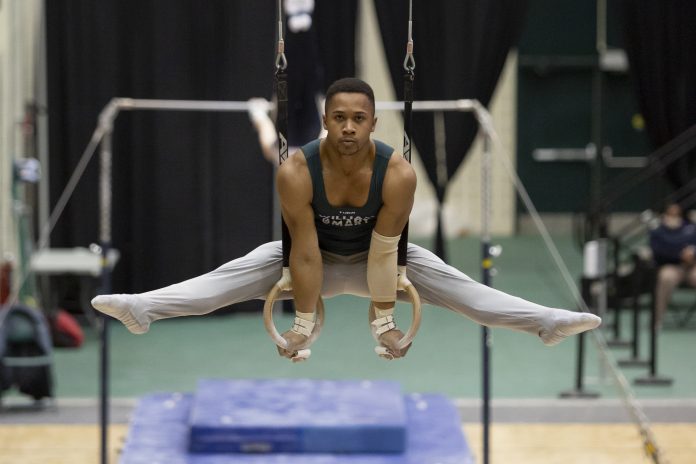 William and Mary finished third at the Eastern College Athletic Conference (ECAC) Championships last Saturday, April 2 at Kaplan Arena. The Tribe posted a 385.25, marking their best team performance of the season.
The Naval Academy won the meet with a 401.85, their best team score of the season. Springfield College finished with a 387.05, followed by the Tribe's 385.25 and Army close behind at 384.85
The most impressive performance of the day came from senior Christian Marsh on rings. He posted a career-high 14.45, which was good enough for a first-place finish in the event. Marsh's performance marks the fifth-best score in the College's history and ranks fourth in the nation this season.
Marsh finished second in the all-around with a personal record of 78.75. His score ranks sixth in school history. Marsh received all-conference honors on pommel horse, rings and in the all-around.
Sophomore Sam Lee continued his impressive season with three podium finishes. He finished in third on vault and parallel bars with scores of 14.25 and 13.9, respectively. Lee's score on parallel bars marked a new career high and helped the Tribe to a season high on the event. He also finished in fifth on high bar with a 13.2.
Junior Aidan Cuy competed in the all-around and scored an even 78.0, leaving him with a fourth-place finish.
Sophomore Ahmir Postell posted a career-best 13.65 on rings to win all-conference honors and boost the Tribe to a season-high team score of 67.35 on the event.
The team will travel to Norman, OK for the NCAA Championships on April 15-16. Although the Tribe failed to qualify as a team, all athletes qualified as individuals.