Ericka Miller '24 remembers standing in awe as she entered her first meeting of ESSENCE Women of Color during her sophomore year of college. It was the first time on campus in which she had found a room filled with other Black women.
"It was kind of jaw-dropping because I was always used to walking into a room and being maybe one of three Black students in general," Miller said. "So seeing not only Black students, but Black women students all there, all talking, all having similar mannerisms to you — it just felt very welcoming."
A 30-year-old club at the College, ESSENCE stands for Educating Strength and Sisterhood by Executing a Nurturing Community of Empowerment. And that is just what the organization does: provide a safe space on campus for women of color, allowing them to uplift each other and form community with others going through similar experiences at a predominantly white institution.
Now, Miller holds a position on ESSENCE's executive board as treasurer, where she enjoys being a part of the club's planning process. She works to not only maintain the organization, but also strengthen the ESSENCE community so that it continues to impact others the way it has impacted her.
"ESSENCE kind of helped me break out of my shell a little bit more," Miller said. "And it was one of the first clubs that I actually got actively involved in and wanted to actually join exec."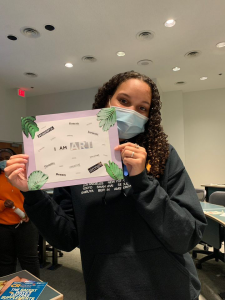 Nia Darrisaw '23, ESSENCE's Public Relations/marketing coordinator, emphasized Miller's message. She explained the discouragement and imposter syndrome that she and other women students of color may feel at predominantly white institutions when they enter a room and see only one other person who looks like them. As a junior transfer student, going to weekly meetings of ESSENCE provided her with a powerful sense of belonging at the College.
"Seeing people…putting in as much effort and doing the hard work, it just builds a lot of confidence within you to be like, 'I am supposed to be here,'" Darrisaw said. "I have people around me to solidify that feeling and make me feel more confident."
ESSENCE's typical weekly activities vary, ranging from lighter, random conversations that allow members to relax and joke around, to heavier discussions. Overall, it provides a safe space for its members, which is especially crucial to have on campus so that they can reflect on their experiences openly.
"It allows us to finally have somewhere to talk about those issues, knowing that there won't be any kind of repercussions or just any kind of negative backlash that we could get because we're all in the same position," Darrisaw said.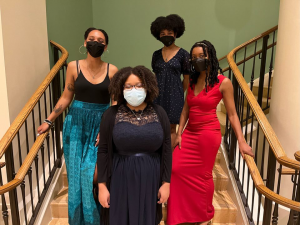 Former ESSENCE Club President Mikayla Williams MBA '23 detailed how ESSENCE was integral to her undergraduate time at the College. Prior to finding ESSENCE during the spring of her freshman year, she considered transferring to a different university.
"I just didn't feel like I was making connections that were more fulfilling for me, like being able to voice my concerns as a Black woman," Williams said.
Through ESSENCE, Williams shared that she was able to build bonds with people that she now calls her sisters. She currently shares an apartment with two of these sisters.
"It's kind of like being in a sorority without the letters kind of thing, so it's very fulfilling," Williams said.
Club secretary Christina Bostick '23 further emphasized the significance of the relationships she has formed in ESSENCE, which left her looking forward to each weekly meeting.
"Usually when I go to clubs, it's like a chore or like something that I have to do, an obligation," Bostick said. "But ESSENCE just made me feel so excited. I guess it's just more like a personal, more intimate club."
One of ESSENCE's main involvements on campus is collaborating with the Black Student Organization and the Center for Student Diversity to organize the "Stepping Into Excellence Black Expo." This annual event brings together small Black-owned businesses from the College's students and the greater Williamsburg area with pop-up shops one day in February for Black History Month.
Other than a few bigger events that ESSENCE participates in each year with other groups, the club mainly does smaller social activities rooted in building and strengthening community. One of the favorites are the random walks through Colonial Williamsburg.
Williams recalled walking around Colonial Williamsburg with her best friends, other ESSENCE club members who were also seniors at the time. The club has a Bigs and Littles program, in which a new member is matched with a more senior member, and Williams and her friends ran into their ESSENCE littles on their walk.
"[The Littles] just join your little walking group, and you end up forgetting what you were coming to campus to do," Williams said with a laugh. "And you just end up chatting with them and going to random places all over campus."
Bostick remembered going on a walk that doubled as a photoshoot with her twin, club historian Brittney Walters '25, and their Big in Colonial Williamsburg last year. 
"It was nice because I hate taking pictures, I don't like doing that," Bostick said. "So it definitely built up my confidence a little because [our Big] was using a professional camera and everything."
ESSENCE stands out as a positive force on campus, building up women of color and serving as a strong source of community. This is evident for so many, such as Darrisaw, just from their first meeting with the club.
"It truly solidified that safe space feeling and, you know, that you all just kind of want success for each other," Darrisaw said. "And they're there to also build you up."