"It's a bird, it's a plane, it's — ?" Most likely, upon hearing this catchphrase, you probably thought of Superman. Not of Clark Kent, the mild-mannered, spectacled journalist, but instead his caped alter ego, Superman. Same goes if someone mentioned Gotham City to you; invoking the name of the imaginary city most likely produced a mental image not of billionaire Bruce Wayne, but rather the shadowy figure of Batman. 
For Max Beers '24, his better-known alias is a bit less superhero-esque but still just as straight to the point — Fun Max. 
Like Superman and Batman, Fun Max uses his powers to enact positive change within his community — but not by taking bad guys off the streets. Instead, Fun Max serves as a student spokesperson for the College of William and Mary's Wellness Center, showcasing the ways students cultivate positivity on campus. Under this lively persona, Beers aims to start a larger discourse about wellness from a public-facing, student perspective and motivate students to integrate wellness into their everyday lives. 
"Generally, anything we're doing is just trying to get people to engage with how they can take care of themselves, how they can just have more fun in their day," Beers said. "I don't have all the answers to how somebody should be well, but I know that having fun certainly doesn't hurt."
Another crucial goal of Fun Max is to imbue students with a sense of autonomy over their own wellbeing. 
"We as students have to change the stress culture ourselves. The people participating in a culture are the only people that can change it," Beers said. "And so the idea behind Fun Max is to try and give the Wellness Center a student face that people can look at and say, 'Okay, so this is something that's ours, this is something that we can feel a bit of ownership over.'"
Fun Max represents the culmination of Beers' lifelong mission to engage with topics related to wellness. Raised by a mother who earned her Master's degree in Applied Positive Psychology from the University of Pennsylvania, Beers has long been primed with a keen curiosity, a deep care for wellness and what it embodies.
It should, then, come as no surprise that Beers became a Wellness Ambassador with the Center after forming a close connection to Associate Vice President for Health & Wellness and Director of Center for Mindfulness and Authentic Excellence, Kelly Crace. By a miraculous twist of fate, Beers managed to snag a spot in Crace's highly coveted Flourishing course as a freshman, and it was after many rounds of after-class conversations that Crace eventually recommended the fitting position of Wellness Ambassador to Beers.
"I just kept going to talk to Crace after class and said, 'This is really interesting, and I want to do more, I want to do more,'" Beers said.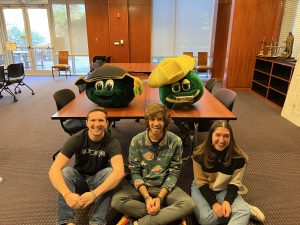 However, it wasn't until April 2022, midway through Beers' sophomore year, that he would take his position as a Wellness Ambassador to the next level and step into the role of Fun Max. In retelling the origin story of Fun Max, Beers described the fateful day when President Katherine Rowe and Vice President for Student Affairs Ginger Ambler came to the Wellness Center to discuss the state of wellness on campus with Wellness Ambassadors.
During what would become an hour-long conversation, Beers was struck by the utter lack of positivity in a discussion claimed to be about wellness.
"It kind of got to the 30 minute mark where I was just sitting there thinking like, 'Nobody has said anything positive or about what goes right on this campus, and we've been talking about mental health for 30 minutes now,'" Beers said. "Every single thing that's been said has been about how people are struggling … And so I kind of just started going on this tirade of, 'Why are we not talking about what's going well?'"
Max's self-proclaimed 'tirade' eventually transformed into a discussion amongst him and the other Wellness Ambassadors, in which Claire Aminuddin '24 suggested that Max become the student spokesperson for the Center. Then, as Beers remarked previously, the rest became history.
The Wellness Ambassadors then set to work building Fun Max around the concept of social prescription, which aims to construct a more holistic view of wellness beyond the physiological realm.
"One of the key frameworks for Fun Max is this idea of something called social prescription," Beers said. "It's the idea that medication and chemical imbalances are only half of what makes wellness — you also have to have a sense of community and belonging. So a lot of the initiatives we undertake are trying to peel back a little bit of an onion and say, 'Here are the things that people do at William and Mary that are fun and that they feel a sense of belonging to.'"
The Fun Max team also launched The Fun Glossary, a weekly Instagram series that educates students about psychological terms that can help them in their wellness journeys. Through bright infographics and easy-to-understand language, The Fun Glossary makes complex psychological terms accessible to the student body and teaches students how to incorporate these terms into their everyday lives. 
Beers noted that many of the terms highlighted on their social media are ones that personally resonated with him when he learned them through taking various psychology classes or talking with his mother. 
"[The Fun Glossary is] just things that I, over the years, have been like, 'Okay, this is helpful, it helps me a lot. I'd like for other people to know this,'" Beers said. 
Now, The Fun Glossary is primarily spearheaded by Kasey Pataki '24 and Rebekah Cohodas '23, other Wellness Ambassadors that Beers works closely with. Beers also credited Anne-Ryan Gareis '25, Audrey Murcko '25, and Integrative Wellness Manager Lindsay Heck for the integral roles they serve as members of the Fun Max team.
Along with Instagram, TikTok serves as a vital avenue for the dissemination of Fun Max's messaging. Beginning with Beers' iconic line, "Hey, I'm with So-And-So, and this is what they do for fun," Beers often films these mini student showcases on his TikTok in which he asks another student what they do for fun on campus to maintain a positive wellbeing and often engages in the task they name with them.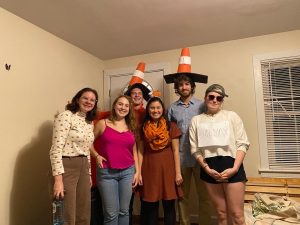 While the Fun Max TikTok began as a lighthearted venture for Beers to interact more with the student body, it yielded the Fun Max team a material benefit they had never expected: a sponsorship with Silly Bandz. After Silly Bandz took notice of a TikTok that Beers made with his friend Bryce Early '22, who shared that giving away free Silly Bandz was how she liked having fun, Silly Bandz reposted the TikTok on all of its socials and website and sent Beers hundreds of Silly Bandz in support of the Fun Max cause after the two got in contact with one another.
Looking to brighten fellow students' days with a free burst of nostalgia, the Fun Max team then set up shop on campus and re-gifted the Silly Bandz to passersby during finals week.
"The big thing we did was get 600 Silly Bandz and gave people free Silly Bandz under the pretense that all they had to do was just tell us, how are you taking care of yourself during finals?" Beers said. 
Now having an established presence on social media, the Fun Max team's next goal is expanding their outreach beyond the digital sphere.
"A lot of the work that we're doing now is trying to figure out how we can diversify and try and reach people that aren't seeing everything we post," Beers said. "And part of that is we're on the William and Mary website now, which is awesome. I think that that's something that I never thought would happen in my time at William and Mary — having my face on a website. But then there's just trying to put up literal, physical fliers and just trying to get the information out in as many methods as possible so that people will have as many ways as possible to see the message and try to engage with it." 
Along with finding new ways to connect with the student body, the Fun Max team aims to continue with The Fun Glossary and student showcases while launching several new initiatives.
"We're going to start a new series called 'Fun Max Uncovers' — or something like that — where I go and try and show how the resources on campus can be used for your own wellbeing," Beers said. "So we've already got one of those filmed where I went to Swem Special Collections and just poked around and saw all the cool stuff that's there just by asking like, 'Hey, can I go and poke around?'"
The Fun Max team's future ambitions continue with plans to start a series called Fun Max Interviews in which Beers sparks a dialogue about wellness with notable staff and students on campus.
"Fun Max Interviews … [are] where I'm just trying to sit down with people that are bigwigs at William and Mary and say, 'How do you think wellness factors into what you do everyday?'" Beers said.
This interview series ties into one of the two items on Beers' personal College bucket list to complete before graduation: interviewing President Rowe in, let's just say, a manner that captures the spirit of Fun Max.
"I want to sit down and interview Kathy Rowe, and I want to do it in the most ridiculous way I possibly can," Beers said. "I'd wear a costume, like, a shark costume."
And for the second must-do on Beers' bucket list?
"I want to organize the biggest game of Duck Duck Goose ever, and I want to do it in the Sunken Gardens," Beers said. 
While these goals — and by extension, Fun Max himself — may seem laughable and can be easily chalked up to just some more of Fun Max's goofy shenanigans, probing beyond the surface-level silliness of Fun Max reveals serious intellectual and psychological underpinnings that render it a well-thought-out and beneficial venture for improving students' wellness. 
At the end of the day, Fun Max's outspoken commitment to authenticity and welcoming spirit encourages students to learn to not take themselves so seriously and think more critically about how to create joy within their own lives. For Beers, the community that has grown alongside Fun Max exemplifies the impact he wants to leave behind with his cherished passion project. 
"If nothing else, a hundred or so people felt like they were in on a joke, which is kind of poetic in a way, because that's really all we're trying to get at — is that people feel the sense of community and belonging here, and having a big joke like that gets the job done," Beers said.