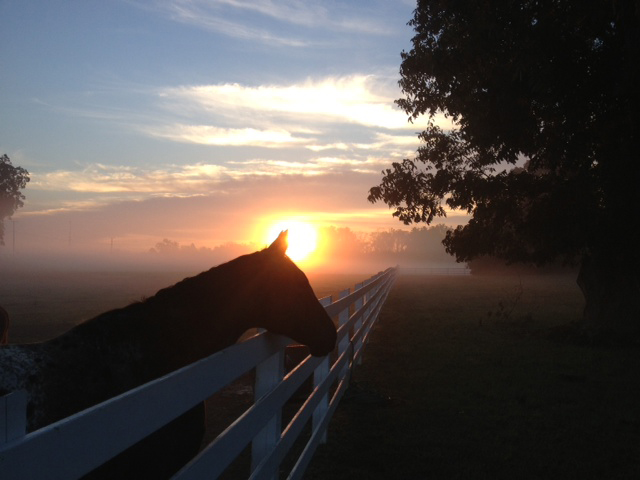 There's nothing quite like the connection between horse and rider. Between the equestrian and the ground, half a ton of galloping, snorting muscle moves with a mind of its own. Unflinching trust is necessary for both parties.
At competitive shows — where riders are randomly assigned their horses — this reliance must be established quickly.
"It's a very nerve-wrecking experience, meeting the horse for the first time, stroking them, asking, 'Can you do this for me? Can we do this?'" Equestrian Club Vice President Katie Kielty '16 said. "You know how powerful these creatures are, yet you just hop on top of a strange one."
Led by coach Karen Greenwood '95, the Equestrian Team is a branch of the College of William and Mary's Equestrian Club. The club hosted 94 riders from seven different schools at its first horse show of the year Sunday at its scenic Tuana barn.
Club President Jessica Benson '14 described the show as a great success. Club members scattered around the ring, calling out encouragements and tips to their teammates as they rode. Megan Heim '16 and Erika Euker '14 both won second place in their respective classes.
Although pairings depend on chance, club members appreciated the home-field advantage of using horses from their club's eclectic barn. From the fox-hunting Appaloosa to the large draft horse to the ex-racer, the William and Mary Equestrian Club's barn is nothing if not diverse.
Benson rode Vegas — a sometimes-contrary former racehorse — in the show.
"Each horse is different personality-wise and with how they need to be ridden," Benson said. "You can learn something from every horse you ride."
Benson has been drawn to horses since childhood. By working at barns during the summer, she was eventually able to lease and later buy her own horse, Rain.
Over the years, she's witnessed and experienced the bond between humans and horses firsthand. At a therapeutic riding program where she worked, an otherwise crabby horse named Joey befriended a young girl with cerebral palsy. Joey could sense the girl's painful muscle spasms coming on and would nudge trainers in warning.
"Horses are incredibly sensitive," Benson said. "They can almost read your emotions before you feel them. If you're really nervous and tense, the horse is going to be nervous and tense."
She described riding as a recipe — discovering how best to communicate with the horse. Kielty agreed, emphasizing the unspoken language of horses. She'd only taken up riding six months before coming to the College. She credits Greenwood with making the club accessible for riders of all experience levels.
"Horses in general, if they're in the right mood, are very compassionate," Kielty said. "When you're riding a horse, there's definitely a partnership going on. You have to listen to them and hear what they want. Once you figure out how to communicate with each other, then you're really riding."
Rain and other horses at the club's barn can be stubborn at times, but the act of riding makes up for the occasional frustration.
"You can feel that the horse will do anything you ask them to do," Benson said. "If you ask them to jump over a fence, they'll do it without thinking twice. They're listening so well to you and you're so in tune to what they're doing."
Team Co-Captain Jacey Smith '15 has experienced the highs and lows of riding since she started at age five. Her first show ended abruptly when her favorite pony threw her. Then, in eighth grade, she broke her back after a deer spooked her pony.
For her, a good ride isn't simply about feeling good — it's about fully connecting with the horse. This isn't a hard feat, considering Monster — her 16.2-hand bay thoroughbred — is her best friend.
"Literally the love of my life," Smith said. "He is my favorite man in the world. We are actually celebrating our sixth anniversary this month."
It's both the horses and the people that make the Equestrian Club special for Treasurer Peden Gardner '16.
"When grooming [the horses], I like to love on them and learn their personalities," Gardner said. "Our coach and members are great people and we have an awesome time together. It's hilarious during lessons and at shows, and in general everyone is so accepting, supporting and good-natured that you can't have anything other than a great time."