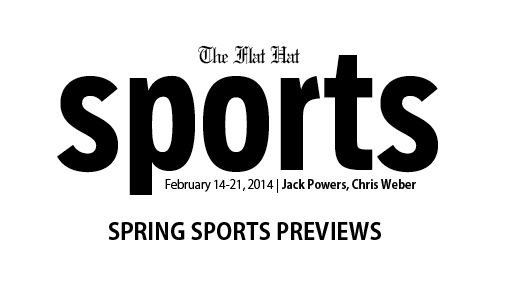 The Flat Hat Sports Desk editors Jack Powers '15 and Chris Weber '15 take stock of the 2014 spring sports season, previewing the baseball, lacrosse and track and field programs. Extended interviews with players and coaches are available for both baseball and lacrosse.
Fresh off a first-ever National Collegiate Athletic Association tournament run, the College's baseball program looks to carry its momentum forward with first-year head coach Brian Murphy (click here for the video). The lacrosse program welcomes first-year head coach Hillary Fratzke and looks to improve on a 2013 campaign that saw five wins. Under director Stephen Walsh, the track and field program will look to defend its CAA titles.
Baseball: Play ball
"Last year was a terrific year. I think there's a good deal of momentum surrounding the program. As far as transitioning from last year to this year, this is a different team," Murphy said. "We're a 0-0 team, some of the lessons learned last year, some of the experiences gained, transfer and have value coming into this season." Continue reading here. 
Lacrosse: A refreshing look
A broken 2013 season and the resignation of head coach Brooke Ireland seemingly left new-hire Hillary Fratzke with a lot of pre-season rebuilding. Conventional wisdom suggested Fratzke would have to discern how a roster full of talent and experience had managed just five wins a season ago.
Fratzke, though, isn't a conventional coach. A former two-time CAA Player of the Year while at Towson and most recently a Northwestern assistant coach, Fratzke chose to ignore the entirety of last season's film. No review would take place. Continue reading here.
Track and field: Mark, set, go
Director Stephen Walsh sees the season as a process — one that takes shape gradually over the course of four months. When the Tribe comes to the starting line in Harrisonburg, Va. May 2 to defend its men's and women's Colonial Athletic Association titles, it will do so after countless hours of exertion in the quest to run faster, jump higher and throw farther. Continue reading here.