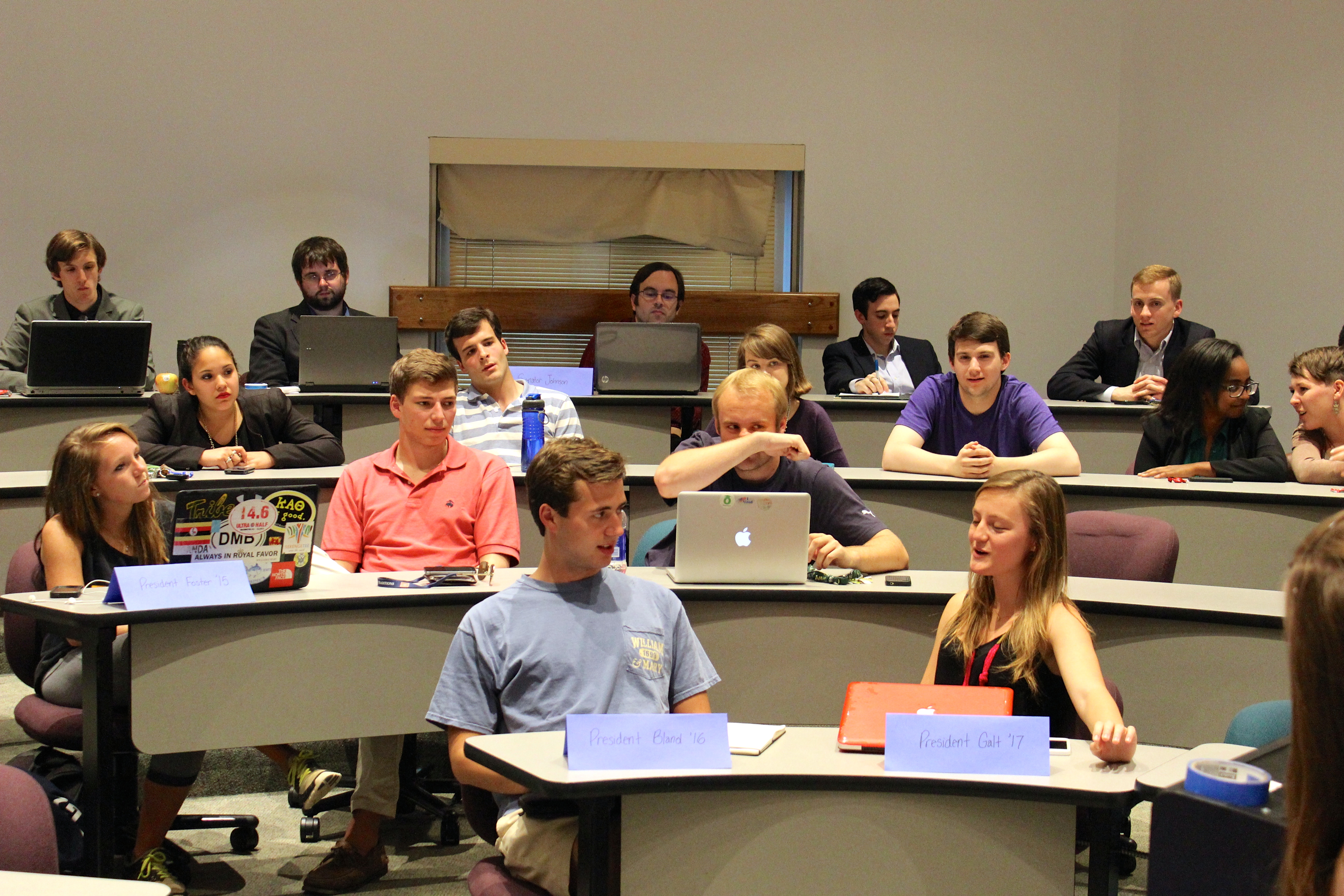 Student Assembly senators went through the process of confirming executive cabinet and election commission nominees Tuesday.
SA President Colin Danly '15 submitted his nominations for executive cabinet positions to the senate last week. Over the weekend, one or more senate committees reviewed each nominee. The committee or committees then submitted non-binding positive, negative or abstaining recommendations in terms of confirming the nominee.
During Tuesday's senate meeting, each nominee introduced themselves to the senate. Chief of Staff Drew Wilke '15 made an executive comment, followed by committee comment, public comment and senator discussion.Senators confirmed a total of 24 nominees out of the 26 nominations presented.
According to the SA's constitution, a nominee needs a two-thirds majority positive vote by the senate to be confirmed.
The nomination of Mike Larson '15 as Chair of the Review Board was voted on by roll call due to concerns raised by Sen. William McConnell '14. Larson was not present to introduce himself to the senate and McConnell found his absence problematic. McConnell explained that he believed it was important that nominees be present to answer questions that senators may have for them.
"I think that there should be some value to senate confirmation, I think we are not here for just no reason whatsoever," McConnell said. "And I don't think that confirmations are completely pointless. And if we can't even talk to someone, then why the hell have we been here for an hour."
Wilke responded to McConnell's concern by pointing out that the senate had confirmed Hannah Kohn '15 as Secretary of Diversity Initiatives earlier in the meeting. Kohn is studying abroad in Israel.
"I'm just curious if you feel so strongly about senate confirmations and feel so strongly about the person being there, then why the exception for Hannah, but not for Mike?" Wilke said. "If that's your principle standing right there alone … I think you should take that principle across all boards."
After much debate, Larson's nomination was voted on by a roll call in which McConnell, Sen. Joseph Scholle '14 and the law school representative all abstained. Larson was still confirmed as he still received a two-thirds positive majority vote.
Edward Linnecke J.D. '16's nomination as a member of the review board was not confirmed. Once again, senators discussed the concern that he was not present at the meeting to introduce himself or respond to senators' questions. His nomination was voted on by roll call. Sen. Michelle Tansey '16, Sen. Peter Lifson '16, McConnell and Scholle all chose to abstain. Since the senate was at quorum, meaning two-thirds of senators were present, Linnecke was unable to obtain the two-thirds positive vote to be confirmed.
Finally, senators chose to table the nomination of another member of the review board Lacey Coppage J.D. '16. She was also not able to be present at the meeting.
Any nominations not confirmed during Tuesday night's meeting will be looked at when the senate reconvenes next semester.