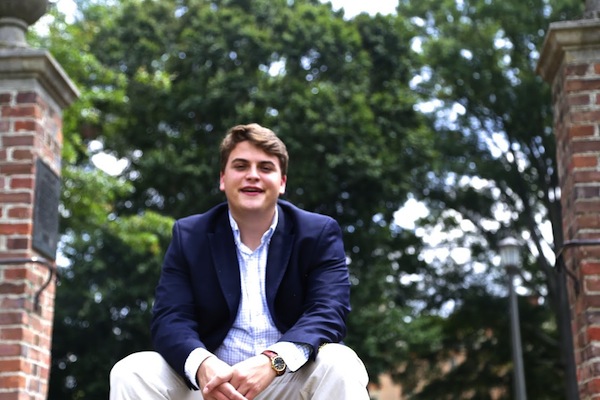 Three years ago Colin Danly '15 arrived on the College of William and Mary campus as a freshman knowing only his roommate.
He returns to campus his final year as the President of the Student Assembly, and is eager to offer aid to new students. Taking advantage of tradition was a key piece of advice Danly shared. He explained that tradition is an integral part of the student experience at a school as old as the College.
"You only have four years to soak these [traditions up]," Danly said. "Participate in every single tradition and make some new traditions of your own.  Stick to those traditions; it's what makes us special."
At times, there can appear to be a divide between freshmen and the upperclassmen community, Danly added. He said that he believes this divide quickly dissipates once freshmen start getting involved on campus.
When it comes to getting involved, Danly emphasized the importance of the Student Activities Fair, planned for Aug. 26, the day before classes start. At the event, freshmen will have opportunities to learn about a variety of organizations directly from active students.
Beyond the formal activities fair, Danly also advises freshmen to simply look out for clubs tabling around campus. He encourages them to not hesitate in talking to students about their organizations.
"It's always really cool for freshmen to go and talk to people who are so dedicated that they're tabling and taking time out of their day to talk to students," Danly said.
Danly said that he recognizes the pressure freshmen feel to get involved on campus. He emphasized that new students should not feel the need to choose all their involvements during their first year.
"It doesn't matter if you join the first day of school or a month before school ends — it's really about what you get out of the organization," Danly said. "You grow so much over your time in college that your interests will change."
Another opportunity for freshmen to get involved in campus life is in the freshmen SA elections coming up Sept. 25. The first information session is Sept. 7.
Danly recommends that any freshmen interested in running should take a chance and put themselves out there. He explained that freshmen are an important part of the SA as they offer fresh ideas and input.
"Freshmen bring a whole different set of life experiences," Danly said. "And that perspective is so important and really adds to the wealth of the Student Assembly."
When it comes to campaigning, he advises freshmen candidates to remain genuine.
"Be as genuine as possible," Danly said. "I think William and Mary is a place where we honor people that are doing things for the right reasons and also doing things in the right mindset."
In general, Danly said he wants freshmen to feel welcomed on campus. As Student Assembly President, he hopes to let new students know that he is here to make their College experience the best it can be.
Danly acknowledged that many of the projects he has planned are long term and may not be finished in his one-year term. It will be up to his successors to continue these efforts.
"A lot of the stuff that I'm going to be doing might not get done tomorrow," Danly said. "That doesn't mean I'm not working and not trying to get stuff done. A one-year presidency does have an interesting effect on projects … and the only way you can make sure that you get things done is by making sure that you're including other people in your discussions."
To all students at the College, Danly said he is accessible through email and Facebook, as well as in person.