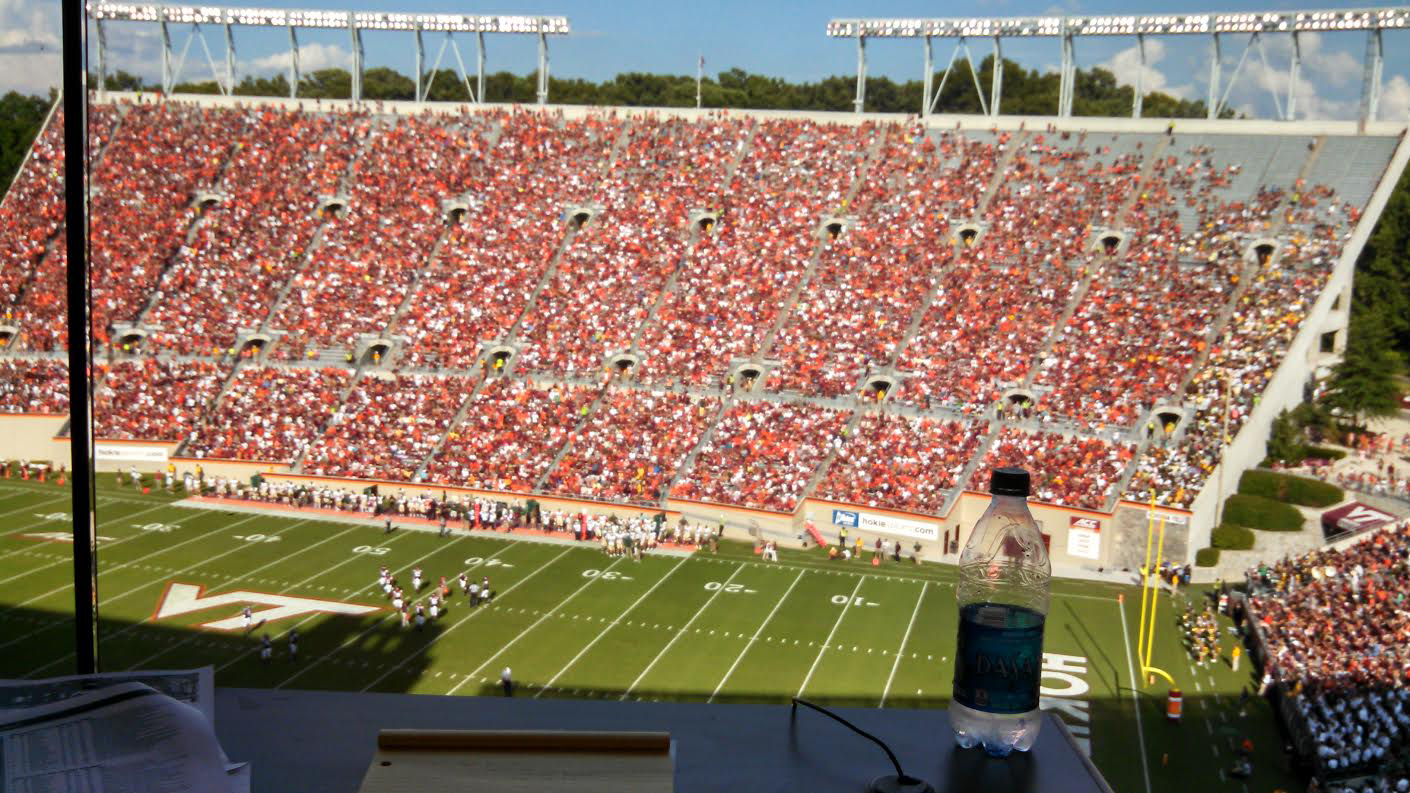 I started to believe somewhere in God country. Between Country Cookin' and Mama's Kitchen, I convinced myself it could happen.
William and Mary could cover the spread.
Challenging a top-flight Football Bowl Subdivision team wasn't new. The College (0-1) led at halftime before collapsing in the second quarter at Morgantown, W.Va. a season ago. A miserable game against Maryland mercifully ended in the Terps' favor, 7-6, in 2012.
Winning was different, though, and that wasn't going to happen Saturday afternoon. Even with an unproven quarterback and Ohio State looming next week, picking the Tribe over Virginia Tech (1-0) was laughable.
A twenty-point spread was fair. The College would need its defense to limit Hokie possessions; all-conference senior lineman Mike Reilly would need to find a way to pressure Tech quarterback Michael Brewer.
Redshirt sophomore quarterback Steve Cluley would need to play mistake-free football, trusting a young offensive line to give him time in the pocket. Above all, senior wide out Tre McBride would need to prove his value on special teams and offense.
For most of two quarters, the College did just that. Despite losing senior tight end Bo Revell in the opening drive, senior John Carpenter's leg kept the Tribe close.
Even when a strip-sack turned into a Hokies possession at the Tribe's two-yard line, the College held for five plays. That's five snaps against an Atlantic Coastal Conference team, a series that nearly ended with an interception.
William and Mary could cover the spread.
Down 11 toward the end of the third, I felt good. The spread was intact and a big play was past due. That play came just before the end of the third, as McBride was carried off the field.
With its most potent playmaker nursing an ankle injury, the College unraveled. What had been ignored in light of a relatively close scoreboard became all too clear.
The defensive line couldn't pressure Brewer, registering just two hits. Second and third-level defenders couldn't shed blocks, and the secondary was forced to cover for what seemed an eternity.
Cluley spent as much time avoiding sacks as he did backpedaling, turning short losses into unmanageable second and third downs. The running game found limited success, struggling to create any daylight for junior tailback Mikal Abdul-Saboor.
With 6:11 remaining and the spread all but ruined, Laycock called for junior quarterback Christian Brumbaugh. If there was ever a time to take a chance, it was now. Brumbaugh was in and the spread was possible.
Eighty yards to score, trailing 25 and a defense playing contain all pointed to Brumbaugh airing it out. It was a chance to see a quarterback who, supposedly, lost a close offseason competition. Air it out, coach.
Six plays, four runs. William and Mary couldn't cover the spread.
Laycock and the Tribe aren't strangers to rotating quarterbacks. Last season alone saw three quarterbacks take snaps. Seeing Brumbaugh wasn't a shock; Shadesof48.com Editor-in-Chief Jared Foretek '15 called it somewhere on the drive between Lynchburg and I-81.
Seeing Brumbaugh hand the ball off four times, though, was a shock. While Brumbaugh did connect on a roll-out to junior wide out Christian Reeves for nine yards, he didn't have a chance to prove himself as a passer.
It's clear that Brumbaugh can manage running plays, but that conclusion doesn't justify his number being called. If anything, Brumbaugh should have had a chance to showcase his skill.
There was another throw, an incompletion on a third-and-long set up by a handful of rushes.
I have no issue with playing Brumbaugh — I was surprised he didn't enter the game earlier. In an out-of-reach game with nothing to lose, Brumbaugh should have been given the calls to prove himself.
By running the ball, Cluley and Brumbaugh both suffered. Cluley didn't finish his first collegiate start, while Brumbaugh's first collegiate appearance amounted to a stalled drive thanks to conservative play-calling.
And, on top of it all, William and Mary didn't cover the spread.