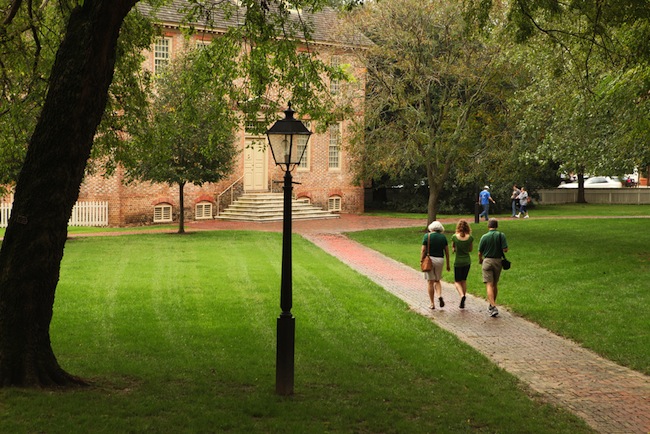 It's almost here: Family Weekend. Williamsburg's few invaluable parking spaces will be flooded with families from near and far Sept. 19-21, all hoping to take part in their own special twamp's college experience. It can be overwhelming for some, even in a place as small as Williamsburg. Luckily for students, the College of William and Mary has a full and diverse schedule of activities for visiting families.
The schedule is posted in full on the College's website. From years past, some of the most popular activities have included sponsored tours of the Muscarelle Museum of Art, the Harvest Moon Festival and Dinner, the Family Weekend Concert, Family Weekend Lantern Tours, William and Mary SINGS! and hearing College President Taylor Reveley speak during the Family Weekend Welcome Session and Presidential Address. All of these activities will be offered this year.
To partake in the scheduled events, families need to register on the College's website, even though not all events require registration.
Throughout the beginning of the semester and even during the summer, both the administration and student organizations have been preparing activities for visiting families. For example, the Swing Dance Club will be hosting family lessons this Friday, Sept. 19 from 7-9:30 p.m. at the Little Theatre in the Campus Center.
"I'm pretty excited about teaching swing dance lessons during family weekend," Swing Dance Club president Melissa Abbate '15 said. "Especially to people who might be older. Parents who want to learn can dance with their kids. I like it because, even though swing dance is old, it gives us a chance to show the parents that William and Mary has a sense of tradition. I hope parents get a kick out of it."
For many students, freshmen and transfers specifically, this is their first family weekend as members of the Tribe. Olivia Savage '17 a transfer student from James Madison University, will be hosting her family in Williamsburg for the first time.
"This is my first family weekend as a student at the College," Savage said. "I'm interested in seeing how William and Mary steps up their game. My family and I are planning on going to the Legacy Brunch for alumni families, and checking out what all the school will be putting on. I'm excited for my family to see everything that goes on here."
Although the College's events provide plentiful opportunities to showcase all that the College has to offer, many students prefer scheduling their own activities for Family Weekend and showing their families their own unique version of Williamsburg.
Cristen Corry '17 was one student who chose to show her family around on her own last year.
"My brother was actually a junior in high school at the time and looking at William and Mary, so we gave him a tour of the campus," Corry said. "We showed him all the important places, like the 'echo wall,' and just tried to share with him all of the traditions of the school. We also saw the Ultimate Frisbee Tournament while they were here, which was really cool."
Outside of the College community, Colonial Williamsburg is an exciting destination for many students during Family Weekend. Popular stops include the Merchant Square shopping area, Mad About Chocolate, the bookstore to stock up on Tribe-themed gear, and the Cheese Shop.
"[Last year], we definitely went around the colonial area," Corry said. "We had been to Colonial Williamsburg before, but this time it was nice to be able to show them places that I had discovered since coming to Williamsburg on my own. I showed them shops that we didn't know about before. We had actually never been to the Cheese Shop, and so it was cool to show them that."
Corry's family is planning to attend Family Weekend once more this year. As a sophomore, the things she plans to show her family are slightly different than when she was a freshman.
"We will probably still do some of the things we did last year, like walk around campus," Corry said. "But this year, there are new and exciting things I want to show them. We are definitely going to the football game."