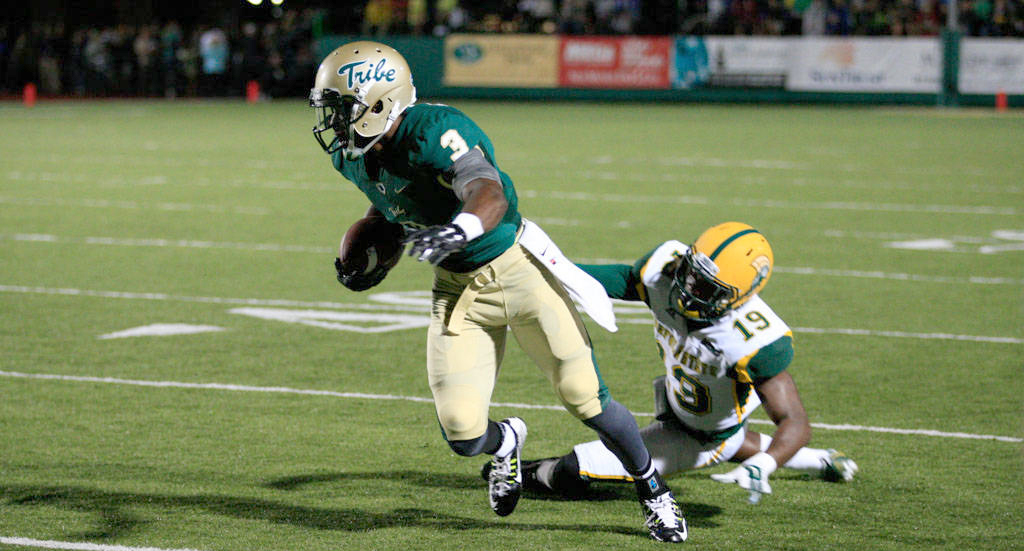 Fresh off of two double-digit victories, William and Mary will face Lafayette tomorrow evening in the final game of its non-conference docket. The 7 p.m. showdown will be critical for the No. 13 Tribe, which needs to work out some issues of its offense before it opens its Colonial Athletic Association schedule against Stony Brook Sept. 27.
It's worth noting that the Tribe has shown flashes of firepower in its early season matchups. Junior running back Mikal Abdul-Saboor averaged 5.5 yards per carry in his first three games, accumulating 258 yards to give the offense a much-needed punch. The offense also has a boost from senior receiver Tre McBride, who returned from injury last week to rack up 101 receiving yards and shook off any concerns about his long-term health. The Tribe will need sharp performances from both players to get its offense going against the Leopards.
Once again, this game will prove a crucial showcase for sophomore quarterback Steve Cluley. After failing to throw a touchdown in his first two games, Cluley finally tossed one to McBride and completed 12 of 27 attempts for 166 yards against Norfolk State last Saturday. Head coach Jimmye Laycock said that he and his staff made a conscious effort to give Cluley more passing attempts last weekend, though he was only partially satisfied with the result.
"We threw the ball a bit more tonight, based on what they were doing on defense," Laycock said after Saturday's win. "I don't think we were as sharp throwing it as we should've been."
The coaching staff and Cluley appeared resistant to passing in the middle of the field, opting for safe short throws and deep attempts down either sideline. Evading the middle of the field keeps Cluley's throws away from the bulk of the defense, but it also gives opposing safeties little reason to step back from the line of scrimmage. Norfolk State largely ignored the Tribe's passing game in favor of stopping the rush, which somewhat stymied the College's attack on Saturday. The Tribe needs a plan to combat teams who are unafraid of its passing ability.
The College's defense performed as expected in the early stage of the season, especially by forcing turnovers. After surrendering 34 points to Virginia Tech in the season opener, the Tribe allowed just 14 points in each of the past two weeks and gave up just 322 yards of offense last week against NSU. The secondary has been particularly sharp, with junior cornerback DeAndre Houston-Carson, senior safety Ivan Tagoe and junior safety Jared Velasquez each forcing a turnover in the past two weeks and establishing the Tribe's pass defense as one to be feared. The unit also has nine sacks in three games, proving that its front seven can pressure opposing passers.
The Tribe's defense will have to contend with a Lafayette offense that is fresh off a 50-3 drubbing of Robert Morris. The Leopards ran early and often in that performance, finishing with an exemplary 324 yards on 50 attempts. Lafayette quarterback Drew Reed has five interceptions and just 280 passing yards in two games, so the College can focus on stopping the Leopards' rushing attack and force Reed and his receivers to make plays.
All said and done, the stout Tribe defense finds a favorable matchup in Lafayette. If the College can force the Leopards to pass more often, Reed will struggle against the Tribe's tough pass rush and ball-hawking defensive backs. On offense, the Tribe will likely lean on Abdul-Saboor as usual, but might also give Cluley more opportunities to show his ability, particularly on deeper throws.
Against Lafayette, the College will attempt improve to 3-1 in advance of conference play. The game will begin at 7 p.m. Saturday night at Zable Stadium.