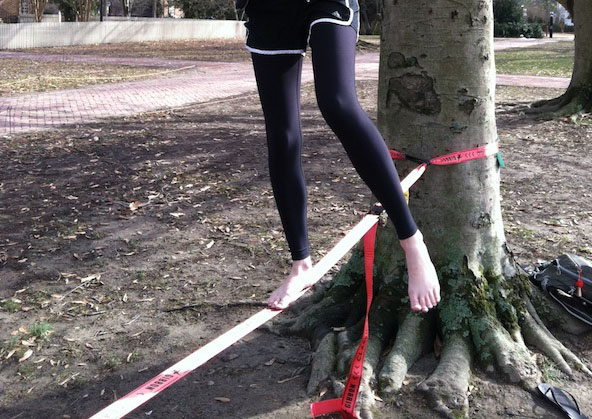 What happens when walking on air, cloth webbing and jumping tricks seamlessly combine? Slacklining, obviously.
If you've ever walked through campus and seen groups of people walking on what appear to be tightropes set up between trees, then you have witnessed this phenomenon in action. Slacklining is a cross-training exercise which involves anchoring a narrow stretch of webbing between two anchor points – usually trees – and walking from one end of the other while balancing and completing skilled tricks.
This exercise is not to be confused with tightrope walking, a popular circus activity.
"Slacklining is an athletic activity that involves stretching webbing between two anchor points and trying to walk across it and do tricks," Ryan Shintani B.A. '12 M.S. '14 said. "The material is elastic so you can stretch it, jump on it, and so on."
According to Shintani, who started an informal slacklining club at the College of William and Mary, slacklining was a sport invented by "some bored rock climbers" to incorporate cross and core-training into their workouts, thus improving their athletic performance. Shintani is an avid rock climber himself.
Shintani first discovered the sport at Dominion Riverrock, an outdoor festival in Richmond, Va., which he attended to watch a professional climbing tournament. While there he spotted a slackline tournament simultaneously occurring. Shintani said that at first it looked like gymnastics but on webbing. He was hooked. So inspired, in fact, that he bought a slackline and has been doing it ever since.
Caitlin Jamison '16 is also living the double life of a rockclimber and slackliner.
"I like it because it's very zen," Jamison said. "You can concentrate without actually thinking about it and it requires a lot of focus and determination."
Every Sunday on the Colonial Williamsburg side of the Sir Christopher Wren Building, the group meets, weather permitting, to practice. Over the years, the group has grown.
"I was always really curious about it and it was a great excuse to get outdoors," Ian Hernandez '17 said. "It is a time where I can focus on something other than what is going on around me, which is something you can never really do at school because of all the deadlines you are worried about."
While slacklining may look deceptively easy, it actually requires a great deal of mental and physical patience and strength.
"You always have to fight yourself a little because your body is doing something it is not accustomed to," Jamison said. "You normally have a safety [net] underneath you and with slacklining you don't, so you have to mentally push past your fears. You become completely self aware and learn how the tiniest shifts of your bodies can affect the line."
Slacklining is a recreational activity, but it's one often used to hone in on your body and learn to focus.
"I love the focus aspect and really like the thrill of doing something a lot of people don't do," Shintani said. "It is so fun when you finally walk backwards and forwards and backwards, spin, or jump."
Shintani has been practicing for a few years and has reached the level where he can spin on his knee and also jump along the rope. Both Jamison and Hernandez have been working toward doing tricks on the line. However, like other physical activities, progress is easily measurable.
"Every time you get back on the rope you are actively progressing," Jamison said. "Each time you get a little better and you can measure your progress in steps. Eventually you reach one side and then you start coming back."
Shintani and Jamison welcome any student interested in trying slacklining out for the first time to join them for a club gathering on Sundays. They stress that no experience is necessary to try the sport.