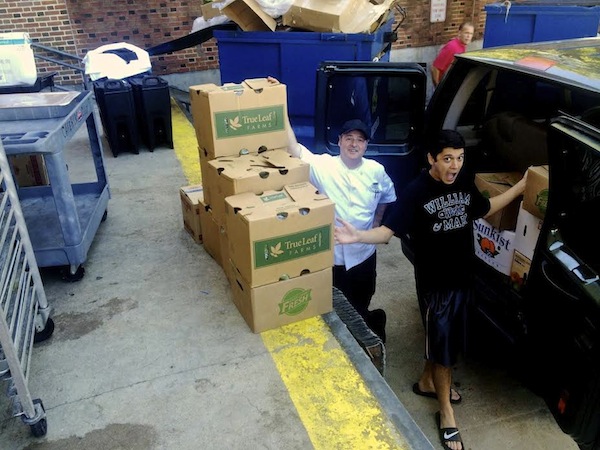 After Family Weekend at the College of William and Mary, Dining Services was left with several hundred pounds of uneaten food. Rather than throwing it away, Sodexo USA found a willing repository in the refrigerators and freezers of the College organization Campus Kitchens.
Campus Kitchens, which prepares and delivers meals to food-insecure families in Williamsburg, accepted the excess food in the first of what they said they hope will be semi-regular donations from Sodexo.
"When we are planning for a large event on campus we try to produce the correct amount of food for the visiting guests," Catering Chef Darry Huntsman said in an email. "[H]owever, if we do over produce the food we like to see the food go to a good cause."
Amber Wright '15, Campus Kitchens fundraising chair, said that the organization received about 40 pounds of oranges, 70 pounds of apples, 70 pounds of spinach, 80 pounds of romaine lettuce, and hotdogs and hamburgers — more food, she said, than Campus Kitchens normally collects in two months.
"It was actually quite overwhelming, the amount of food," Wright said. "We at first didn't know where we were going to put it all. And they actually helped us figure it out; they came with us, they helped bring it to our facility and store it and figure out how to do that."
Huntsman expressed the intention to continue donating excess food to Campus Kitchens.
While Wright said she was originally ambivalent about the partnership, she said Sodexo's willingness to work with them was a welcome departure from the norm Aramark established during its time as the College's food provider.
"When I first started, we had talked about partnering with Sodexo and I was on the fence about it," Wright said. "But the previous food company that was here didn't even want to consider it. … We had tried it before, and they don't donate anything. Any food that's left over, they just compost and get rid of it."
Sodexo was not the only organization to lend a hand to Campus Kitchens, however. With the sudden influx of food came the question of where to store it all — a question the management of Pita Pit readily answered.
"[T]his really was a community coming together," Campus Kitchens education and programming co-chair Serena Saffarini '14 MPP '15 said in an email. "At first we thought we wouldn't have room to refrigerate everything at the Presbyterian Church where we normally store food and cook. At that point, Pita Pit agreed to temporarily store some things for us, which was an incredibly kind gesture from them. We managed to squeeze everything between the three refrigerators and a couple of freezers at the church, but it was great to know that we had support from a local business if we'd needed it."