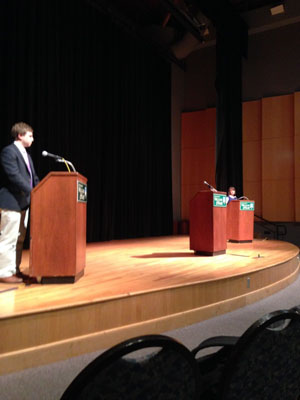 The NAACP hosted a mock senatorial debate Monday at Commonwealth Auditorium between the Young Democrats, represented by Elise Orlick '15, and the College Republicans, represented by Trevor Parkes '15.
The two debaters represented their respective parties' senatorial candidates, incumbent Sen. Mark Warner (D) and former advisor to the president, Ed Gillespie (R).
The hour-long debate, moderated by speech professor David Gosser, was divided into two parts, with the first half covering a range of topics especially pertinent to the College of William and Mary community, including education, the political experience of the two candidates, and health care. Orlick and Parkes argued in favor of their respective candidates' solutions to major issues affecting college students such as the rising cost of college.
"While in office as senator, Mr. Warner has led numerous efforts to reduce the cost of a college education and make it more accessible to students of all means," Orlick said. "He also has other initiatives in terms of affordability. He thinks that it's very important that loan repayments be tied to student incomes after they graduate, so they are never required to pay more than they can afford and a degree must start working for them before they start paying it off."
Parkes countered that argument, saying that, despite Warner's efforts, tuition costs have risen several thousands of dollars for Virginia students and collective student debt has passed a trillion dollars. He then laid out Gillespie's plans to aid struggling students.
"Something that really hurts right now is financial aid, especially [that] some of the forms are obsolete, terrible to fill out, hard. And [that acts] almost like a regressive system," Parkes said. "It's harder and harder to fill them out and [it's] getting less and less likely that you'll get the financial aid you need.
With that in mind, [Gillespie] wants to simplify the process to get the financial aid you need."
The second half of the debate involved questions from the audience, which covered abortion, sequestration, energy policy, LGBT rights, tax reform, immigration and campaign finance reform.
The debate attracted roughly 40 students, many of whom will be casting their first vote in the upcoming senatorial election. Some of these potential voters, like Emily Pitsilides '18 were unsurprised by the information conveyed to the audience.
"I'm not from Virginia so, I didn't really know much about the candidates, but I felt that their views were really what I expected from a Republican or a Democrat," Pitsilidepses said.
Some students left the debate without being swayed to vote for either candidate, such as undecided first-time voter Jameson Glover '18.
"I'm trying to gain all the knowledge I can about the candidates beforehand. I want to make an informed decision," Glover said. "This debate had some interesting points, definitely a lot of new information to process. But there still might be a couple of different facets to visit to make a better decision."
The election will take place Nov. 4, with in-person absentee voting and mail-in voting available for eligible voters who are not able to make it to the polls on Election Day.