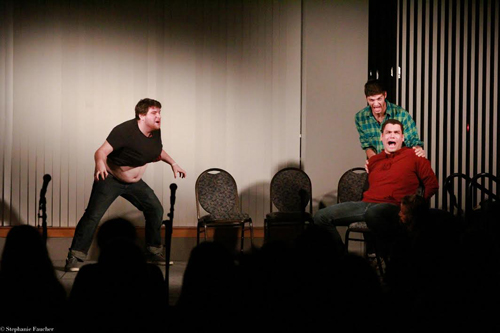 Paper clips, light bulbs, vending machines and salsa — what's the common denominator?
Nothing really, aside from the fact that these four objects "killed" members of Improvisational Theatre during a skit and joined the plethora of random words used to generate laughs during Friday night's comedy showcase.
Six comedy groups from around the state gathered at the College of William and Mary Nov. 7 for the first annual Virginia College Comedy Invitational.
Four of the groups — I.T., Sandbox Improv, Trippin' on Brix and 7th Grade Sketch Comedy — were from the College. The remaining groups were James Madison University's New & Improv'd  and the University of Richmond's Subject to Change Improv.
The invitational, which was held at the Sadler Center with the support of AMP, reached an audience of over 300 people. Every seat in the room was filled, leaving some standing in the back.
To begin the night, a new comedy group at the College, Trippin' on Brix, performed two short sketches. I.T. went next, offering short-form improv relying on audience participation.
Following I.T., Subject to Change, also a short-form improv group, gave audience members a performance filled with history allusions.
"I got a new board game," one group member joked. "It's called Drunken Revolutionaries. I want to be Robespierre!"
Another member preferred World War I-era history, renaming the infamous Black Hand the "Black Handeds" as a result of one group member's "ambidextrousness."
Next, 7th Grade Sketch Comedy, a group that performs scripted skits rather than improv, highlighted everything from bad chemistry jokes — "I hope that lecture wasn't too Boron" — to the merits of kidnapping — "No pain, no fuss, just relocation."
After JMU's group, New & Improv'd, took the stage, Sandbox Improv concluded the evening with a long-form improv performance.
While the College has been home to I.T. and 7th Grade Sketch Comedy since 1986 and 1997, respectively, it was the founding of Sandbox two years ago that spurred the idea for a collaborative performance.
"We've been thinking about doing a show [together] ever since Sandbox came into existence," Sandbox President Robert Torrence '15 said. "We tried to do it last year, but it didn't work out."
Kareem Obey '16, 7th Grade Sketch Comedy president, said there has been a growth of interest in seeing and performing comedy on campus since Sandbox's founding.
After seeing this increased interest, Obey decided to spearhead efforts to put on a performance featuring not only the College's comedy groups, but groups from around the state.
Obey, Torrence, I.T.'s Mallory Tucker '15 and 7th Grade Sketch Comedy's Kelsey Sweeney '15 have worked together since early spring to plan the event.
Obey reached out to the other two groups and began planning committee meetings. He also spent the summer researching comedy groups around the state and contacting them with information about the event.
"I had to draft really fancy sounding emails because this has never happened before," Obey said. "That's how we chose the name invitational over festival, because the word invitational would make it sound like we had our stuff together."
"The idea is that you get a little taste of what each group has to offer."
The invitational committee continued meeting throughout the fall semester.
"We tried to meet every few weeks to decide what we wanted to do, who we wanted to invite, and what we wanted this to look like," Tucker said.
The committee's goal was to produce an event similar to an a capella showcase. Each group was allowed 20 minutes to show the audience its specific style of comedy.
"The idea is that you get a little taste of what each group has to offer," Tucker said. "It [also] allows each member of each group to learn how our styles differ and how they come together."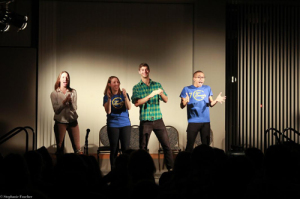 While I.T., Sandbox and 7th Grade are easily categorized by the type of comedy they perform — sketch, short-form or long-form ­— and Trippin' on Brix plans to be a combination,  Obey said the groups also differ in the tone of their shows.
"[7th Grade has] no problem with getting very, very weird in our sketches, whereas I.T. is grounded in reality," he said. "Sandbox pushes social commentary more so than I.T. would … [it's] a mix of the [other] two."
Torrence said the invitational would allow people who normally attend only one group's show to see a different style of performance, which he said he hopes will make them more interested in attending future shows or trying out for groups.
Obey also saw the invitational's potential for highlighting comedic talent on campus. He cited Sara Schaefer '00, a 7th Grade alumna who now has her own MTV show, as an example of a student who has gone on to become successful in the comedy field after graduation.
"[We're doing this to] show off comedic talent on campus that everyone might not be aware of," Obey said.
Torrence said he hopes to make the comedy invitational an annual event.
"We want to grow it in years to come," Torrence said. "[We hope to] bring more groups [and] possibly make it a two-day event."
Given the size of the audience at the invitational, Torrence may see his goals fulfilled.
"It seems like people on campus are excited for [the invitational] to happen," Obey said. "I thought of doing it fall of last year, but I wasn't sure if there would be enough demand on campus. I thought I would have to wait a few years … It's great to see something you actually really want to see materialize in the real world."