Politicians such as Hillary Clinton and Chris Christie are often mentioned in discussions about potential candidates in the 2016 presidential election. Thanks to the efforts of two seniors at the College of William and Mary, Ohio Senator Rob Portman may soon enter the conversation.
Earlier this year, government majors Trevor Parkes '15 and Henry Longley '15 filed papers with the Federal Election Commission to form the Draft Rob Portman Committee. Their efforts were recently covered by Bloomberg news.
The committee, which is a nonconnected PAC that allows Parkes and Longley to build support and gather funds for Portman, is part of the pair's efforts to encourage the Republican senator to run for office in the next presidential election.
"We hope we can build up a following for Senator Portman on social media and have a grassroots movement ready for the senator in Virginia," Parkes said in an email. "If the senator does decide to run for president, he will already have a following in a very competitive state and a leg up on his competition."
Thus far, Parkes and Longley have worked to raise awareness for their campaign via social media, particularly through Facebook and Twitter. They have also gathered donations that they will hold in a secure bank account until, or if, Portman announces his intentions to run.
The Draft Rob Portman Committee is not run by or connected with Portman or his staff and Parkes and Longley have not officially informed Portman of their campaign.
Following the publication the Bloomberg article, however, a member of Portman's staff reached out to the pair.
"[They] offered to keep us in the loop with events the senator will be doing so we can help publicize them," Parkes said.
Parkes and Longley both have a background in politics — Parkes served as the College's campus coordinator for the Ed Gillespie for Senate campaign, and he currently interns at the Virginia Senate Republican Caucus. Longley took a semester off to work as a field office director in Chesapeake, Va. for Mitt Romney's presidential campaign.
In addition to sharing political views and experience, Parkes and Longley share a fraternal bond — both are Delta Phi brothers. They live on the same floor of the Delta Phi house. It was here that they began to discuss their mutual admiration for Portman.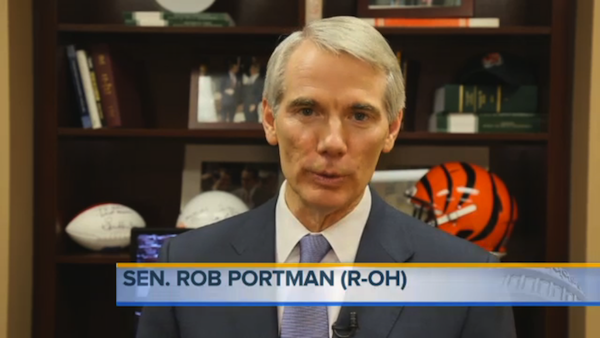 "We chose Rob Portman because he has the experience needed to lead this country. His record shows he cares deeply about Americans' well-being," Parkes said. "His experience includes serving in both the executive and legislative branches for many years, and he has a positive record writing policy to improve the economy and protect American jobs."
Currently, the pair said their largest goal is to increase their following on social media. Despite positive responses to the campaign, its supporters remain limited largely to individuals in Parkes' and Longley's communities.
"At some point, we will reach a saturation point and need people we don't know to follow the committee," Parkes said.
Given the fact that numerous strangers have already sent messages of encouragement to Parkes and Longley, the pair said they remain positive about their chances of building a large support base.
"Right now, we are using social media to increase visibility, engage people, and drive traffic to our website," Longley said in an email.
"Right now, we are using social media to increase visibility, engage people, and drive traffic to our website," Longley said in an email. "After winter break, we are going to begin meeting with local and regional organizations to build a grassroots network."
Parkes and Longley have already completed several steps in their long-term plan: Start a draft committee? Check. Build a grassroots network through social media and donations? In progress.
But as for the final goal to pave the way for Portman 2016 and play a pivotal role in the election of America's next president?
For the answer to that question, check back in a year or two.