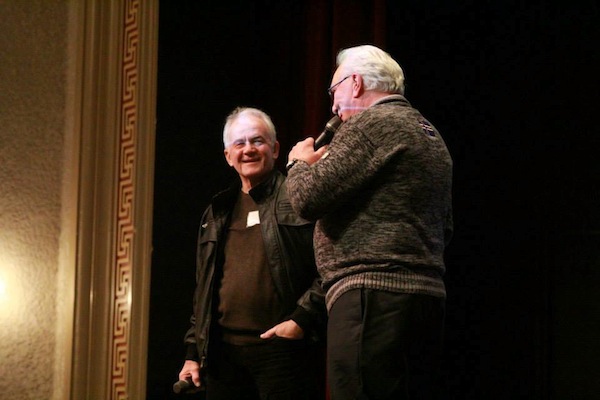 "This is what it's all about: a full house at the Kimball Theatre. Did everybody have some good Icelandic hot dogs?"
So said Timothy Barnard, professor of film and media studies and director of the William and Mary Global Film Festival, to the crowd who braved the cold to attend the festival's fall theme launch event Nov. 21. Students and Williamsburg residents alike gathered at the Kimball to taste traditional Icelandic food, sip beer and view this year's theme launch film, "Land Ho!".
"It's usually something broad that allows us to pick films from a lot of different genres, from as many different countries as we can pull together," said Barnard, who helped launch the first William and Mary Global Film Festival in 2008, said regarding this year's theme of "Film and Renewal." Past themes have ranged from "Film and Music" to "SUPER/natural."
Directed by Martha Stephens and Aaron Katz and starring Paul Eenhoorn and Earl Lynn Nelson, "Land Ho!" was chosen to encapsulate and introduce "Film and Renewal." The film follows two elderly ex-brothers-in-law as they embark on a trip to Iceland for a bit of fun and adventure. While there, the pair reflect on their lives and seek out their youth.
"That movie sort of lends itself pretty well to being shown at our festival and really fits well into our theme of renewal," Jan Huebenthal, Ph.D. candidates in the American studies program and assistant director of the film festival, said. "Sort of the idea of going on a road trip, exploring new and foreign lands, and really finding back yourself and renewing your lease on life, so to speak."
And yet, exhibited in numerous aspects of the festival itself is a subtler theme: collaboration. Between directors, actors and students, each step of putting the festival together was a group effort. The festival and its launch event, while directed by Barnard and Huebenthal, was largely run by students.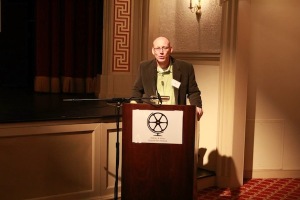 "The event itself is sort of an integral part of the class called 'Film Festival History and Production,' which we're teaching this semester, and all of the students from that class are helping put together the event," Huebenthal said.
Students in the class took on a variety of responsibilities, including planning events within the festival, researching films, contributing to the event website and designing promotional materials.
"The class is divided into a creative team, a public relations team, and an events and logistics team, and everybody's in one of those three committees," Barnard said.
These committees planned for months in addition to running festival events such as the theme launch event.
"I'm one [co-chair] for the events and logistics. So essentially I create community contacts to get sponsorship for food — this evening we actually cooked our own food to cut on costs," said Mary Kate Connors '15, a student in Barnard's class. "But in the main event we have sponsorships from local businesses like The Blue Talon, The Dog Street Pub, Nawab – so we coordinate all of that. We also create the staffing sheet to ensure that everything runs smoothly and we set up everything; we're kind of the behind-the-scenes handlers of the film festival."
This collaboration between participants in the class was mirrored in the launch event itself. Following the screening of the film, actors Eenhoorn and Nelson, along with directors Stephens and Katz, fielded questions from the audience via Google video chat. Attendees received insight into the teamwork involved in filmmaking, as well as a new perspective on the film from those who worked on it.
Nelson expressed his views on the film, describing the common ground that both young and old viewers could find in its message.
"People think that this movie is about problems with old people, and I don't think that you realize that people in their twenties, thirties, forties and fifties can lose a loved one, can get divorced and lose their job, and they have to go on with life," he said. "I just want y'all to know this is a movie not just about that age group, but it's about life."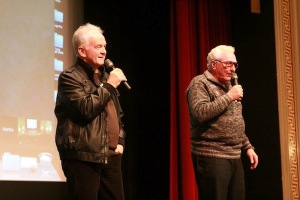 Both directors and actors were also awarded the William and Mary Global Film Can Award, an award meant to recognize "inspiring and unique accomplishments in global film production and collaboration," according to Barnard. The evening, ultimately, was a celebration of this ideal: It was made possible through collaboration between students working on the event, collaboration between directors and actors on the film, collaboration between audience members in experiencing their work, and collaboration in viewing and discussing the film and its theme.
"I think, for film festivals especially, it's a great cultural atmosphere where you get to engage with the media of a film and right afterwards, you go have a pint with the actor," Connors said. "So I think that's a really great experience, and I think it's something that's very unique to our organization."